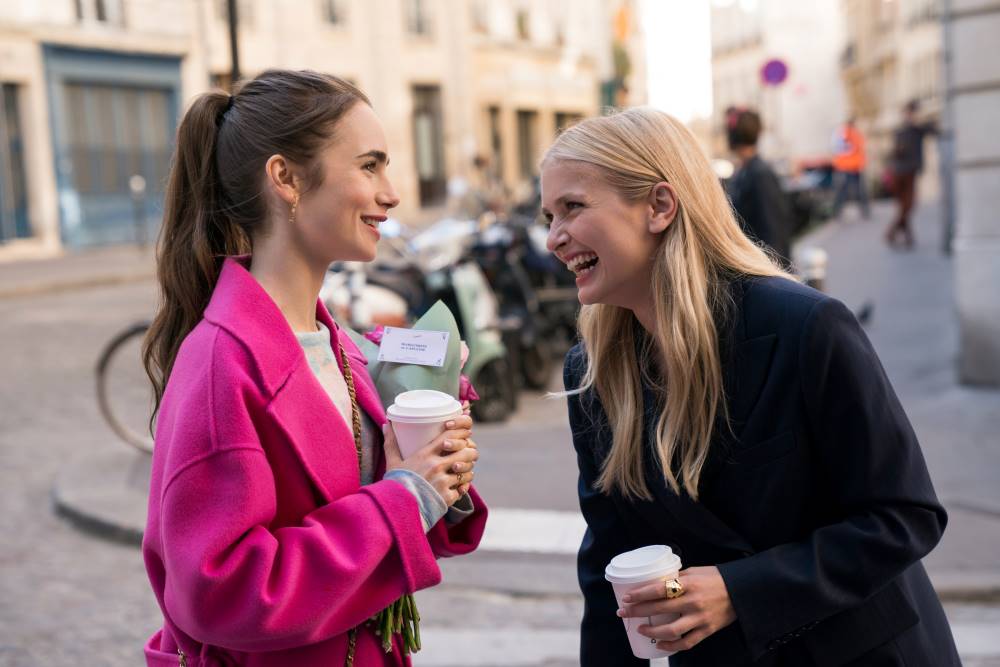 Back to articles
Emily in Paris is Full of French Beauty Secrets
Netflix's Emily in Paris is filled with strong female friendships, coffee and croissants, twinkling romance, dreams come true, and of course, some incredible French makeup tips and beauty secrets.
Without giving any spoilers away, Emily Cooper (Lily Collins) is a twenty-something Chicago woman who scores herself a dream job as a social media strategist in Paris.
She is dropped into a new world where she has to navigate the local language, prove herself at work, and master French girl beauty; after her first friend in Paris, Mindy Chen (Ashley Park), tells her she "looks American."
The show is brimming with effortless French makeup styles and beauty essentials; we had to keep hitting pause frame by frame to take it all in. 
As each day goes by in Paris, Emily's feminine sense of style evolves and is met by the sophistication and intensity that French women are renowned for. 
Here are some French beauty secrets from Emily in Paris that we just can't stop talking about!
1. Take care of your skin

"Keeping Lily's skin perfect was my goal during those four months filming in Paris... As a makeup artist for almost 20 years, I know that skin care is the most important everyday ritual before makeup," says Aurélie Payen, one of the Parisian makeup artists for Emily in Paris. 
And we all have the power to take care of our skin. Simple things like drinking more water each day, eating clean, and getting enough sleep can make a huge difference.
Once you've taken care of everything you can on the inside, it's time to work on prepping your skin on the outside. 
Get the look
Begin with a few drops of facial oil, apply some sunscreen (even during the winter months), and then top with a moisturizer suitable for your skin type. 
Prep your lips by scrubbing away dry skin gently with a lip scrub or toothbrush, and apply some nourishing lip balm. 
2. Keep it au naturel
Emily instantly becomes friends with French beauty Camille (Camille Razat) after meeting at a flower stand.
Camille is a typical French woman who rocks a barely-there look, keeping her beauty routine minimal and effortless. 
She reminds us that less can be more, and makeup is a terrific tool to highlight your natural beauty instead of hiding it. 
Get the look
To get Camille's effortless look, focus on highlighting your best features and accentuating what you've been blessed with.
Gently wave your hair to create a natural, I-woke-up-like-this look. Swipe on a coat of mascara, a little bit of brow gel, a pinch of blusher and tinted lip balm, and you're Paris ready. 
The Cabaret Première Classic French Mascara is absolutely perfect for attaining a soft, everyday look. It's clump-free, lightweight, and long-lasting.
3. The pretty in pink lip
As the series progresses, Emily's everyday go-to look becomes a pretty, pinkish pout. It gives off a feminine, put together, but didn't try too hard vibe. 
The nude, muted tone works perfectly against a pale complexion, and creates a youthful, healthy glow. Plus, an understated lip allows the rest of your features to shine — your eyes, brows, and cheekbones. 
Get the look
Begin by using our Gel Lip Pencil to outline the lips, starting from the center outward to the corners.
Next, you can use this Matte Constance Duo Pack Long-Lasting Matte Lipstick, and choose from shades Pale Pink Nude or Marsala. It's super simple to apply, has a gorgeous matte velvet color, and will stay put all day.
4. Beautiful bold brows
Emily in Paris is bursting with makeup tips and tricks, but Emily's statement brows become a French beauty staple throughout the Netflix series.
They're big, bold, and they're beautiful; and they left us all with major brow-envy.
Allowing your eyebrows to grow and working with their natural shape is key for this look. But there are some products you can use to amp up the volume for the wow factor. 
Get the look
Begin by combing your brows with a spoolie brush—the Brow Arcade Automatic Eyebrow Pencil is ideal for this.
Next, use a clear eyebrow gel to keep them in place all day long. You can use the same eyebrow pencil to lightly fill in any gaps or use a colored brow gel or powder that matches your brows.
5. Blush over bronze
Put the bronzer away, because the blush is here to stay. A hint of pink blusher becomes part of Emily's everyday beauty routine, so simple yet so swoon-worthy. This subtle pop of color creates a fresh and feminine look without being too girly. 
Get the look
The key to making makeup work for you is to use the right colors and shades that suit your skin tone. Women with warmer undertones can go for warmer pinks, with tinges of orange in them, while women with cooler undertones are best suited for cooler pinks with hints of blue in them. 
We love mixing things up by using makeup in inventive ways. So if you don't have any pink blusher on hand, but you want to create this look, use a pink colored lipstick instead!
Gently smudge it onto the apple of your cheeks and blend it in a circular motion, following the natural line of your cheekbones. 
Voilà!
6. Laidback chic
In case you haven't seen the show, Emily's boss Sylvie (Philippine Leroy-Beaulieu) is kind of like a French version of Miranda Priestly in The Devil Wears Prada. 
She's intimidating, she's frosty, and she's undeniably sexy. She wears hardly any makeup (we're beginning to see a glaringly obvious trend amongst fabulous French women), yet she looks immaculate in every scene. 
How does she do it?
Get the look
The golden rule when it comes to French makeup styles is to keep things relaxed. 
Instead of perfect liquid eyeliner, try smudging some kohl pencil on your lash line.
Don't strive for perfection when styling your hair, and keep things a little tousled—use some product to add more texture if needed.  
Go for classic colors, instead of anything too in-your-face — dewy, matte textures over shiny ones. 
7. Flirty, fluttery lashes
Mindy and Emily instantly become besties on the show after meeting each other in a park. She's lived all over the world, is full of energy, and is a self-taught pro at Parisian living. 
Her trademark beauty look is full, fluttery eyelashes, topped with a perfect wing of eyeliner. But how does she get those voluminous lashes?  
Get the look
The Provocation Instant Volume Mascara is a French beauty staple and promises volume and definition all in one swoosh. It won't flake or transfer and will give you that long-lasting length and thickness you've been searching for.
Plus, it's as easy to apply as it is to take off and won't damage your lashes. 
8. Dare to be dramatic at night
When it comes to Paris, French beauty essentials are minimal and relaxed by day, only to get a boost of sophistication and glamour at night!
But the "less is more" mantra still reigns true here. You either want to highlight your lips or your eyes, but never both at the same time – that would be a beauty faux pas. 
In Episode 6, Ringarde, Emily goes to the ballet and channels Audrey Hepburn with her classic little black dress and chic up-do. She swaps her pretty pink pout for power red, and we are crazy about it. 
Get the look
Use the Long-Lasting Matte Lipstick in Classic Red to get this statement look. Don't forget to gently exfoliate your lips first, and use a lip patch or apply a hydrating balm to create a smooth foundation.
Use a lip liner to create a frame, then fill it in with color, starting from the center and working outwards. And don't worry if your hands are a little shaky. Simply remove any unwanted smudges with a cotton bud, and you're red carpet ready. 
And that is how to get perfect Emily in Paris makeup and create a beauty routine any French woman would be proud of.  
All images obtained from Netflix
Written by: Vivienne Sabó
Published: January 29, 2021