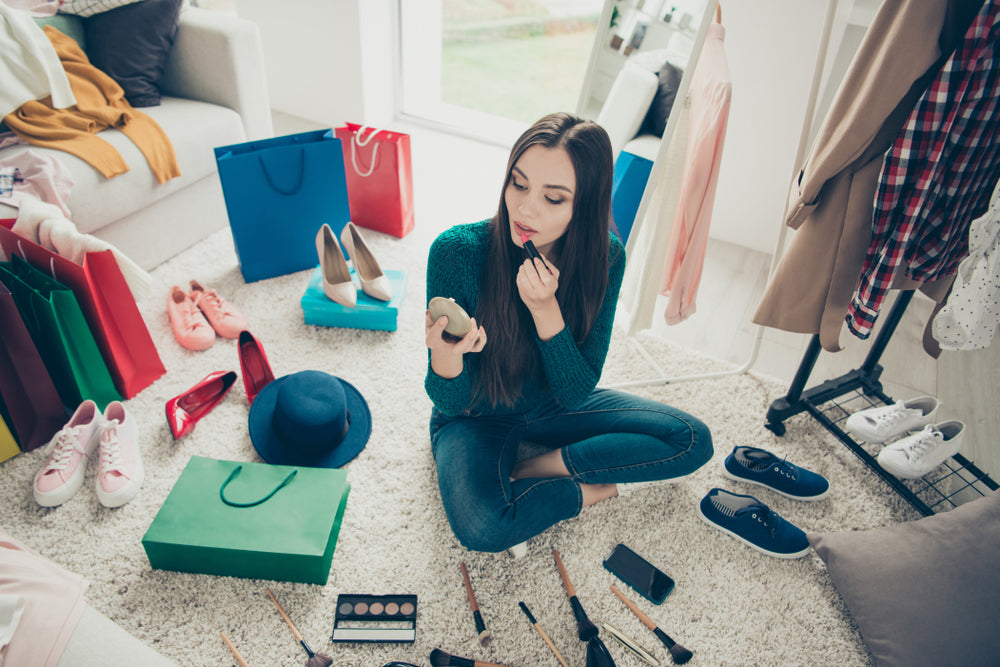 Back to articles
8 Easy Ways to Give Yourself a Mini Makeover at Home
A beauty makeover is more than just a funny montage in a romantic comedy. 
When life seems boring and mundane, giving yourself a new look is a sure way to improve your mood. You can transform yourself from head-to-toe or opt for a simple makeover that targets just one part of your look. 
No matter what kind of makeover you choose, that moment when you catch a glimpse of yourself in the mirror with a new style is incredibly energizing! We've collected a few makeover tips and suggestions for how you can give yourself an easy mini-makeover at home. 
DIY facial
The first step to a truly rejuvenating one-day beauty makeover is a pampering facial. It's a great way to give the skin a pick-me-up, especially if you plan to put some makeup on after. 
The ideal facial should include some exfoliation, to remove dead skin buildup and prepare the skin to accept moisture. You can make your own scrub, or use an exfoliant from your favorite skincare brand. After that, give yourself a gentle facial massage, and follow it up with a nourishing mask or a thick layer of moisturizer. 
Hairstyle
Changing up your hair can make the biggest difference, and it's the one thing that many of us have neglected over the last year. If you're ready to make a big change, you can give yourself a haircut, but for most of us, taking the time to master a new hairstyle is a safer bet. 
If you've been wearing your hair straight for the longest time, we recommend giving a tousled, wavy look a try! It's a French girl staple that you can achieve with the help of a texturizing spray and a large curling iron. If your hair is naturally a little wavy, you can also just go to sleep with a braid in, and you should wake up with nice, natural-looking curls. 
New style 
The best way to give yourself a style makeover without having to spend much money is to invest in some new accessories. It's amazing how big of a difference a nice silk scarf or a skinny belt can make to your look! Even smaller touches, like earrings and bracelets, can amp up an outfit. 
If you're willing to invest a little more, you can give yourself a complete style makeover by upgrading your wardrobe. Your first, and most relieving step, should be to get rid of the clothes you don't like anymore—you can take some inspiration from Marie Kondo for that! 
After that, consider what kind of aesthetic you'd like to have, and browse Pinterest for inspiration! You may decide to pick up a few new outfits or a couple of separates that'll enhance your existing wardrobe. Building a French capsule wardrobe is another great way to go about things, especially if you'd like to simplify your life with classy yet versatile clothes.
Lip color
If everything we've suggested so far seems a little too involved, you can give yourself the most low-effort beauty makeover with a simple lipstick change. Red is our favorite color, of course, because it adds glam factor even to a totally bare face, but any vibrant color will act as a quick pick-me-up. 
One of the benefits of our Matte Constance lipsticks is that they come in a duo-pack, so you can experiment with the help of two lipsticks in one! 
At-home mani
Giving yourself a simple manicure will help you feel polished and put together, and it's an especially nice treat when you don't want to fuss with hair or makeup. Every time you look down at your hands, you'll feel a little more composed. 
You don't even have to paint your nails—the simple act of soaking your hands in water, moisturizing the cuticles, and filing your nails into a nice shape is enough on its own. However, nail polish is great, especially if you decide to get creative and experiment with nail art. 
New makeup technique
You don't have to buy dozens of new makeup products just to improve your makeup game. If you always wear natural makeup, try a smokey eye. If you've been doing your eyeshadow the same way for the last five years, try a newer trend like a cut crease or a fox eye. 
Many of us fall into the habit of doing our makeup the same way every day (that's actually the secret behind the 5-minute face!). However, taking the time to experiment with styles and techniques you haven't tried before can be a lot of fun, and you might even discover something new to add to your daily look! 
Up your brow game
Bushy brows are in these days! Upping your brow game will bring out your eyes, and going for a fluffier look will also give you a youthful air. It's the best makeup hack for immediately transforming your face. You'll feel more put-together, but unlike wearing a brightly-colored lipstick, it won't make you feel too showy. 
All you need to amp up your brows is a great eyebrow makeup product, like the Brow Arcade pencil. First, brush the hairs up for a feathery look, and then add a few strokes of color to fill them in. 
Hair color 
Another extreme (but surprisingly quick) makeover you can do is to change your hair color! Box dyes have come a long way over the last few years, so you can achieve shiny hair all by yourself at home. 
We recommend choosing a color that's not too far from your natural shade, so you don't have to deal with damaging bleach. The key to finding a color that really flatters you is to choose a shade that is either slightly darker or lighter than your skin tone, but with a matching undertone. For instance, gold-based shades are great for those with warm skin, while blue-based or ashy tones are best for cool skin. 
Coloring your hair can be a fun way to mix things up, but we're also big fans of keeping it totally natural!
Uplifting change 
Small or big, a simple makeover is an instant mood-lifter. Whether you decide to give yourself a new look or just make a few small changes, we know you'll feel renewed, energized, and ready to face the world! 
Written by: Vivienne Sabó
Published: August 11, 2021