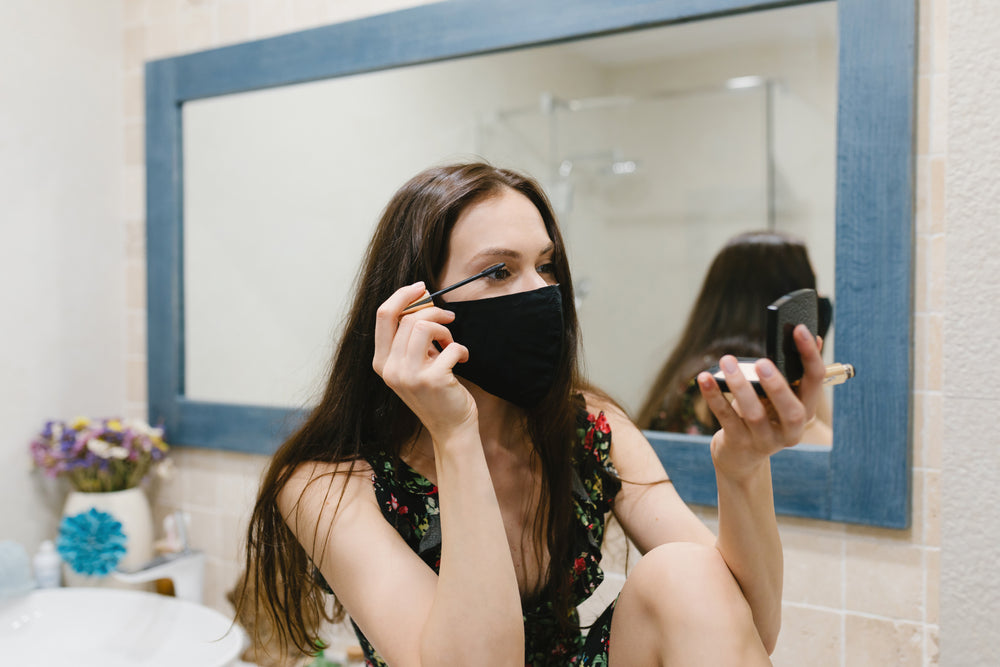 Back to articles
How to Keep Your Makeup From Getting on Your Mask
All around the world, many of us are still required to wear face masks in public places. There are no clear signs as to when this will end completely, which means we've had to accept that a mask has become a permanent accessory. 
But what does this mean for your makeup?
Anyone who has tried wearing a full face under their mask will be no stranger to smudges, smears, and mask transfers. And if it's warm outside, it's game over. 
You're left wondering "why did I even bother putting makeup on today?" 
So, the golden question is: Do you know how to keep your makeup on when wearing a mask? We do; so keep reading to see how!
What causes your makeup to rub off?
There's a couple of things going on underneath your mask.
First off, wearing a mask causes humidity between the fabric and your skin. This, combined with the oil in your makeup, can cause your makeup to transfer or completely melt away. 
Second, every time you breathe (which we do around 20,000 times each day!) you produce warm air which also causes your makeup to lift and transfer. 
Third, the simple fact that most masks are in direct contact with your skin makes it likely that at least some of your makeup will rub off onto it.
That might sound like a real challenge, but don't panic. We've done a lot of research and figured out how to keep makeup from rubbing off under a mask. 
Are you ready to say goodbye to the smudged look and dirty masks? 
Give the natural look a try
Okay, so this is kind of a cheat way to eliminate all that smudging and smearing. 
But if no one's going to see half your face anyway, why not take a break from makeup or keep things minimal?
Less is more when it comes to classic French beauty. Plus, you'll save money on makeup and so much time in the morning!
Your skin will also get a much-needed break. 
If you've ever thought about embracing a more natural look, there's no better time to give it a try than right now.
Embrace your natural beauty. 
How to keep your makeup on when wearing a mask
Okay, maybe the totally natural look just isn't your thing.
We get it.
Putting your makeup on each morning might be a part of your everyday routine, and maybe it helps you feel a sense of normality during your week.
So, although we would recommend skipping foundation and only wearing makeup on the visible parts of your face (your eye makeup), we get it.
You might still want to wear a full face of makeup. It's kind of like lingerie—although it's not always seen, you know it's there, and it makes you feel like a total Goddess. 
That's why we've rounded up expert tips to help you protect your makeup underneath your mask and keep it in place the whole day. 
Use a moisturizer and primer
The first step in your beauty routine is to cleanse and moisturize your skin. This will help combat some chafing or spots that masks are known to cause.
Next step, follow up with a long-lasting primer. Primer is a great product to use because it's oil-free, which means it will help keep all the other products you layer on top in place. 
But don't get too carried away and use an excessive amount of primer, because this will have the opposite effect! 
Use it sparingly and add a light layer as you normally would. 
A matte or waterproof foundation is best
If you're going to wear foundation, look for a matte or waterproof formula. 
A waterproof formula will dry and lock onto your skin, without drying it out. On a good day, it can stay put for up to 24 hours! 
A matte foundation will also stay put for longer than a glossy one because it's water-based rather than oil-based. 
Apply a thin layer of foundation onto the areas where you need it most, and blend using a brush, sponge, or your fingers. 
Tips for applying concealer
After you've applied your foundation, follow up by applying a long-wear concealer. Avoid overly creamy, luminous concealers as these tend to not set well and are likely to transfer onto your mask.
Keep your concealer to your eye area (if you need it), but avoid the nose and chin to keep smudging at bay. 
Set your base
Now it's time to set your base. 
What you're after here is a loose, translucent powder. Work it into your skin with a beauty blender or brush. This will allow your mask to slide over your skin without removing your foundation.
Although it may be tempting to go all-out with the powder, too much of it will create a chalky effect. And you don't want to end up looking like a ghost!
Make your eyes and brows the star of the show
Although wearing a mask can be a nausiance, the great news is your eyes are still very much on show! So, now is the time to upgrade your brow and lash game and make your beautiful eyes pop.
This is the first area of your face that people will notice when you're wearing a mask. In fact, this is usually the first area people normally notice anyway. 
Embrace your natural-looking brows, and easily add definition with a good eyebrow pencil Experiment with eyeliner and keep your look as natural or dramatic as you like. 
And the final step is to finish with your favorite mascara. This is what really makes your eyes pop!
Use an eyelash curler to add lift, followed by an eyelash primer. Then finish with a couple of coats of lengthening and volumizing mascara.
Swap bright lips for neutral shades
You may have heard this strange myth going around that lipstick sales have plummeted since the pandemic, but this couldn't be further from the truth!
Women are still wearing lipstick for their video calls, as they go for a walk to the shops, or as they lounge at home for no other reason than it makes them feel beautiful.
But if you are wearing a mask for most of the day, avoid anything sticky because you don't want it to stick to your mask! Be wary of bright colors too, as if the color does end up rubbing, it will be very visible on your face.
We recommend sticking to subtle, light or nude shades in a hydrating formula that nourishes your lips. 
Don't let your face mask ruin your makeup routine!
And that's how to keep your makeup on when wearing a mask. 
We hope you're feeling more confident about going for a more natural look or picking the right products to wear under your mask.   
Here at Vivienne Sabó we're making our eyes the star of the show and having a lot of fun trying out new eye makeup looks!
So, remember to have fun with your makeup and don't let wearing a mask get you down.
Written by: Vivienne Sabó
Published: September 05, 2021