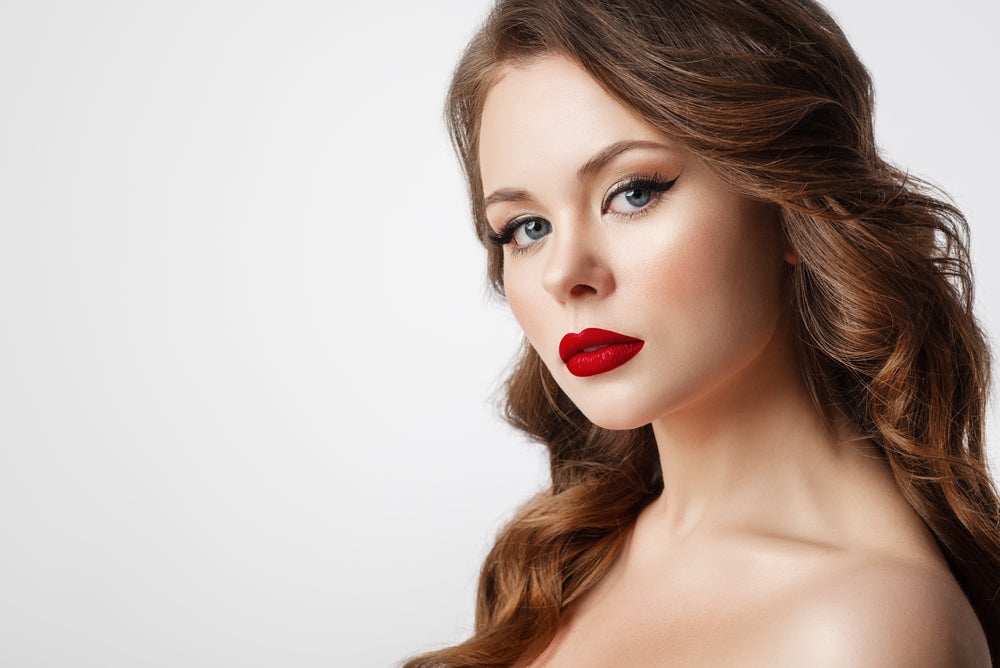 Back to articles
Step-by-Step Winged Eyeliner
Perfect winged liner is one of the most challenging makeup techniques to master. At first swipe, you end up with an overly subtle winged eyeliner, so you decide to add just a touch more, and next thing you know, you've overdone it…
Don't even get us started on getting both eyes to match! 
The only thing that might be tougher than winged eye makeup is a vivid red pout, so it's funny how one of our favorite go-to looks in French beauty is a combination of these two.
Through years of practice, we've refined our skills and uncovered some of the best winged eyeliner hacks that make achieving that subtle wing a little easier. Today, we'll be sharing all of our tips with you! 
What kind of winged eyeliner look do you want? 
Are you aiming for a natural winged eyeliner look, or would you prefer a dramatic cat eye? Winged eyeliner comes at a few different intensity levels, and the angle of your wing will have a big impact on your look. 
These days, the sharp "fox" winged eyeliner look has become especially popular, but we're still enamored with the subtle winged eyeliner of the '40s and the sultry winged eye makeup of the '70s.
While you do need to decide on the kind of look you want, our tips will help you achieve the perfect winged eyeliner every time. 
Winged eyeliner for different eye shapes
Taking your eye shape into account will help you figure out how to master the wing since when you draw on a liquid liner, you're effectively changing the borders of your eye. 
The more sharply angled your eyeliner, the more upturned your eyes will look, while if you go horizontal, they'll look a little sleepy and sultry. 
As for the lash line, a rounded shape will make the eyes look doll-like, while progressing from thin to thick towards the outer corner will make the eyes look almond-shaped. 
What about the inner corner? 
In classic French beauty, we like to stop the eyeliner before the inner corner, and sometimes even at the eye's center; this opens the eyes and gives the face a very fresh look. 
However, in recent years, it's become trendy to aim for a sultry look by bringing the eyeliner all the way down to the inner corner in its own little wing. Feel free to experiment and see what style you like best!
Choose the right eyeliner 
Liquid and gel eyeliners are the ideal choice for a winged look, but some are easier to work with than others. Gels usually come in a pot, so they require a separate brush, which can be inconvenient at times. 
As for liquids, many come with ultra-thin brush applicators that are difficult to control. Felt-tipped pens, like the Feutre Fin, are ideal. With a tapered, sturdy felt tip, a pen eyeliner offers a precise wing but can still cover a lot of space when necessary. 
Keep your distance from the mirror 
This is one of our most useful winged eyeliner tips, so read closely. 
Instead of holding your mirror close to the face as you draw on your eyeliner, take a step back. This will allow you to see both of your eyes simultaneously, which is essential for achieving perfectly symmetrical eyeliner wings.
Otherwise, working too close to the mirror can easily result in two gorgeous eyeliner wings that look nothing like the other – giving you a lopsided look. 
Steps to a perfect wing
Now, for the actual application! If you start with the hard part first, the rest of your winged eye makeup will be a breeze. It just so happens that the most challenging part of winged eyeliner is the wing itself. 
Start with the eye you usually struggle with, and draw the lower line of the wing by following your lower lash line. 

Do the same thing on your other eye while checking for symmetry in the mirror.

Then, draw on each wing's top line, creating a little triangle at the outer corner. 

Once again, do the same on the other eye and check that everything lines up.

If your wing is a little more dramatic, you may need to fill it in a little as well. 
Small lines from outer corner to inner corner
Now it's time to draw your liner over the lash line. To avoid gaps between the liner and your lash line, pull your lid upwards (gently!) as you apply. Then, working from the outer corner inwards, draw the eyeliner on in short strokes. 
Don't worry too much about achieving a perfect line yet — once you let go of your lid, you'll be surprised to see how even and delicate your winged eyeliner looks. You can then correct or thicken up the line after you have that base layer down. 
Keep the eye open to fit a hooded lid
One common struggle many makeup lovers face is how to apply winged eyeliner to hooded eyes. The secret is to draw the top line of your eyeliner wing while your eyes are totally open so that your eyeliner sort of "skips" over the crease. It'll look like there's a little step or divet in your eyeliner when your eyes are closed, but when they're open, it will look incredibly flattering. 
No more winging it 
Using liquid eyeliner might seem daunting at first, but with our winged eyeliner hacks and suggestions, we know that not only will you master the wing, but you'll also refine it to suit your flare.
Written by: Vivienne Sabó
Published: February 24, 2021