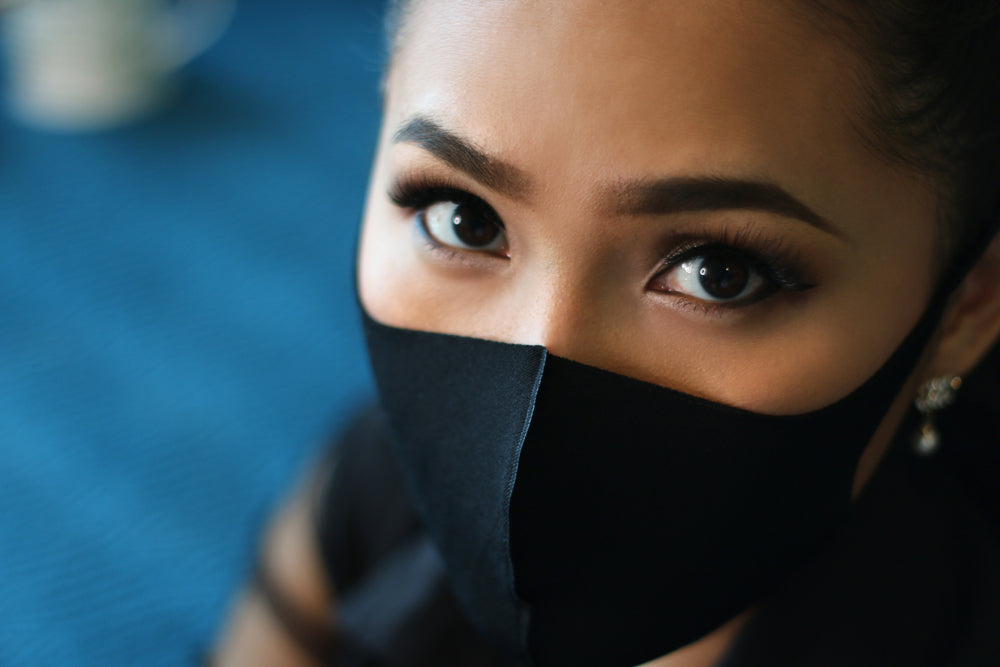 Back to articles
10 Eye Makeup Looks to Wear with a Mask
It looks as though face masks won't be disappearing anytime soon thanks to Covid, which means applying lipstick falls a bit on our daily makeup list. 
When you're wearing a mask, your eyes naturally take center stage. And since half of your face is covered, it's important to make the most of what's on show. Fashionable masks are great, but they don't quite measure up to the magic of makeup. 
Whether you're working from home, heading to the office, or taking care of those everyday tasks, you still want to look and feel your best.
What better way to reclaim your beauty ritual than to have fun with your eye makeup when wearing a mask? Forget about putting makeup on under your mask — what you need is a killer look for your eyes.
Here are our favorite eye makeup looks when wearing a mask.
Voluminous lashes
Take a minimalist approach to your eye makeup with voluminous lashes. Full, fluttery, and fabulous is the name of the game here. And the great news? You don't need lash extensions or falsies to amp up the volume. 
Check out our instant volume mascara — definition and volume in just one coat! Add a few extra for even more drama, depending on the look you're going for. 
Mask & match
There's a fun new mask makeup look trending right now that is all about matching your makeup to your mask.
Pick a colorful, patterned mask of your choice, then experiment with creating an eye makeup look around it. For example, if you're wearing a rainbow-colored mask, why not go for a rainbow-inspired eyeshadow theme? 
There are no rules here, apart from breaking them!
A neutral smokey eye
An all-out smokey eye might be a little too much for a daytime look.
The next best thing?
A neutral smokey eye!
Use a natural eyeshadow 2-3 shades lighter than your skin tone that has a bit of a shimmer to it. Apply the eyeshadow to the inner corners of your eyes to brighten your eyes and contrast with your mask. This should work with most masks as they tend to be muted in color. 
Finish your look with some mascara for extra pop, and you're good to go. 
Rose gold eyeliner
Who says shimmer and sparkle are just for celebrations? 
Rose gold eyeliner is so on-trend right now and will add a dash of glamour and glitter to any look.
There are plenty of options to choose from right now. Apply it as liberally as you like, and add some flicks to the outer edges of your eye for extra pizzazz.
This mask makeup look is definitely one of our favorites!
A pop of pastel
If you're a fan of playing with color and looking for something to brighten up your face, try a wash of color on your lids.
All colors work with this look, but pastels are oh-so-pretty — especially during spring/summer. 
Keep the rest of your makeup minimal, and allow your eyes to steal the show. If you're not sure what color to go for, blue is a safe bet for all skin tones. 
Use one solid color, a shimmery shadow, or add some depth at the crease line with a darker shade. 
Cat eye
When you're wearing a mask, people's eyes will be drawn to the center of your face. A sassy cat eye is the perfect detail to draw that attention outward and create a sexy, striking look.
Have fun with your cat eye and experiment with colors and patterns. Keep it as subtle or dramatic as you like. 
Periwinkle flicks
Without a doubt, eye makeup when wearing a mask is a must to prevent your face from totally disappearing!
But if you're not used to braving bold eye makeup looks, a dash of colored eyeliner is a great way to ease yourself in. Don't worry, lipstick will be back in play soon enough! But until then, why not experiment with color around your eyes?
Match your eyeliner to your mask, or clash on purpose. This mask makeup look is guaranteed to play up your eyes in a big way. 
Metallic magic
If you want to take the rose gold eyeliner look to the next level, how about an all-out metallic eye?
This makeup look is super feminine, sexy, and flattering. It'll give your eyes that extra boost and help them pop against your mask while highlighting their natural, gorgeous shape. 
Just sweep it lightly across your upper lids. Add some classic French mascara for volume, and voila! 
Winged eyeliner
Sometimes all you need is your favorite eyeliner to create a killer eye makeup statement.
The winged eyeliner look is classic and flirty. It will flatter the natural shape of your eyes without any need for eyeshadow. 
Magic, right?
You'll be ready to leave the house in five minutes! Perfect for those days when you're short on time, or you snooze your alarm.
If you have a shaky hand, try using a template or using a dot-to-dot method to keep your eyeliner symmetrical.    
Sunset shadow
There's another popular eye makeup mask trend all over social media right now known as "sunset" shadow. This is all you need to jazz up a plain old mask and bring some color and adventure into your life!

Pick a handful of different sunset colors, like oranges, pinks, purples, blues, yellows, golds, etc.
Start with one color as a base on the lids, then layer on top to create that stunning sunset vibe. 
Play around with different colors and arrangements. This look will be slightly different every time, and that's the beauty of it. 
And that's how to wear makeup with a face mask! Just because you have to wear a mask, it doesn't mean your makeup game has to take a hit. 

Give these eye makeup looks a try and watch as they transform your face.
Written by: Vivienne Sabó
Published: March 23, 2021