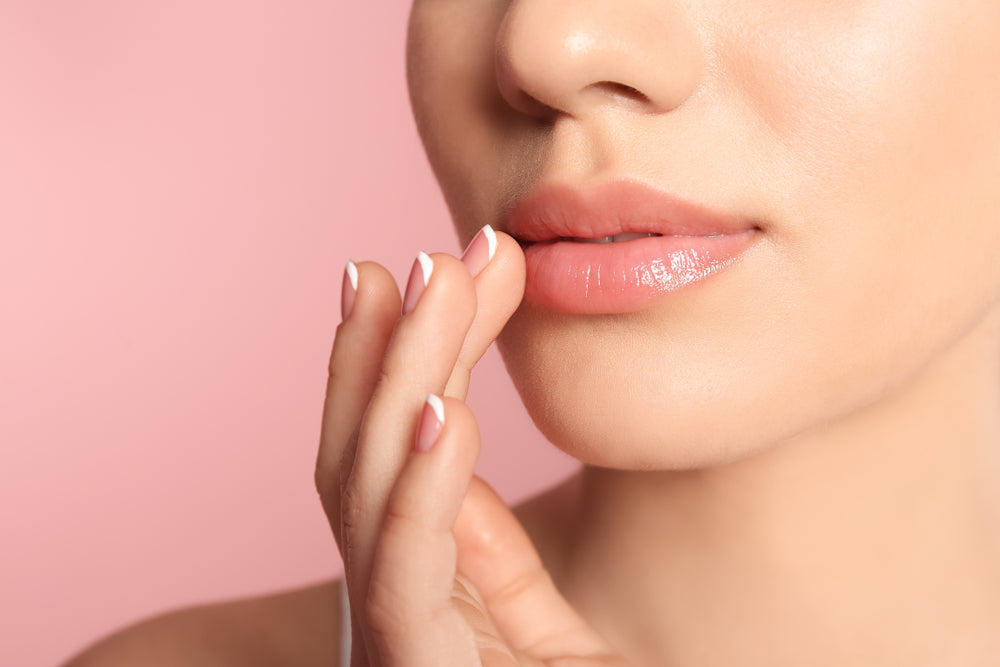 Back to articles
The Ultimate Lip Care Guide for a Nourished Pout
Our favorite look for low-effort glam calls for just a touch of mascara and a swipe of boldly colored lipstick. Focusing on the lips is a known French beauty hack, but for it to work well, our lips have to be in great shape! 
Lipstick can't glide smoothly over chapped lips, which is why a good lip care routine is so important. Here are our tips for taking good care of your lips on the regular, along with some advice for special care when they get especially dry.
Use a richer lip balm at night
The lips can get incredibly dry at night, especially if the humidity in your room is low or if you tend to breathe from your mouth as you sleep. That's why it's best to apply a thicker lip balm before bed. If your lips are particularly chapped, using a rich balm will help to speed up their healing. 
Look for occlusive ingredients 
What on earth does occlusive mean, you ask? Occlusives are oily ingredients that are able to seal moisture in place and prevent evaporation. They're essential for a truly healing lip balm. Our favorite occlusive ingredients for the lips are lanolin, squalane, shea butter, and petrolatum. A balm with these ingredients can create a protective seal over the lips that prevents moisture loss. 
Use lip balm as a barrier
Another important time to apply lip balm is before brushing your teeth or using potentially-drying skincare products like retinoids or acne treatments. The balm will act as a barrier against those products and prevent their drying effects from impacting your lips. 
Layer your lip moisturizers
When the situation is particularly dire, especially in winter, it can be beneficial to build up moisture in the lips with layers. First, start with a light layer of fragrance-free lotion or hydrating serum – once it sinks in, layer a heavy lip balm on top. That first layer will add hydration, while the second layer will lock the moisture in deeply.  
Opt for an SPF balm in the day
Our lips are just as susceptible to sun damage as the rest of our skin, so during the daytime, opt for an SPF lip balm. Apply it to your lips at least 20 minutes before going out in the sun, and make sure they're thoroughly coated. If you'd like to wear lipstick or gloss, just add it over the lip balm, and you'll actually end up with a smoother finish than if you were to apply it to bare lips. 
Avoid minty fragrances
We love a lip balm with a bit of flavor, but minty lip balms can actually cause some issues. Menthol is the key fragrance compound in mint essential oil, and it's added to lip balms to give a cooling and stimulating effect. Unfortunately, those stimulating effects can also be drying and irritating, especially to already chapped lips.  
However, when your lips are well taken care of, you can actually benefit from the temporary stimulating effect of menthol because it can make the lips look plump and full. That's why we do use a bit of menthol in our lip-plumping Polynesie Francaise glosses.  
Use a sulfate-free toothpaste
All toothpaste can be a little drying, but toothpaste made with sulfates is the worst by far. Sulfates (usually sodium lauryl sulfate) are the ingredients responsible for your toothpaste foaming up.
Unfortunately, they can also be quite drying and irritating, especially to the lips and gums. If you suffer from chronically dry lips, it's very possible that your toothpaste is at fault, so switching to a non-foaming, sulfate-free toothpaste can make a big difference. 
Exfoliate your lips
The final aspect of keeping the lips luscious and smooth is exfoliating them regularly. Exfoliation removes the flaky buildup of dead skin over the lips and allows lip moisturizers to do their job more effectively. 
Exfoliation can be done as a dry lip treatment when they're a little chapped or flakey, but if they're so chapped that the skin is a little broken, it's important to wait until they heal.
You also don't want to over-exfoliate your lips. Once or twice a week is ideal, more often than that, and you risk irritating the skin and making things worse.  
Make a DIY lip scrub
While you can certainly purchase a lip scrub at the store, making your own natural blend is safe and easy! 
All you need is half a teaspoon of brown sugar and a few drops of coconut or olive oil. You can mix them up in a little jar or even in the palm of your hand. You can use honey instead of oil if your skin is acne-prone. 
With your finger, rub the blend over your lips for a few seconds until they feel smooth. Finally, wipe it off or rinse it away with some water. The oil will help moisturize your lips, while the sugar will slough away all of the flakiness! 
Just make sure to mix up a small amount every time you want to exfoliate. Unlike commercial products made with preservatives, whatever you make at home is liable to spoil after a few days. 
Always prep before lipstick
No matter which of our lip care tips you choose to adopt, always remember to take a few steps to pamper your lips before applying lipstick. You'll need to make sure there are no flakey patches or dryness before starting your makeup, or else you'll end up with patchy-looking lipstick. 
A coat of lip balm will be enough if the rest of your lip care routine is on-point, but sometimes you might need to do a full exfoliation routine to guarantee your lips are in tip-top shape. 
Motus et bouche cousue (our lips are sealed)
Achieving plump, healthy lips isn't difficult. It's just a matter of adding lip care to your regular routine, especially before bed. Whether you go all out with exfoliation or just switch out your minty lip balm for a healthier alternative, we know you'll discover smoother, happier, and more kissable lips.
Written by: Vivienne Sabó
Published: May 23, 2021