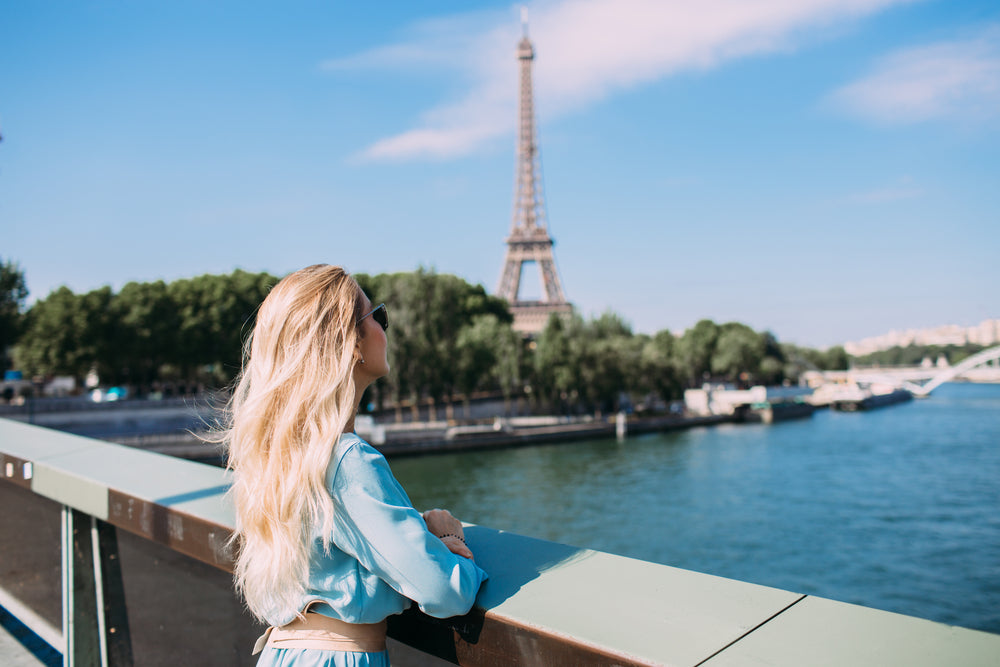 Back to articles
French Girl Beauty Guide
There's a reason why Paris is the world's capital of fashion. French women have mastered the art of looking cool and chic at all times! 
The secret behind French girl beauty is sheer cleverness. It's not about special French beauty products (although they can help) or spending hours in front of the mirror. Instead, it's about practicing restraint and focusing your energy on the things that matter most. 
The French beauty routine can be split into three components. First, there's the skincare routine, then hairstyling, and last, but certainly not least, makeup. That classy French vibe comes from how these three components merge into a singular, effortless look. 
Let's discover how that's done, shall we? 
Skin on point 
Our skin is the most precious canvas, so the French skincare routine is often more consistent than makeup, even though it's not necessarily too involved or complex. 
Consistent skincare routine
Consistency is more important than the specific products you use! By doing your beauty routine every morning and night, you can keep your skin firm and healthy for the years to come. 
For most French girls, the secret to ensuring consistency is not to have an overly long routine. We use our staple French beauty products, and we don't mind cutting the occasional corner. If you struggle to stick to your skincare routine, we have an entire post dedicated to life-changing French skincare tips. 
Gentle cleanse
One crucial element in the French skincare routine is cleansing the skin as gently as possible. Removing makeup every night is imperative, of course, but in the morning, a splash of water is often enough. 
For actual makeup removal, micellar water has become the go-to French beauty product for most women. It's quick and easy to use, but it's also very gentle on the skin. Many French women also love the old-school approach of using an ultra-moisturizing cleansing milk. 
Hydration hydration hydration
After cleansing, the next step is to load the skin up with moisture. We avoid intense multi-step routines, but many French girls still layer a hydrating serum under their face cream for added moisture. 
When the skin is well-hydrated, it's stronger, softer, and most importantly, it achieves that delicious glow. That's why French girls will readily skip foundation, but moisturizer is always a must! 
French hair, don't care
From Brigitte Bardot in the '70s to Cindy Bruna and Jeanne Damas today, French women are known for keeping their hair tousled and natural. Here's how you, too, can achieve such hair!
Never over-wash
Much like the face, your hair doesn't benefit from over washing. To avoid drying out the hair, we try to wash our hair as little as possible. Once or twice a week is plenty for dry scalps, while those with oily hair should shampoo every other day at most. 
The shampoo itself also matters! French women stick to gentle, sulfate-free shampoos, as those are less likely to strip the hair of its natural, beneficial oils. Finally, we also use a little bit of conditioner on the hair's end to add some moisture and ensure manageability. 
All about texture
That French tousled hair look is a classic day-to-day choice that always seems effortlessly chic. The secret to achieving the look is to find ways to texturize the hair. French women generally eschew the hair straightener, but even the blow dryer and curling iron are optional! 
Instead, we let our hair air dry so that it can achieve a natural wave or curl. Then, we amp it up with a texturizing salt spray or dry shampoo to make the hair look even more piecey and tousled. 
Go-to hairstyles 
For day-to-day, natural-looking tousled hair rules, but French girls also know how to turn up the glam for date nights and special events. Instead of trying an elaborate updo or spending a fortune at the salon, try to master a few simple but impressive-looking hairstyles. 
A high ponytail is especially chic these days, but a messy bun is a classic when paired with some soft-glam makeup. For the full low-down, check out our guide for how to achieve the essential French girl hairstyles.  
Easy French girl makeup
French makeup takes a clever approach. It's all about maximum impact through minimal effort, which is why French women take no time to get ready in the morning, yet they always look stunning.  
Have a signature makeup kit
When it comes to makeup, repetition breeds perfection and speed. That's why French girls like to stick to a small but carefully curated makeup kit with just a few essentials. The must-have French girl makeup products are usually the following: 
Volumizing

mascara

Concealer with a natural finish

A brow grooming product 

Easy-to-use eyeliner 

Red lipstick, of course! 
The red lip 
It's not a myth but a fact: French women swear by red lipstick. Red lips are timelessly seductive, and they offer a low-effort trick to looking incredibly glamorous. For some French girls, it's literally the only makeup product they'll use! 
Nowadays, many French women choose non-feathering matte lipsticks like our Matte Constance lipstick since they don't require lip liner and they don't fade throughout the day. 
If you still prefer old-school bullet lipsticks, it's important to first perfect the lip line with the help of a matching liner, like our Classic Red Le Grand Volume pencil. 
Keep the eyes soft
When the lips are the focus, it's best to keep the eyes soft. The next most important French girl makeup product is mascara, which is all you'll need if you've already settled on a red lip. 
In general, French girls prefer volumizing mascaras that make the lashes look lush — but if your lashes are already voluminous and prone to clumping, you might like a lengthening and lash-separating mascara instead.  
On days when you do decide to put a bit more effort into your eye makeup, it's better to keep the lips natural with just a dab of nude gloss. 
All of our secrets revealed
There's a lot of thought behind the French girl beauty routine, but mercifully, it doesn't require much effort. French skincare is at the center, while we keep our hair tousled and our French makeup minimal yet punchy. There you have it, mes amours! 
Written by: Vivienne Sabó
Published: June 11, 2021