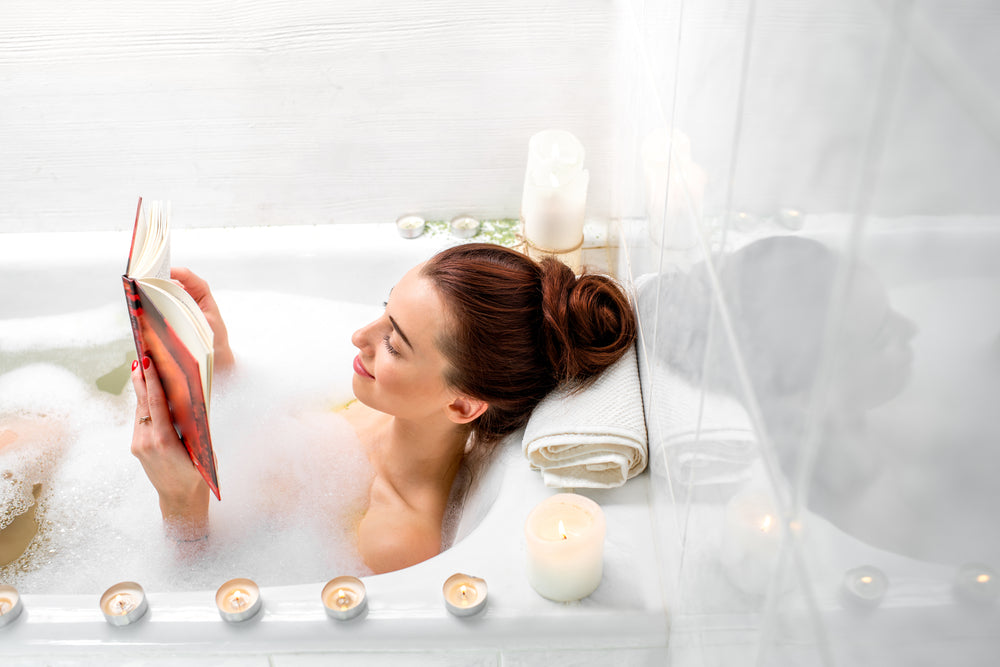 Back to articles
How to Have the Perfect Bath
The best way to show yourself love is to take time out of your day and do something that is wholly and completely for you.
A bath certainly counts! It feels divine as it relaxes the muscles and helps you unwind. It's also a wonderful chance to pamper yourself with skin treatments, bath salts, and scented oils. 
We've put together this guide to help you learn how to take a luxurious bath like no other. We'll help you set up a relaxing bath routine, with tips on how to run the perfect bath temperature and advice as to what kind of accessories you'll need to have a great time. 
Even if you don't have a bath, give this a read, 'cause we cap things off with some relaxing shower tips. Dive in! 
Set the scene
Ambiance is everything, darling. Turn your bathroom into an environment where you can unwind. Instead of harsh electric light, opt for some scented candles, and queue up the dreamiest playlist. Any music or soundscape that helps you relax will do; you can try tree.fm's forest soundscapes, some guided meditation, or even a spa playlist on Spotify.
Perfect the temperature
The question of how to run the perfect bath temperature is a tough one. On the one hand, you want the water to stay hot for as long as possible, but on the other hand, you still want it to be pleasant right from the start. 
Filling up the bathtub can take a while, so turn on the tap early. Twist the tap to a position where it's just a little hotter than you would normally shower or bathe in, but not cranked all the way up. 
There is some debate as to what the ideal bath temperature is, but most of us don't keep thermometers on hand to check the precise temperature, anyway. You'll know you've landed on the correct temperature when you can dip your foot in the water and leave it in for 5 seconds without any issues. 
Waterproof your entertainment
A book or a TV-show can be pleasant bathtub companions, but bringing paper or tech devices into the water with you requires some planning. You can choose a cheap paperback, so it won't be a great loss if it falls in, or simply waterproof your devices. 
For the best luxury bubble baths, consider buying a waterproof case or even a waterproof device. 
Consider a beverage 
The next little treat for your relaxing bath routine is a beverage. Wine is the classic choice for a luxury bath, but don't feel constrained. Tea, hot chocolate, and even juice are equally suitable companions. 
If you do opt for an alcoholic beverage, make sure to also have some water on hand. It's easy to get dehydrated or overheated in the bath, and alcohol will compound that, so staying hydrated is essential. 
Start with a pre-bath rinse
Before getting into the bath, rinse yourself off, especially if you've had a long and grueling day. If you have both a shower and a bath, you can do this while the bath is filling up! Otherwise, you can do this before starting to fill up the tub. Keep the water lukewarm, and soap yourself up quickly—there's no need to go overboard. 
A bath pillow is essential 
Unfortunately, even the most luxurious bathtubs are designed out of rock-hard porcelain, so resting your head on the lip of the tub isn't the most comfortable. You can fold-up a small towel to cushion your head as you lie back, but if you really want to take your bathing experience to the next level, purchase a dedicated waterproof bath pillow. 
Consider your bath additives
There are a few lovely options for additives that you can add to your bathtub. Luxury bubble baths can be a lot of fun, but the detergent-laden blends aren't great for the skin, so here's what we recommend. 
Natural bath bomb

s are amazing because they fizz, sparkle, and smell gorgeous. It's even better if you learn how to make your own!

Epsom salts can be a simple, affordable addition that'll help your muscles

unwind

. 

To nourish your skin, pour in some bath oil or even just a spoonful of coconut oil. Just remember that oil will make the bathtub a little slippery when it's time to get out. 

Finally, a few drops of your favorite essential oil will turn the entire bath into an excellent aromatherapy experience.

Be sure to always be mindful of what oils you allow to come in contact with your skin and always test on a small area of your body before putting anything in the tub. 
Enjoy a skin treatment 
How can you take a luxurious bath without adding in some face treatments? We don't think it's possible. Steamy bath time is ideal for face treatments! You'll have time to lie back while the added steam helps nourishing ingredients penetrate into the skin. Try a purifying clay mask, apply a Korean sheet mask, or go with your favorite facial skincare treatment!
Guarantee a cozy finish 
Eventually, even if you've run the perfect bath temperature or put on your favorite soundtrack, you'll still need to get out of the bathtub. Don't let the luxurious experience end in disappointment with a scratchy, threadbare towel. Instead, prepare your fluffiest towel or bathrobe well in advance, so you can feel pampered right up until the end. 
What if you don't have a bathtub?
Unfortunately, not every home is fitted with a bathtub, especially if you live in a big city apartment. We've gathered some tips so you can have a relaxing shower, instead. 
While it might be hard to enjoy candles through the shower curtain, you can still dim the lights for a calming environment. 

Waterproof Bluetooth speakers will allow you to enjoy some music despite the noise of the showerhead. 

It's harder to

relax

when you're standing upright, so consider placing a plastic stool in your shower, so you can sit back under the warm spray. 

While bath oils or salts won't work in the shower, you can

pamper

your skin with an exfoliating salt and oil scrub. 

Placing a bath bomb by the shower drain will create just as dramatic an aromatherapy experience as it does in the bath. As the warm water melts it away, it will release the fragrance, enveloping you in relaxation. 
And off to bed 
After a relaxing shower or a luxury bubble bath, you'll be ready for bed! The bath routine is designed to promote calmness and relaxation. It's ideal to save the pampering for the end of the day when you need to unwind. By the time your bath is over, you'll want nothing more than to sleep deeply and soundly. Bonne nuit!  
Written by: Vivienne Sabó
Published: April 25, 2021