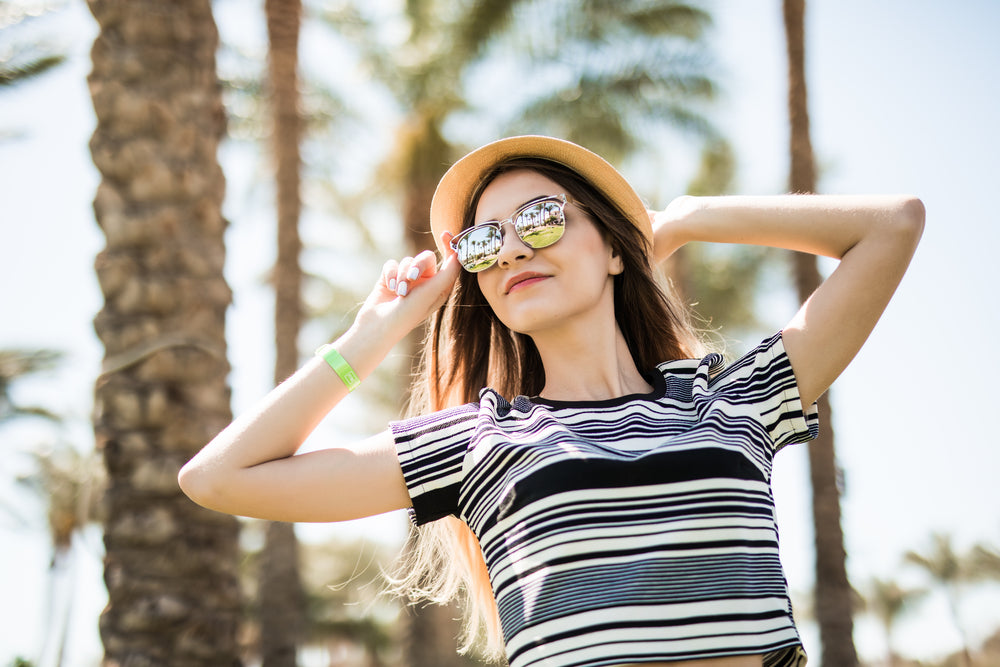 Back to articles
Summertime Makeup Ideas
As the weather starts getting warmer, we're ready to change up our look! For us, timeless summer looks have to be a little lighter and softer, as opposed to the darker colors we favored in the winter. 
However, just because we prefer a more natural summer makeup look, doesn't mean we're giving up on any of the beauty or glamour. Makeup for hot weather shouldn't feel heavy, but it can still pack a punch. 
That's why we've selected our favorite summer makeup looks for 2021. Have a look at the photos to get inspired, and then follow our tips so you can try these makeup looks for yourself. 
Glowy and natural 
To start, let's talk about natural summer makeup looks that help you feel cool and refreshed no matter how hot it gets outside. This stunning look is ideal for daytime, with a focus on healthy, glowy skin and bright, vivacious eyes. 
To achieve this look, start with a good canvas of well-prepped skin. Don't skimp on moisturizer and sunscreen, especially if you'll be spending any time under the sun.
Use just a hint of tinted moisturizer to even out the skin tone, and then build up layers of bronzer and highlighter for that sunkissed, glowy look. If you don't have a liquid highlighter on hand, a dab of shimmery gloss can totally do the trick!  
To make the eyes pop, frame them with a lengthening Vivienne Sabó mascara. The newest addition to our mascara collection, the Polynésie Francaise is ideal, because it offers natural length with water-resistant and non-flaking formula.
Finally, fill in your brows, and then brush them up for that fluffy look. Our Brow Arcade pencil comes with a comb on the end, so it's perfect for the job. 
Feeling pink 
If you'd like to have a bit of fun with your eye makeup without necessarily spending ages on eyeshadow, get inspired by this makeup look! Pops of color are going to be everywhere in 2021. A swipe of pink along the lash line is a great way to rock the trend without feeling silly or overdone.
This look isn't quite as glowy as the previous one we showcased, but otherwise, the two are quite similar, with a more natural vibe. Just use a slightly more dramatic Vivienne Sabó mascara, like the volumizing Provocation. Finish things off with a dose of a more pigmented pink lip gloss, like our Le Grand Volume in Raspberry, to match the eyes. 
Nude glam
This is one of those timeless summer looks for the evening. It's elegant and polished, with a refined glamour that's never in danger of looking like too much. This kind of nude glam look is fitting for any occasion, including a day at the office or a night at the opera. 
Because the colors used in this look are natural, it's possible to slightly amp up the intensity of both the eyes and the lips. For the eyes, a shimmery champagne shade is ideal for the lids while brown eyeshadow helps to contour the crease. Finally, a soft Feutre Fin wing is essential for framing the eyes, along with a few coats of mascara. 
To give the lips that glossy fullness, the secret is to first use a warm nude lip pencil to contour the lips. Then, a coating of our Polynesie Francais gloss in Tahiti completes the look with a radiant sheen. 
Soft and smokey 
If you want smoldering makeup for hot weather, a soft smokey eye is our favorite. It's an alluring and irresistible look with a lot of sex appeal. Because it relies on brown eyeshadows, it doesn't have the heaviness of a black smokey eye.
As with all of our favorite summer makeup looks for 2021, the base here is also natural, soft, and incredibly glowy. The eyes are the focus, of course, so apply a soft, shimmery brown to bring out the lids. 
Then, in the crease, apply a medium brown shade that's just a little darker than your skin tone. Use that same color all along your lower lash line, to create that smokey effect. Finally, use a darker brown shade to deepen the outer corner of the eye and the crease. 
To finish things off, apply your liquid liner in a very thin line, right along both the top and bottom lash lines. Finally, apply a generous coat of Vivienne Sabó mascara, and a light dab of nude gloss on the lips. 
Peachy keen
A softer way of adding color to your summer eye makeup is to use peach! The vibrant color looks incredibly natural against the skin and adds a touch of warmth that's perfect for the season. It's universally flattering, and because of its orange base, it really makes blue eyes pop. 
This monochrome look is a great way of making this color work! There's no need for eyeliner—just a swipe of peach over the lids and across the cheekbones. A coat or two of mascara and a touch of warm lipstick like our Matte Constance in Warm Pink finish the look. 
Summer night glam 
Red lipstick fits every season. It's elegant and eye-catching, so it's perfect for a classy summer soirée or romantic dinner date. In true French beauty fashion, this timeless summer look also features a subtle black wing and perfectly groomed brows. 
To make this work for you, choose a red lipstick with rich depth, like our Matte Constance in Classic Red. A dab of gloss only at the center of the lips adds a reflective touch that makes the lips look a little bigger and fits in well with summer 2021 trends. 
Bringing the heat
The best season of the year is just around the corner, and with these makeup looks, we'll be bringing the heat! Sure, there's no reason why you can't wear these timeless summer looks during other seasons, but to us, they perfectly capture everything Vivienne Sabó loves about the warmest season. They're light, fresh, and timelessly beautiful. 
Written by: Vivienne Sabó
Published: May 19, 2021