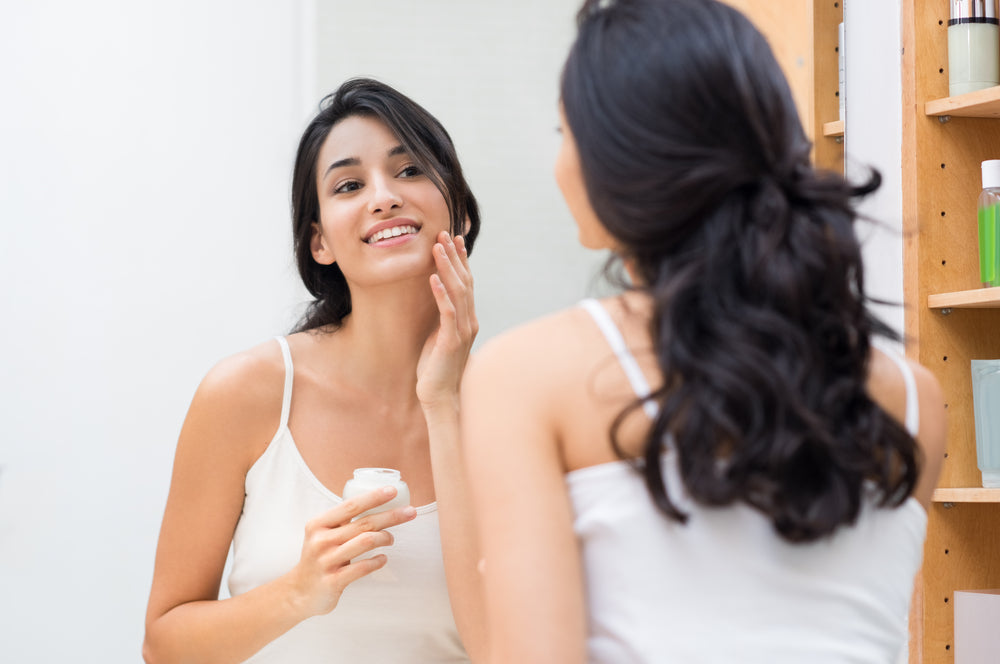 Back to articles
Life-Changing Skin Care Tips Inspired by French Beauty
The modern skincare world can seem incredibly complicated, with a ton of different products and so much advice. The French skincare routine is much easier compared to some of the 10-step routines we've been seeing online! 
In reality, there are a few different ways to achieve healthy skin, so our goal is to help you with simple yet life-changing advice. When it comes to French beauty, it's not only about your specific products but also how you use them! 
With these easy skin care tips, you'll be able to make the most out of your beauty routine. 
French pharmacy brands
In France, most women buy their skincare products at the pharmacy, and French pharmacy brands are an important staple in most French skincare routines. These brands are renowned for formulating gentle products that are suitable for sensitive skin, and for investing a lot of money in clinical research. 
While French pharmacy brands put a large emphasis on science, their products still contain a lot of lovely natural skin care ingredients that have their own nourishing effects on the skin. 
Be consistent
French skincare comes at all kinds of price points, and contrary to popular belief, more expensive doesn't always mean better. That's why another one of our most important tips for great skin is to be consistent, no matter what products you decide to use. 
Cultivate skincare as a habit that you do every day, without changing up your products too much from day-to-day. Remove your makeup and moisturize every night, and wear sunscreen every morning. This consistency will pay off in the long term, by keeping your skin at optimal health for years to come.  
Cleansing should be gentle
One of the most important French beauty secrets to healthy skin is gentle cleansing, no matter your skin type. In many countries, those with oily skin resort to scrubbing their face with harsh, stripping cleansers that throw their skin off balance, leading to irritation, breakouts, and more oiliness. 
However, in the best French skincare routines, cleansing is gentle and usually done with creamy milk cleansers. These days, oil cleansers and micellar water are also incredibly popular, but the key is to avoid any harsh, foaming cleansers. 
Moisturize damp skin
Another easy skincare tip that makes a big difference is to apply moisturizer to the skin when it's damp. This also applies to serums, essences, and any other hydrating skincare steps, although in French beauty, it's okay to keep things minimal. 
Water makes the skin more permeable, so moisturizing agents sink in more deeply instead of sitting in a layer on top of the skin. The result is bouncy, more hydrated skin that feels soft to the touch but never greasy. 
Don't neglect the neck and decolletage
The skin doesn't stop at the face! The French skincare routine extends from the face to the neck and chest, since those areas are all actually quite similar when it comes to skin thickness and level of exposure to the elements. Make sure to use your cleanser, moisturizer, and sunscreen from the face all the way down to your decolletage. 
It's particularly important if you rely on your skincare routine to prevent premature signs of aging. If you forget to care for your neck, it'll be an instant giveaway. 
Nurture your body with oils
The rest of the body also deserves some attention, although it doesn't necessarily need the same products as the delicate skin on the face and neck.
The skin on the body is a little thicker and it's usually less prone to acne, which is why French women love to nurture it with body oils rich in beneficial fatty acids and regenerative antioxidants.
Just as with the face, the body is also most ready to accept moisture when it's damp. The best time to use body oil is immediately after the shower when the skin is totally saturated with water. Using oil immediately after will help to prevent that water from evaporating, which will leave the skin hydrated and soft. 
Skincare can be aromatherapeutic 
This skincare tip won't work for everyone, but for many French women, it's what makes their beauty routine so fun. France has a centuries-old tradition of perfumery, essential oil production, and aromatherapy, which also touches into the skincare world. 
While the benefits that essential oils have for the skin are debatable, it's undeniable that they can have a beneficial effect on the mood. Lavender is incredibly calming while rose essential oil can make you more cheerful. 
Using natural skincare with essential oils can have a positive impact on your mental health, and it can also simply make the skincare experience more sensorial and enjoyable! If your skin is sensitive to fragrances, try lighting a scented candle while doing your beauty routine, instead. 
Go all-out with the occasional treatment
While consistency is important, treating yourself to some extra self-care can also be beneficial! In general, it's not great to surprise the skin with new products, but a few times a week, you should exfoliate or mask your skin and give yourself a longer-than-normal massage. 
While these added treatments aren't mandatory for healthy skin (it's what you do every day that really matters), they're still an easy way to amp up your glow and to feel pampered. 
It's not all or nothing

Since consistency is so important, we also want to reinforce that skin care is not all or nothing! While a multi-step routine with double cleansing, toning, multiple serums and creams can be nice, you're also allowed to keep things basic and even to take shortcuts. 
Having a few pre-planned shortcuts, like a bottle of micellar water in a cupboard for easy makeup removal or a bottle of face lotion near your bed can go a long way towards helping you maintain your consistency on nights when you're too tired to go all-out. 
Simple skin care success 
Skin care is highly individual since each person has a different skin type and slightly different concerns. However, our tips for great skin are universal, because no matter who you are or what your budget is, you deserve to have healthy, well-cared-for skin!
Written by: Vivienne Sabó
Published: April 30, 2021