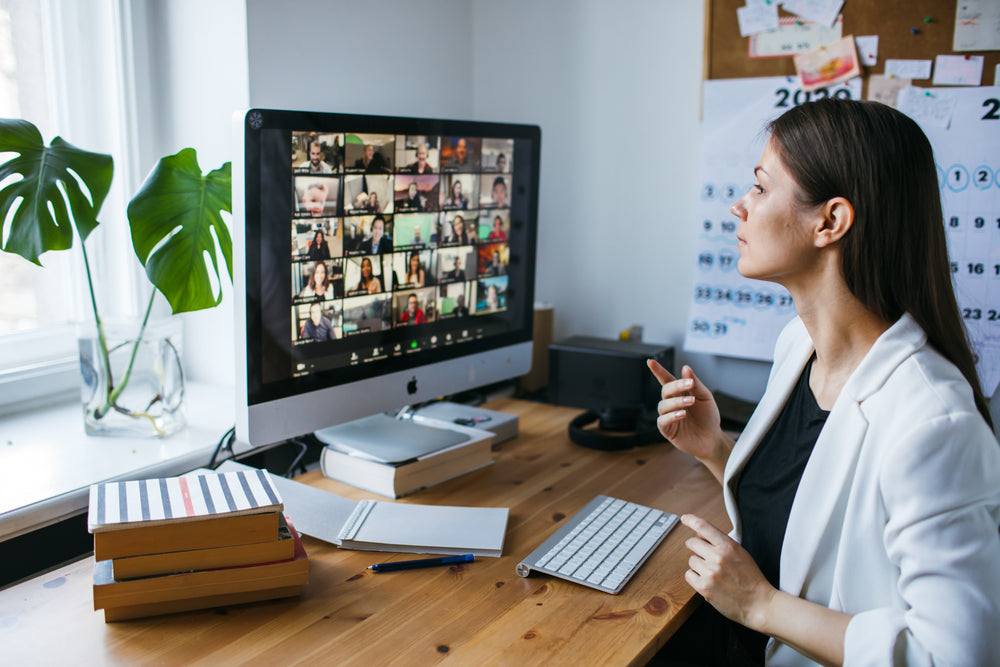 Back to articles
How to Look Great on Zoom Calls
These days, more of us around the world are using technology to speak with friends, loved ones, and colleagues than ever. Life and communication look different, and so do we.
While we're used to styling ourselves to look gorgeous in person, this doesn't always transfer through a digital screen. Looking nice on camera is a different skill set, and it's no longer limited to Hollywood glamour or French fashion shows.
That's why we've compiled this list of tips and tricks that will help you learn how to look great on zoom calls.
Whether you're curling up on your sofa for a remote trivia night with friends or armed with coffee for an early-morning work meeting, these video call makeup tips will help you look great and feel confident.
Choose the Right Filming Location
As the best videographers would tell you, lighting is everything. Sit in front of a window and allow the sun's rays to light up your features.
The best lighting for Zoom calls illuminates your face from the front, not from overhead or behind. Artificial lighting can appear yellow on a screen, which can mess with the way you appear through the lens.
If you're taking a call at night or otherwise don't have access to natural lighting, try placing a white-toned light in front of you to get a similar effect.
Turn off any rear or overhead lights, then check to see if the lighting looks natural on-screen and that you can easily be seen without strange shadows or highlights. You might have to adjust other lights in the room by turning them on and off until you get the desired effect. 
Once you've chosen the right location, simplify your background so that fellow video call attendees can focus on your face, not the overcrowded shelving or dirty laundry behind you.
Adjust Your Camera Angle
Next, adjust your camera angle so that you can look better on video. You should be able to look comfortably forward into your camera, not up or down.
A camera from below, where most laptops, tabletops, and even our phones are naturally positioned, can distort your features and cause your face to look unnatural. The people you're speaking with may end up with a view of your nostrils rather than being able to make eye contact.
Being able to look straight into the camera will also help with your posture so that you don't have a sore neck or back halfway through your call.
Use regular household items such as books stacked under your device to get a flattering angle.
Keep it steady so that it doesn't topple over, especially if you have children or pets in the home that may bump the table or stand you're using. 
Have Confidence
The French know that the first step to success is to have confidence. When you feel your best, your natural beauty shimmers through.
Dress from head to toe, even if nobody can see your lower half. Or, have some fun and pair pajama bottoms with your best blouse.
The relaxation and happiness you feel when you're comfortable in your own skin are contagious, so focus on feeling good, and the rest will follow.
Conceal Discoloration
Concealing discoloration, such as eye bags and red spots, goes a long way on camera, which can accentuate our imperfections.
Dab on some concealer to hide any blemishes. If needed, you can also use a camera filter to even out your skin tone.
Choose Vibrant Colors
You can cause makeup to look better on video calls by selecting brighter, bolder colors than you would when meeting up in person.
A vibrant blush and lipstick combo will make you look more lively and less flushed out, as can sometimes happen in a video call.
Our Matte Constance Duo Pack comes with two stunning lipstick shades for you to try.
Focus on Your Eyes
Focus on your eyes while formulating your makeup look to draw attention to them on camera. Cover dark circles and apply Cabaret Premiere mascara for beautiful, full lashes.
Pair this with a neutral eye shadow to complement your vibrant lipstick and blush selection, and voila! 
Keep it Simple
Don't feel that you have to go overboard on applying your makeup to look cute on your Zoom call. A little can go a long way, and it's alright to keep it simple.
Focus on accentuating one or two features, and don't be afraid to have some fun trying new techniques or products.
Relax, be yourself, and don't take things too seriously.
Preview Before Going Live
Whether you're using Zoom, Facetime, Skype, or even just taking a photo, you'll likely notice that your face looks much different than it does in the mirror. The lens type, the distance between you and the camera, and the angle can all distort your image.
This is why it's important to preview before you go live so that you have an idea of what others will see.
Fix any lighting, makeup, or angle issues ahead of time so that when you take the call, everything goes smoothly and you aren't stressed about the lipstick on your teeth or that plate you forgot to put away in the background.
Enjoy Your Meeting
You're all set to join any video call with confidence! When it comes time to log on, relax because you've thoroughly prepared for this. You go girl!
Written by: Vivienne Sabó
Published: February 26, 2021