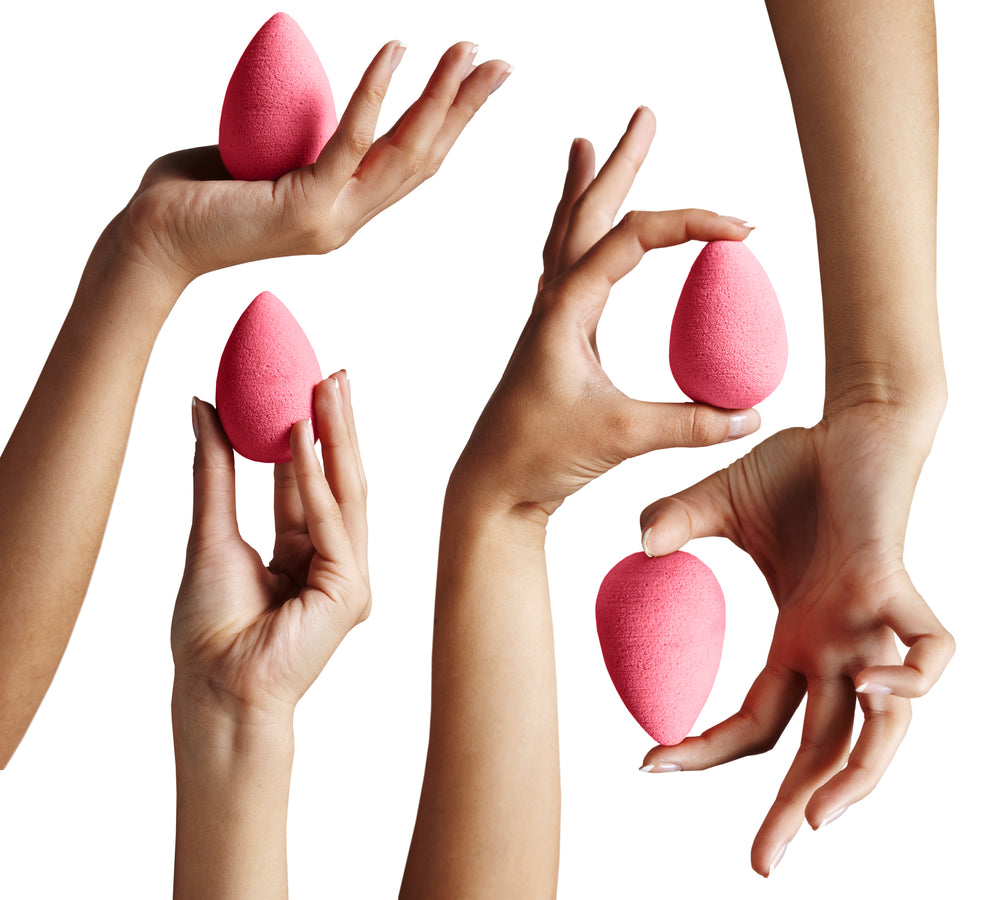 Back to articles
How to Use a Makeup Sponge
Is a makeup sponge part of your beauty toolkit? For us, it's a must-have! Makeup blenders, in particular, are a fairly recent innovation that has had a big impact. 
French girls have totally fallen in love with makeup blender sponges because, when used damp, they give a glowy finish that's integral for achieving natural-looking makeup in seconds. 
Whether you only apply a touch of concealer once in a while or you like a full foundation and contour makeup look, using a makeup sponge correctly will help up your makeup game. In this post, we'll focus on a more French approach to using a makeup blender, with tips for simplistic makeup that'll help your skin look naturally radiant. 
First, we'll give you a quick overview of the different types of makeup sponges, and then we'll provide tips for using them depending on the products you like. 
Types of makeup sponges
There are two major types of makeup sponges to choose from, so let's quickly summarize the details you should know about them. 
Makeup blender sponges
When we hear the word makeup sponge, the first thing that comes to mind is a round, reusable sponge, much like the original Beauty Blender and the other sponges inspired by it.
These sponges are meant to be used damp to apply and blend complexion makeup. You wash them with soap and water after every use. You can use the same sponge again the next time you do your makeup. 
These reusable sponges are fantastic for complexion makeup. They blend away streaks and harsh lines, and because they're damp, they don't absorb your foundation. The water in the sponge helps add more moisture and glow to the foundation, contributing to a healthier and more natural finish.   
Disposable sponges
Before blenders became standard in all of our makeup kits, many women were using disposable sponges to do their makeup. They were usually wedge shapes, but occasionally you could also come across flat sponges. They were never especially popular in French beauty since French women preferred to use their fingers to apply their makeup. 
Some brands market their wedge sponges as reusable. In practice, they're usually flimsier and more likely to harbor bacteria compared to makeup blender sponges, so while you might be able to wash and reuse them, we don't recommend keeping them around for long. 
These days, many makeup artists still use disposable wedges. They can just throw them away instead of having to carefully sanitize a reusable sponge for their next client. They work well in a pinch, although their smaller size and straight edges mean that getting a seamless blend takes a little longer. 
How to use a makeup sponge for foundation makeup
This is the French approach to using a makeup blender for natural-looking makeup. It works whether you use a foundation or a product with lighter coverage like tinted moisturizers or BB cream. 
Always start with clean and very well-moisturized skin. If you want, you can even use your sponge to apply your skincare steps! 

Next, soak your sponge with water until it doubles in size, and then wring out the excess, so it's damp but not dripping. 

Dispense your cream or liquid

foundation makeup

on the back of your hand. The heat from your skin will help warm it up so it'll glide more easily. 

Dip the sponge into the makeup on your hand. 

Start with the area of your face where you would like the most coverage, and gently bounce the sponge over your skin. 

Never drag the sponge over your skin since that can leave visible streaks. 

Use overlapping bouncing motions to spread your foundation and to give your skin a seamless, poreless blend. 

If it looks like you've overapplied makeup to any part of your face, use one of the sponge's clean sides to blot away the excess and to prevent a cakey look. 
Applying concealer with a sponge
Many French women use concealer instead of foundation since they can just dab it where they'd like to even out their skin tone a little. Getting a concealer to blend into bare skin isn't always easy, but with a makeup sponge, it's a piece of cake!
It's best to apply concealer directly to the area that needs the added coverage, either with a brush, a finger, or the applicator that comes with your concealer. Then, use the clean, pointed end of your damp sponge to blend out the concealer into the rest of the skin so it becomes truly undetectable.  
Using a makeup sponge for blush and contour
Powders aren't especially popular in French beauty because they can leave the skin looking too matte and dry. Instead, cream blushes, bronzers, highlighters, and contour makeup are much more common. 
Using a sponge blends out those colorful, precise complexion products in a way that gives them a skin-like finish. 
As with concealer, it's best to first dab the product on the skin, concentrating on the areas where you want it to be more saturated. 
For blush, that means the apples of the cheeks, while for contour or bronzer, it usually means below the cheekbone and along the temples. 

Using a clean side of the sponge, gently tap over them to blend, and add a bit of a dragging motion if you also want to distribute the product further out. 

Finally, if you think your blush or contour is a little too dark or vibrant, you can actually dip the sponge into a bit of your foundation and concealer and then bounce it over the makeup. It'll help to soften the blush, as though it's emanating from within your skin.  
Soak it up
When you use it correctly, a sponge is the ultimate makeup aid. No other tool can blend things quite so seamlessly for natural-looking makeup every time. Use it damp, and that added moisture will help you realize all of your French beauty fantasies! 
Written by: Vivienne Sabó
Published: June 05, 2021