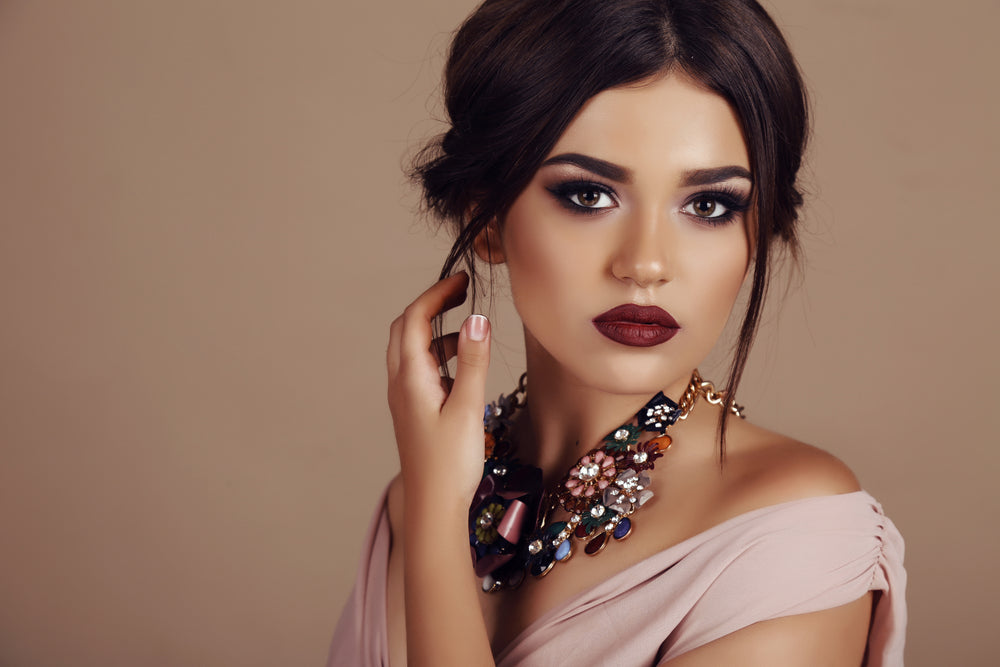 Back to articles
How to Get the Sexiest Smokey Eye Look Ever
Smokey eye makeup is up there with the most popular makeup looks of all time. One quick search for a smokey eye tutorial will field millions of how-tos in seconds. And for good reason.
A smokey eye is sexy, sophisticated and the perfect makeup look for any party or celebration. And although it may seem complicated, when you know what to do, you'll find it's pretty simple. 
That's why we've put together this simple guide on how to get the sexiest smokey eye step by step. It should take around ten to fifteen minutes to complete, but a little longer if you're a newbie. Remember, the more you practice your technique, the better the result. 
So what are we waiting for? Let's dive in. 
Here's what you'll need to get started:
Eyeshadow base

(primer)

Dark-colored

kohl eyeliner

Lighter

eyeshadow

(pearl or creams work well)

Darker

eyeshadow

(see color recommendations below)

Eyeshadow brush

(a couple if possible, but you can wash between uses)

Eyelash curler

Mascara
Which color should I go for?
If you're after a deep smokey eye then opt for a rich, matter color in black, brown, or deep gray. These colors will create an edgier look and make a bolder statement. 
If you're looking for a more natural smokey eye, choose something less harsh, like a plum color.
For a jeweled tone, purples, blues, and greens are striking. You can also use a shimmery eyeshadow if you like, for extra sparkle.
Don't do any other makeup before your smokey eye 
You might think that applying your foundation and concealer before working on your eyes is the natural thing to do. But the pros apply eye makeup first. 
Why?
Because no matter how careful you are, there are bound to be flecks of eyeshadow powder and mascara that fall down your face. 
If you've already done the rest of your makeup, then you'll have to touch it up. It's much easier to fix mistakes like this without a full face of makeup. 
So no matter how much you want to apply other makeup first, don't do it! Trust us on this one. 
Prime your eyelids
Not everyone does, but if you have shiny lids, priming your eyelids first is a must. Without it, your eye makeup is bound to melt and smudge all over the place. And nobody wants that. 
Primer will create a solid foundation for any layers of eyeshadow you apply on top and will help you build color that lasts. Plus, it will prevent it from creasing.
Use a brush or cotton pad to sweep it over both lids. Leave it to dry before starting your smokey eye makeup.
Begin with a kohl eyeliner
Start with a kohl eyeliner as a base. This is what will anchor your eyeshadow, and keep it on all night. We recommend picking the same color as the eyeshadow you're using, but feel free to mix things up and experiment with color combos.
Concentrate the eyeliner on the inner and outer corners of your upper lid, leaving the space in the middle bare. Use a brush to blend this across your upper lash line. This is how you begin creating that smoldering, sexy look, and it stops it from looking too intense. 
Next, use the same eyeliner on your lower lash line, blending it out with the same brush as before. 
Apply a light base color
Every smokey eye look tutorial will recommend contrasting a light eyeshadow with a dark one. This adds to the smokiness. 
Using a clean brush (or washing the previous one), sweep the lighter color across the eyelid, following along to the brow bone. This is how you create the shadow for your smokey eye.  
Apply dark eyeshadow
Next, grab your chosen darker eyeshadow color, and apply to the eyelid with a clean brush. Use enough to coat the color on your lid, but make sure you stop below the brow bone this time. 
Once you're done, blend the color into your upper lash line (where the eyeliner is) as well as into the line between the dark and light shadow. Use a clean brush to do this, working small circular movements. 
The most important thing when creating a smokey eye makeup look is to avoid harsh lines, and to blend... and blend again. 
When you think you're done, take a step back and check both eyes for symmetry. You're looking for an even blend on both eyes. 
Curl the eyelashes
The next step is to use an eyelash curler to give your lashes a sexy curve. Heat it with a hairdryer for ten seconds, and test it on the back of your hand before putting it near your face. Hold the curler for 10 seconds on each eye.  
Complete the look with a swoosh of mascara
To complete your smokey eye, finish with as much or as little mascara as you like. If you're going for a bolder look, amp up the volume here. If you're going for a natural smokey eye, then stick to one or two layers. 
We love our Classic French Mascara for voluminous lashes in just one coat. Start at the root of your upper lashes, and wiggle up to build length and volume. You can apply mascara to your lower lashes too, but keep it to a minimum to avoid a spidery look. 
And that is your complete smokey eye look tutorial! 
Remember: Let your smokey eye makeup stand out
Even if you've opted for a natural smokey eye, it's still a strong look. And you want it to stand out. So keep the rest of your makeup to a minimum, and stick to neutral colors. 
A little bronzer, a neutral blush, and a nude lip will complete the look, but your eyes will remain the star of the show.  
And that's it! We now pronounce you ready to create the sexiest smokey eye look ever.
Written by: Vivienne Sabó
Published: March 19, 2021