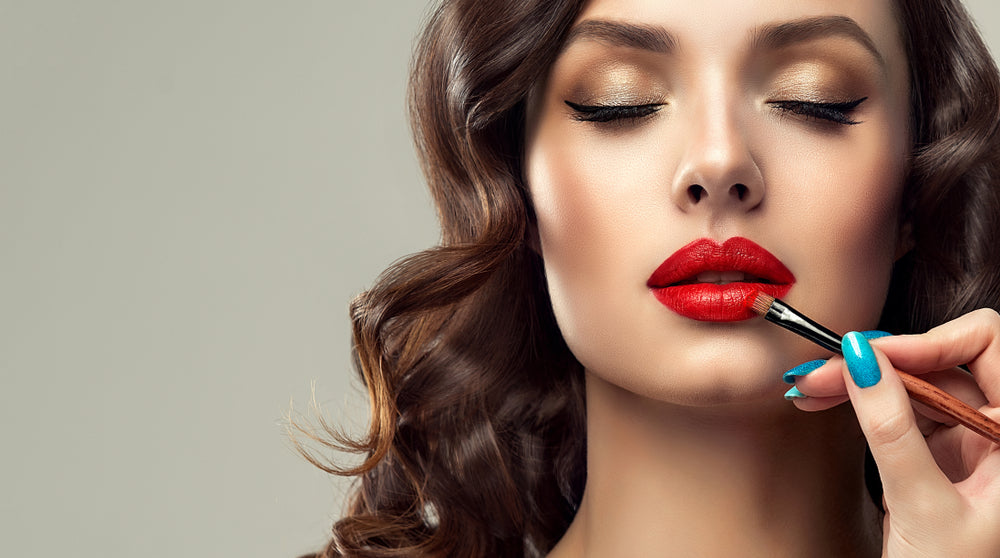 Back to articles
Bad Makeup Habits that You Need to Stop Having
You're getting ready for your day. You look in the bathroom mirror at tired eyes and blemishes near your nose. As you apply your cosmetics, your face transforms into a bright-eyed, flawless masterpiece.
Using makeup is a fun way to express yourself. When used correctly, it helps enhance your natural beauty and boost your confidence. When misused, it can do the opposite.
We will be going over some bad makeup habits that may be causing skin damage and why you need to get rid of them today.
Here are some makeup habits you need to stop having
Pumping mascara wand
Chances are, you or someone you know puts on mascara by pumping the wand back and forth in the tube. It makes sense to think you're getting an even coat to apply to your lashes. But this is one of the worst makeup habits for applying mascara.
The problem with pumping the wand in and out is that you're also pumping in air.  Pumping air into the tube limits the lifespan of your product by making it dry out faster. It can also cause flakiness and clumping, leading to uneven lashes.  
Instead of pumping the wand, the best way to use mascara is by gently circling the wand inside the tube.
Sleeping with makeup on
Makeup covers the skin to make it look beautiful and smooth. But sleeping with makeup on can suffocate your skin, causing clogged pores by trapping dirt and oils into your skin. This can lead to dry, dull-looking skin.
Skipping moisturizer
Moisturizer is one of the most essential products for your skin. It keeps your skin young and fresh and aids in a flawless makeup application. If you don't have time to apply makeup, make sure you still moisturize.
What happens when you skip this step? If it's not often, it's fine. But over time, it can lead to dryness, wrinkling, and premature aging.
When you apply foundation and other products, your skin can become flakey, causing the makeup to be less effective. If you want a flawless complexion, you can't skip moisturizer.
Not cleaning your brushes
Makeup brushes are great at giving a clean and blended makeup application. But people forget that they need to be cleaned. When you don't clean your brushes, they can breed bacteria, causing issues like dry skin and itchiness.
Brushes should be cleaned at least once a week to avoid the buildup of debris and oils.
Wearing too much makeup
Wearing cosmetics is a great way to feel beautiful, but it's best done in moderation. It can be easy to put too much on your face or to apply it too often.  
Your face needs to breathe and needs at least one day a week without makeup. Caking on too much foundation or never letting your skin breathe can lead to skin damage.
This includes clogged pores, dry and dull-looking skin. When you notice new blemishes, you're probably tempted to cover them up with foundation. The best thing you can do is let it breathe for a while and make sure your makeup habits aren't causing them.
Wearing makeup isn't a bad thing. But one just needs to make sure that it is not becoming a habit of hiding the real skin underneath. 

- Aakanksha Singh
Using expired product
Have you ever looked through your makeup bag and noticed a cosmetic that's a few years old? You might not have used it as much as you thought you would and may be surprised to see it still looks ok.
You may be tempted to use it and get your money's worth. This isn't a good idea because using makeup products beyond a certain amount of time isn't always safe.  
Old products can breed bacteria, causing acne and clogged pores if used on your skin.  And if it's been long enough, it may even be dry and flakey or dull in color. It's best to simply start over with fresh product.
One bad habit often spoils a dozen good ones. 

- Napoleon Hill
What will these bad makeup habits do?
Bad beauty habits may seem like no big deal. So you don't clean your brushes every week, and you sleep with makeup on sometimes. Not a problem, right?
The truth is, these makeup habits can lead to serious skin damage. Forgetting once in a while is fine, but more than a few times a week can lead to the problems below.
Clogged pores
Have you ever had a rough week and then noticed new blemishes on your skin? This is likely the result of clogged pores.
Pores are tiny openings where microscopic particles can pass through, allowing products like makeup and lotion to settle in your skin.  
Because your skin has pores, it needs to be able to breathe. When bad beauty habits occur, it can suffocate them, causing them to clog up. This will often lead to oily skin, acne, and wrinkles.
Wrinkles and premature aging
When you think of wrinkles and premature aging, it's easy to assume that as long as you don't smoke or stay too long in the sun, you'll be fine.
Unfortunately, bad makeup habits can also cause these issues. Sleeping with your makeup on can cause stress to your skin and particles to get trapped in your pores. 
Permanent skin damage
Some bad beauty habits can cause permanent skin damage. The good news is that a lot of skin damage can be reversed with the development of good habits. But take care, not all makeup tips are created equally. Make sure to thoroughly research and understand any new practice before adding it to your daily makeup routine. 
Shorter lifespan of cosmetics
It's no secret that cosmetics are expensive. Looking your best isn't cheap, so you don't want your products going bad before you've had a chance to use them. 
In order to prevent product from drying up or becoming clumpy, it's important to treat your cosmetics carefully and use them correctly.
Here are some makeup tips to help form good habits
Micellar water 
Micellar water is a type of facial cleanser made with water and micelles. Micelles are cleansing molecules that can lift impurities, makeup, and dirt off your face.  
What makes this product unique is it doesn't take moisture out of your face, the way a lot of facial cleansers do. It's also suitable for any skin type, even sensitive skin.  
To use Micellar Water, simply apply some with a cotton pad, wiping your face like you would with a towelette. The best part? You don't need to rinse it off.
If you find yourself sleeping with your makeup on because you're too tired to take it off, this product is a great beauty habit to form. Just apply it and fall asleep.
You can even use it to clean your makeup brushes. Just put some in a container and twirl your brushes around to remove any makeup and debris. Then, allow it to air dry.
A change in bad habits leads to a change in life. - Jenny Craig
Keep moisturizer and wipes by your bed
Some days you are too exhausted to do a deep clean on your face. We get it, many of us lead demanding lives with long days. But bad beauty habits open doors to negative side effects. If you don't have the energy to do a full facial cleanse, at least take your makeup off.
Do you have a nightstand? If so, keep some moisturizer, and makeup removal wipes there. It'll only take a minute to wipe the makeup off your face and apply a layer of moisturizer before falling asleep. Your skin will thank you.   
Rotate cosmetics often
It's not enough to take your makeup off each night so your skin can breathe. It's important to make sure the products you use are still functional. Expired products can not only cause skin damage by exposing it to bacteria, but it can also look flakey and dull. It's not worth it.
Look up the lifespan of the makeup and skincare products you have to get an idea of what is still good to use. Some products have a two-year shelf life. Others, such as some eye cosmetics, need to be rotated every three months. Make sure you replace your products as needed, and if you find yourself not using it up in time, consider buying a smaller amount.
Do you often forget when you bought your products? Next time, get some stickers and label them with the date you purchased the product and how long they'll be good for.  
Makeup plays an important role in helping women feel beautiful. Good makeup habits help ensure clear, smooth, and beautiful skin for a long time.  
What bad makeup habits do you need to change?  
Share this article, and let us know which one you're going to change first.
Written by: Vivienne Sabó
Published: March 12, 2021