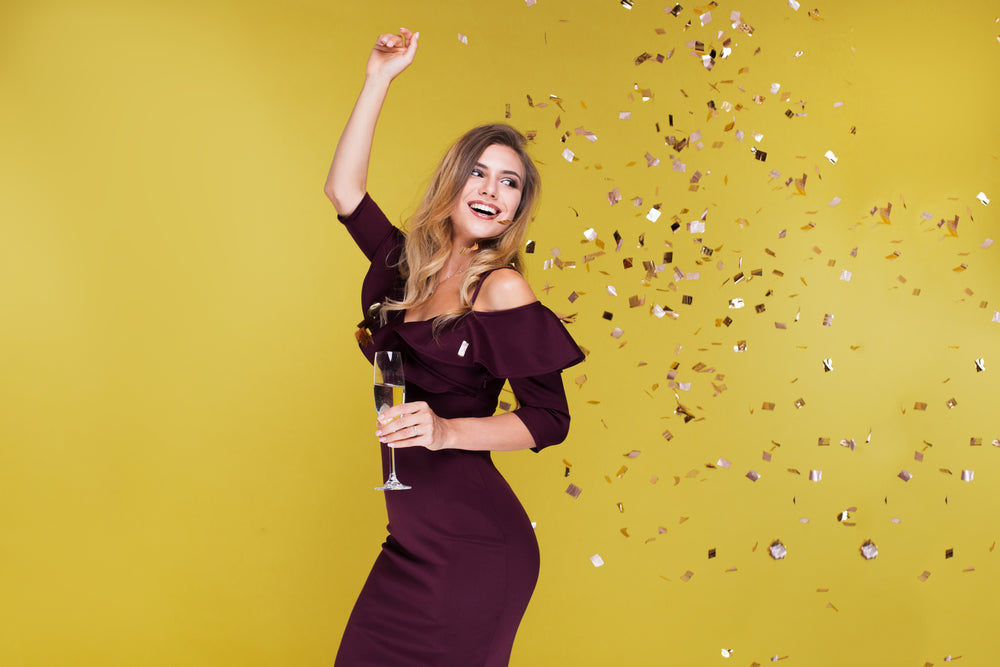 Back to articles
New Year's Makeup Inspirations
The New Year is right around the corner (how did that happen?!), so there's no better time than now to share some New Year's Eve makeup looks.
NYE might look a little different this year. The party might be a little smaller; maybe you'll have friends and family joining you via Zoom and toasting while social distancing. But just because the party has to be low-key doesn't mean your makeup has to be.
When it comes to New Year's Eve makeup, you can pull out all the stops. There's no such thing as too much color, drama, or glitter! This is the one night of the year when you can be as glamorous as you like and not feel overdressed.
Whether you want to keep your makeup simple and elegant or you want to spice things up, we've got New Year's makeup ideas to suit every woman. The best thing is, you don't have to be a professional makeup artist to pull these off. They're simple yet stunning. And if you feel a little out of practice, why not give these a go before the big day? 
Here are our favorite new year's makeup ideas to help you welcome in the new year looking fabulous. 
Halo eyeshadow
The halo eyeshadow look is also known as "spotlight" eyes and is one of the most striking New Year's eye looks you can go for. 
Pick an eyeshadow color—any color—and make sure you have one darker shade and one lighter, shimmery shade handy. Blend the darker eyeshadow on the inner and outer edges of your eyelids. Next, using the lighter shade, apply it to the center of your eyelids and crease.
And voilà! You just perfected the halo eyeshadow look. It's both pretty and glamorous, and you can achieve this New Year's Eve makeup look in less than ten minutes. 
Red lips
Nothing says party quite like a swipe of bold red lipstick does. For an ultra-sophisticated look, stick to a semi-matte finish. Remember to line your lips first, then fill them in with matching lipstick for a look that stays put all night. 
If you're going for a dramatic lip look, you can keep the rest of your makeup pretty simple. This will keep the focus on your lips and save you time, which means extra time for partying!
Big lashes
Big lashes are flirty, fun, and fabulous—a perfect makeup look to welcome in 2021. Our instant volume mascara promises instant volume in just one coat. It's super simple to apply and won't smudge or flake.
If you want to go bigger, pair your mascara with some faux lashes. Self-adhesive ones are budget-friendly and easy to apply with fingers or tweezers. When you're done placing them on your lash line, give them a swipe of mascara to create one unified lash, and you're New Year's Eve ready.   
Glittery eyes
New Year's Eve is the perfect time to incorporate glitter into your makeup, hair, clothes, and accessories. There's no such thing as too much glitter!
Choose a glitter eyeshadow, and make sure you dab your lids with a primer or some Vaseline first. This will ensure the glitter sticks and doesn't fall all down your face. But don't panic if it does, because seriously, there's no such thing as too much glitter with this look.
Gold glitter is perfect for New Year's Eve eye makeup.
The smokey eye
The smokey eye is something women all over the world have been trying to perfect for the past decade. And that's because this look is HOT. Like, smoking hot. And such a sexy look any time of the year, but really fitting on NYE.
Use a black eyeshadow, and gently blend it out from your inner lids outward, to create the effect of burning smoke. Choose a light, shimmery color for the very inner corners of your eyes to make them pop. 
Smudged eyeliner
We love this look because there's no need for precision or steady hands here. Smudgy liner is the ultimate party-girl makeup look. 
The best part? 
It gets better as the night goes on. 
Smudge some black or brown kohl liner around your innermost waterline. Blend out into a wing if you want to go one step further. 
Optional extra: Top with a glittery eyeshadow to add some sparkle to this look.
Golden skin
Don't worry, you don't need to be blessed with perfect tanned skin or have spent the past month chilling on a beach in Bali for this New Year's Eve makeup look. 
You can recreate a golden skin glow for this new year with one simple product: gold highlighter. 
Swipe it along your cheekbones, and that's it. Say hello to golden, stardust skin. 
Glitter lipstick
If you're someone who struggles to do eye makeup, we've got you covered. Stick to the glam glitter trend, but move the focus to your lips instead.
You can go as subtle or as dramatic as you like with this look. Use a block base color on your lips, to begin with, then top with a glittery lipstick of your choice.
Red is always a winning holiday color, but a bold pink could be really fun, too. 
Diamanté detailing
Adhesive diamanté are cheap to buy and incredibly versatile. You can stick to one color like silver or go for a rainbow of shades and sizes. It's completely up to you!
If you're new to diamanté and want to stick to something simple, just use them to line your upper or lower eyelid, or place one in the inner and outer corners of your eyes.
Pro-tip: finish all your makeup, and add the diamanté on right at the end.  
Bronze Goddess
If you're over the gold trend and looking for something fresh for this New Year's, why not give bronze a whirl?
You'll still shimmer, but in a more earthy, warrior Goddess kind of way. Give your eyelids a wash of bronze metallic shadow, brush some bronzer or highlighter on your cheekbones, and finish with a shiny lip gloss in a neutral shade. 
Have fun experimenting with these
New Year's makeup ideas
, and we wish you a beautiful New Year!
Written by: Vivienne Sabó
Published: December 31, 2020