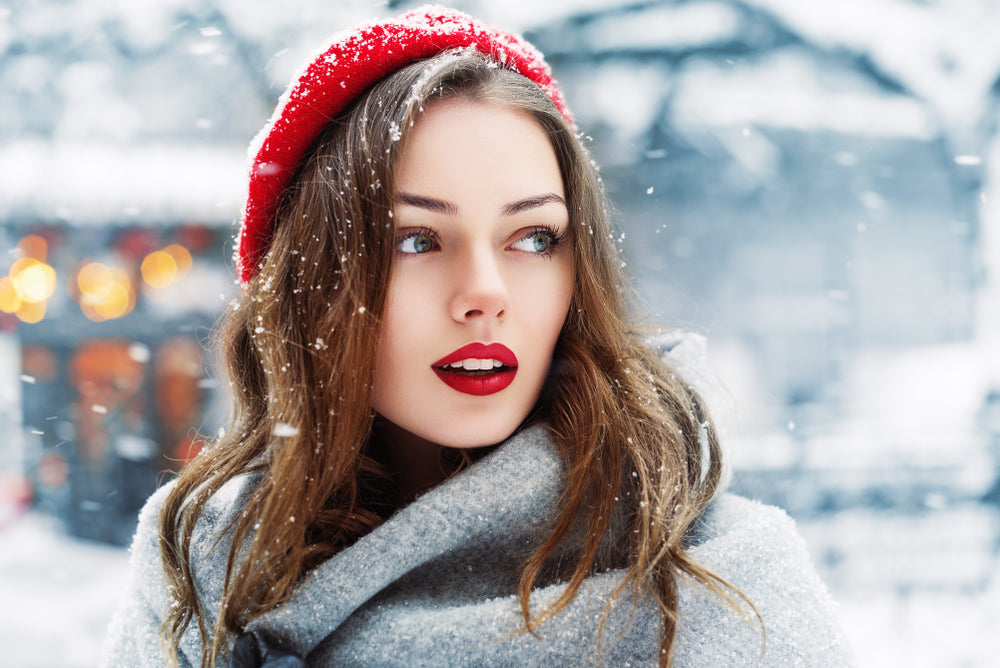 Back to articles
6 Pro Tips for Simplistic Makeup
When it comes to a simple makeup look that will work for your busy everyday life, no one does it quite like the French. The French look is all about classic beauty, which appears to be effortless and chic all at the same time. 
A staple of the French look is minimalist makeup. For the French woman, less truly is more — they choose to enhance their natural features and embrace their imperfections rather than painting on a new face with excessive contouring. 
Following the French philosophy and embracing a minimalist makeup routine leaves you with more time to enjoy life. 
Read on for seven tips on how to find an everyday makeup routine that you can stick to. 
1. Declutter 
It's safe to say that most women have more makeup than they need or even use. A cluttered vanity and makeup bag quietly eat your time as they cause you to search for the item you need or pause and think about what shade to use that day.
Unless makeup is your profession, there is no need for a makeup arsenal fully stocked with every shade. 
Decluttering your makeup bag will make your chic yet simple makeup look easier to achieve on a daily basis and will save you time each day. 
If you find that you don't need a full coverage foundation, switching to a tinted moisturizer or BB cream can simplify your makeup routine because it does double duty by acting as a moisturizer and providing light coverage. 
Paring down your makeup arsenal can make applying your makeup less daunting, and you will find yourself becoming a master at using the cosmetics you keep. 
So, where to start when you first decide to declutter? Following a few simple guidelines will get you set in the right direction. The first step to decluttering is an essential one: carefully check each product's expiration date and dispose of anything that is past its expiration. 
You should also throw out anything where the texture, consistency, or smell is off — old makeup is a notorious breeding ground for bacteria that can damage your skin and cause breakouts.
Organizing
Once you have disposed of your expired makeup, you can categorize everything and tackle each category separately. 
Pick out the items you regularly use as well as the items that you love so much you can't bear to get rid of — these items can go back into your makeup bag or drawer. Any remaining makeup can be given away or tossed. 
2. Prep your skin
To achieve the effortless French look, you must prep your skin! Prepping your skin will provide you with a clean palette and smooth complexion, which is a must for a natural look. A smooth complexion will allow you to use fewer cosmetics, eliminating the risk of a caked look. 
Cleansing and moisturizing are the two most essential steps to any skincare routine. By taking the time to care for your skin with intentional, natural treatments, you'll achieve a complexion and glow that may not need any help from foundation at all!
Daily cleansing helps rid your face of dirt, oils, and other impurities and sets your skin up for success. Regular facial moisturizing gives your skin that extra boost it needs and can help bring a dewy and more youthful look. 
3. Use lighting to your advantage
When applying your makeup, it is best to use natural light. We've all been there — you find yourself in a poorly lit room or a bathroom with yellowish light, and you really take your time getting ready, only to find when you step outside that you have unblended patches, causing you to feel like a clown. 
The best way to avoid this cringe-worthy scenario is to apply your makeup in natural lighting. 
Both yellow and fluorescent lighting tend to make you look pale, which often results in the application of too much bronzer or blush. Lights with blue, green, or pink hues are also common culprits in makeup mishaps. 
Natural light alternatives
While a large, naturally lit bathroom or vanity table is ideal, that is not always possible. A good alternative to true natural light is "natural" white light bulbs placed on each side of your mirror to ensure that your face is evenly lit.
The placement of lighting is nearly as important as the color of the bulbs. When investing in vanity lights, it is important to place lights on each side of the mirror and not just above. Lighting only above the mirror may save space but will cast shadows on your face and make it more difficult to apply your makeup evenly. 
For best results, lights should be installed at a full 270° around your mirror – this will not only yield better results with your makeup, but you will also feel more glamorous, giving you a confidence boost that will follow you out the door!
4. Use the correct tools for the job
It's always so tempting to take shortcuts in life that may not provide the best outcome. This is especially true when it comes to makeup. Using the wrong tools to apply your makeup is like trying to file your taxes on your phone; it may get the job done but will leave you frustrated and with lackluster results. 
For example, if you rely solely on your fingers to apply and blend your cosmetics, you will end up with uneven patches rather than achieving a finished and put-together look. 
While it is true that you can go overboard on makeup brushes, they do have their place in your collection, and if you have not invested in a set of brushes, it may be time to do so.
If you already have a brush set, make sure to take the time and get acquainted with it – learn each brush's purpose and how to use it properly. If you use the wrong brush for the job, it won't give you the result you are looking for.
5. Choose one star of the show 
For an easy natural makeup look, choose one feature to emphasize with your makeup. The best way to highlight one element is to stick with your favorite facial feature. The most obvious choices are your eyes or lips. 
Highlight your eyes
To emphasize your eyes, do not go over the top with colored shadows and liners — stick to a nude or neutral shadow with a slight shimmer, and go with some simple eyeliner that can be smudged for a night-out look. 
Most women tend to pass by the brown eyeliner in favor of black, but brown eyeliner is an excellent choice for a simple makeup look as it looks great on most skin tones and blends better with your lash line, giving the illusion of longer lashes. 
Your lashes are equally important if you want your eyes to pop. Just a light coat of quality mascara, and you're ready to go!

When choosing mascara, don't be afraid to go with brown over the traditional black. Brown mascara will provide a more natural look as it blends better with your lashes.
Highlight your lips
Lips are most easily emphasized by the use of a bold lip color, but it requires a little more than a quick swipe of your favorite shade. 
To make your lips stand out, you should always start with a sharp line drawn with a lip pencil — just inside your natural lip line for a daytime look and just outside your lip line for an evening look. 
Once you have your lips defined, you can apply and blend your favorite shade of lipstick, lip gloss, or even tinted lip balm!
For some extra definition around your lips, you can use a little concealer or foundation powder to make your lip color appear bolder. 
If you covet the confident red-lipped look of the French, don't be afraid to try it out for yourself! There is no need to feel self-conscious about the color of your teeth; if you choose a red lipstick with a blue undertone, it can help cancel out any yellowness on your teeth.
Whichever feature you choose to make the star of your face, it's important that everything else be minimal. When choosing a blush color, pick one that most closely matches your face's natural flush after exercise. 
If you choose to emphasize your eyes, go with a more natural look for your lips by using a nude lipstick or a color that is two shades darker than your natural lips. You should also avoid any temptation to overdo your eyebrows — leave them naturally full as it will give your eyes a more open look without any added makeup.
6. Don't overdo it
If you are aiming for a simple and natural makeup look, the biggest mistake you can make is being too heavy-handed. Too much foundation, blush, or even lipstick and eyeliner can make you look far from natural. 
Applying too much foundation can also suck the moisture out of your face, leaving you with a cakey appearance, or worse yet, the appearance of crepe paper skin! 
If you find yourself in a situation when you have applied too much foundation, first try blending again, and if that does not correct it, try wetting a beauty sponge and dabbing it on your face to remove some of the excess. 
If you feel comfortable in your own skin, don't be afraid to skip the foundation altogether or go with a BB cream or tinted moisturizer instead. You can also choose to use foundation in trouble areas only — be sure to thoroughly blend the edges if you go this route.
When you sit down to do your makeup for the day, the most important thing to remember is that your makeup should not be used as a mask to cover yourself up. It should be about highlighting your individuality and uniqueness — an expression of yourself. A natural makeup look is timeless. Stick to neutral colors; with simple eyeliner and a neutral color palette, you cannot go wrong!
However you choose to apply your makeup, take a step back, and look at yourself. You are beautiful as you are. Be confident! Believe in your own magic and beauty, and the rest of the world will too.
Written by: Vivienne Sabó
Published: March 09, 2021