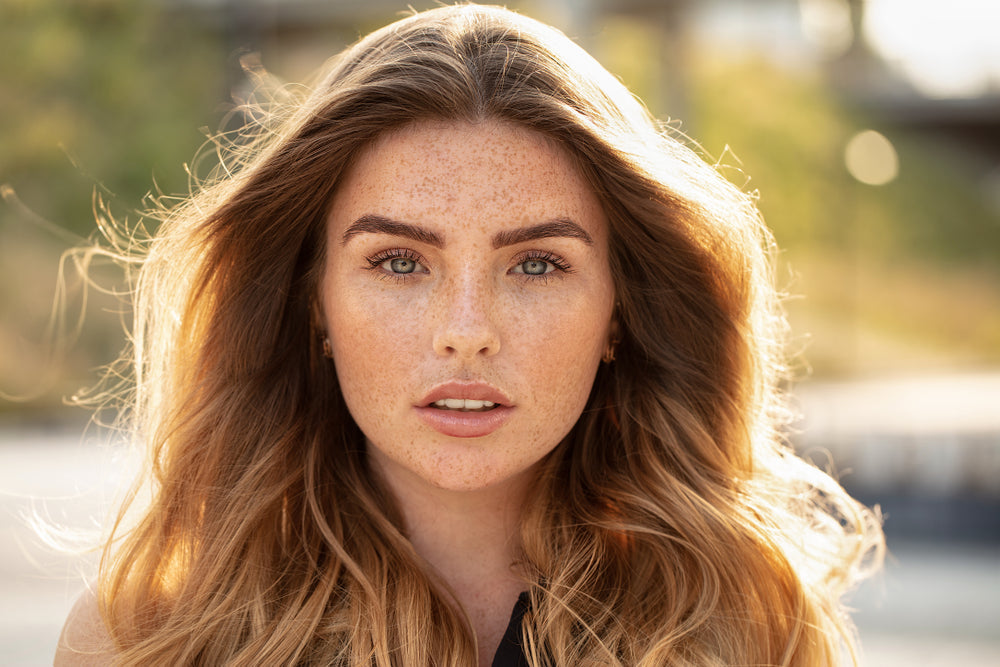 Back to articles
Take a Break From Foundation
We all have that one girlfriend who never wears foundation, and is blessed with immaculate, glowing skin. But we're not all that lucky, right?
Foundation is a key makeup must-have in most women's toolkit. 
Why?
Because it creates a seamless base to then apply the rest of our makeup. Not to mention it covers a multitude of problem areas including spots and acne, uneven skin tone and hyper-pigmentation. 
But what if we told you that the less cover-up you wear, the less you'll need to cover up?
It's like a vicious cycle. If you keep on wearing foundation, you'll need to keep wearing it... until you finally wean yourself off of it. And yes, flawless skin really is possible without foundation.
But it's easy to talk about ditching foundation for good, and a whole other ball game actually going through with it. 
Whether you want to give foundation up for good, or just take a short break from it, there are some great alternatives to achieving the look you want without caking your face in makeup.
So, if you're ready to embrace that natural French beauty look and channel the less is more mentality, keep reading.  
What are the benefits of no foundation makeup?
Have you noticed your makeup looking fab in the morning, but by lunchtime it starts to look a little patchy, and by the afternoon it's looking seriously greasy? 
We've all been there. 
This is because most foundations are high in pore-clogging ingredients like mineral oil or silicones. This is what gives them that great texture. But it's not good news for your skin, unless congested pores, inflammation, and breakouts are what you're looking for...
We don't think so!

So, by using less foundation (or removing it from your makeup routine altogether) you'll gift your skin a much-needed break. Even if you only do this once or twice a week, or every other day. 

There's no guarantee that your skin will look amazing all the time (there are so many other factors involved) but it will definitely help it look fresh and healthier.
So, here are some alternatives to help you achieve flawless skin without so much makeup. 
Up your skincare game
Chances are, you wear foundation because it makes you feel more confident in your appearance, right? It covers your perceived imperfections.
It's probably not because you enjoy that oily/cakey texture that stops your skin from breathing and stains all your beautiful white clothes!
So, if you didn't have those "imperfections," and had gorgeous glowing skin like a runway model, would you bother wearing foundation?
Probably not.
Well, a lot of your skincare qualms can usually be solved by upping your skincare game.
Most women aren't using the right products, or aren't using them consistently to see an improvement.
That means committing to removing your makeup each night, cleansing and moisturizing, which will let your skin breathe. And in the morning, cleansing, moisturizing, maybe applying some face oil, and definitely some SPF. Plus, exfoliating once or twice a week. 
Doing this religiously every day or night should energize your skin, help it renew itself, and glow with or without makeup.
What if I have uneven skin tone or hyper-pigmentation?
Great point. Many women with darker skin suffer from hyper-pigmentation, and the struggle is real. Foundation is a miracle base to even things out. So, is there an alternative?
Yes!
There are many brightening and illuminating products out there specifically designed to target uneven skin tone, hyper-pigmentation, and even scarring. Plus, there are concealer-like products to target specific problem areas. Different tones of blemishes each have a corresponding product designed to target them.
Take a look at what's on the market right now. We guarantee there is a product designed specifically for your skin and area of concern. 
The great thing about many of these brightening and illuminating products is they're rich in vitamins and minerals which are brilliant for repairing cells and creating a protective barrier for your skin.  
No base makeup is looking pretty achievable right now, isn't it? 
Use a tinted moisturizer instead
We adore the natural look and would love nothing more than to see every woman covering up less and embracing their natural beauty more. 
That being said, we understand it's challenging and a little scary—especially at first!
So, if the thought of replacing foundation with skincare is daunting, don't worry. Take it in baby steps. 

How about trying a tinted moisturizer like a BB cream instead? These are little tubes of magic, and particularly great for adding light coverage that won't melt off your face on those warmer days. Not only will it smooth your skin tone and cover imperfections, but it will also help your skin breathe.
Add a tiny bit of bronzer or highlighter on your cheekbones for some extra glow, and you'll forget all about that thing called foundation. 
Try a sheer concealer-powder
Concealer makes a great substitute for foundation, and you'd be surprised how little of it you need.
After you've completed your skincare routine, just dab a bit of concealer under your eyes and over any other small blemishes. A creamier texture is easier to blend than a powdered one, especially on this area of the face. 
Next, apply a thin layer of concealer powder to even everything out. 
You're still wearing makeup, but a much lighter base. That means way less time in front of the mirror for you, plus healthier and happier skin. A winning combo!
Embrace the natural look!
It's no secret that French women are all about minimal makeup. They manage to look both chic and effortless. 
Their secret?
Minimal foundation, if any. 
Yes! French women steer clear of that cakey look opting for a little swoosh of concealer or powder, then bronzer or highlighter to contour with.
Natural skin paired with a swipe of sexy eyeliner is très chic, don't you think? 
Don't feel pressured to throw out your foundation right away. How about trying one of the suggestions above for just one day, and see how you look and feel?
If you like it, try it for a few more days, and go from there.
If you're extra self-conscious, try this out on the weekends or holidays when you know you won't be running into too many people. Give yourself the time and space to adjust and feel comfortable in your skin again. 
Written by: Vivienne Sabó
Published: July 15, 2021