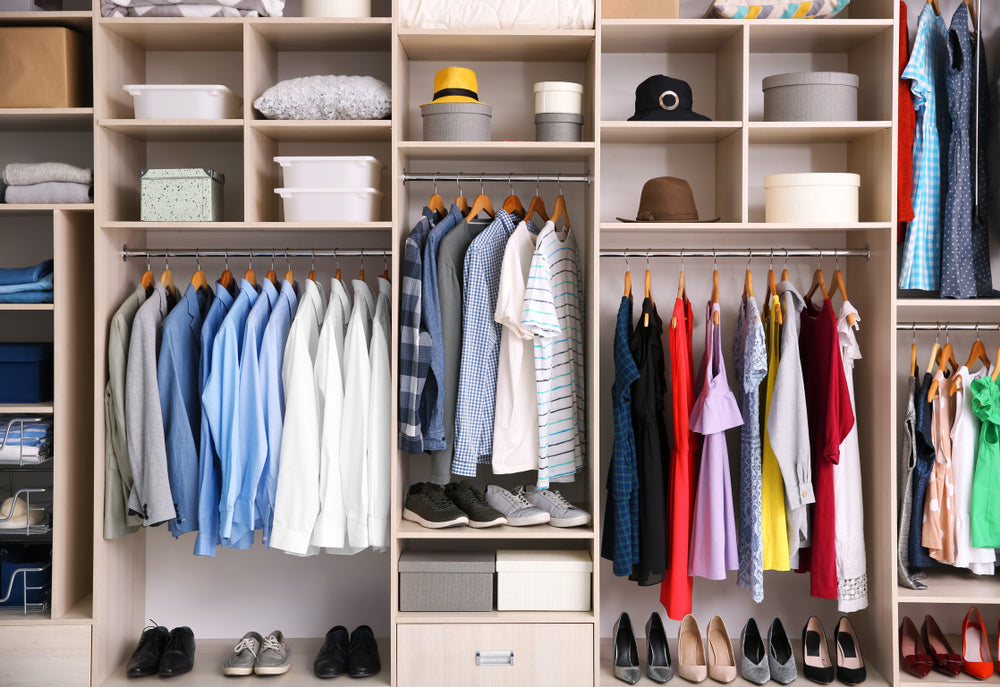 Back to articles
The Five-Piece French Wardrobe, Explained
Have you heard of the 5-Piece French wardrobe? 
This is not just any wardrobe. It's the secret to attaining that effortlessly chic Paris style we all swoon over. Plus, it's the best way to build a capsule wardrobe that is both fun and functional, and helps you get the most out of every piece you purchase. 
Have you ever woken up in the morning, stared at a huge closet packed with clothes, and thought, "I've got nothing to wear?!"
Do you keep buying more stuff each season, and need a way to curb those bank-draining spending habits?
If you find yourself nodding your head, this French wardrobe philosophy might be a match made in heaven for you. 
Don't panic over the whole "five-piece" scenario. It's not a wardrobe built of just five pieces—that would be crazy. 
All will be revealed in this article.
The ins and outs of a five-piece French wardrobe
Minimalist French style is all about investing in fewer pieces that are higher in quality, and will hopefully last you a long time. It's focused on longevity rather than trends. And this is exactly where this French wardrobe philosophy stems from. 
There isn't a set number of pieces or a timetable to follow. 
To start, you build a solid collection of basic pieces. Things like plain t-shirts, black tailored pants, and a classic white shirt—simple items that can be mixed and matched with everything in your wardrobe. If you find any gaps, fill these in with new staples. 
Each season (four times per year), you're allowed to purchase 5 new investment pieces to help you build your collection. These should be non-basic pieces. You can take as much time as you like choosing these—there's no rush!
The point of this is to refresh your look with each passing season, but to also focus on investing in pieces you truly love and will wear for years to come. 
Five might not sound like much, but trust us on this one; coupled with your trusty basics, this will give you endless outfit combos that will embody that French I-just-woke-up-like-this look.
The rules:
The 5-piece French wardrobe can be a little tricky to understand at first. So, here are some of the rules you need to know before you get started.
Basics don't count towards your five pieces, and can always be replaced.

Makeup doesn't count.

Accessories, socks, and underwear don't count (unless they're particularly pricey purchases.)

Shoes

do

count.
And everything else that's not mentioned above counts. 
How to get started creating your 5-piece French wardrobe
The secret to rolling out of bed and looking like one of those impeccably dressed French women you see on Instagram is focusing on fit. 
The reason these women look so good in simple clothing like jeans and a plain white tee is because of the fit. They wear flattering cuts and silhouettes. Instead of following the trends, they stick to what works for their unique shape. 
So the message is, it's not what you buy, it's how it fits you.
Remember, you'll only be purchasing 20 new non-basic items each year, so choose wisely. 
Out with the old
Get started by clearing out your wardrobe. Donate anything that no longer fits you, or that you haven't worn in the past year. Chances are if you haven't worn it by now, you never will!
Hold on to any basics that fit you well, and part ways with the rest. Be ruthless through this process. 
If you notice any gaps, make a list of what you need and start shopping. Don't rush to buy everything at once. Take your time, be considerate, and choose quality items that feel good against your skin. Because when you feel good, you will look good.  
Back to basics
We touched on basic pieces a little earlier, but what exactly is a "basic" item of clothing? 
Generally, it's a functional piece of clothing that you don't need to spend a ton of money on.
Basics will generally be plain or block colored, practical, and go with those fancier, statement pieces in your wardrobe. 
French outfit essentials: Items every woman should have in her wardrobe
Here are some of the pieces you should think about stocking up on to make sure your wardrobe game is on fire. 
Tops:

block colored t-shirts, button-up white shirts, silk camis.

Pants:

well-fitting straight-leg jeans, tailored pants

Skirts:

pencil skirt, white linen skirt, block colored mini skirts

Dresses:

a little black dress

Shorts:

jean shorts, linen shorts

Sweaters:

cashmere sweaters, oversized wool sweaters, cozy cardigans

Outerwear:

a trench coat, a classic blazer, a leather jacket

Shoes:

ballet pumps, brown/black heeled boots, sandals, court shoes.
Make your shopping list for this season.
The great thing about the 5-piece French wardrobe is that each season you get to make a wish list of things you want to add to your collection.
What have you had your eye on for a while?
What are you noticeably missing right now that would take your wardrobe to the next level?
Set yourself a reasonable budget each season for your 5 pieces. It's okay to spend more on these items than you usually would, because the focus is on quality pieces that last longer. So don't scrimp, but don't blow more than you can afford.
And that's how to create a 5-piece French wardrobe!
The only other rule is to have fun creating your capsule collection. It won't be long before you have a beautifully sustainable and ethical wardrobe that makes getting dressed each morning a joy.
Why not use these principles and apply them to your other purchases too? 
For example, focus on investing in good makeup: a quality mascara, a classic red lipstick, and the perfect shade and texture of foundation for your skin. 
Follow these steps, and you'll be Paris-ready in no time.
Written by: Vivienne Sabó
Published: April 20, 2021