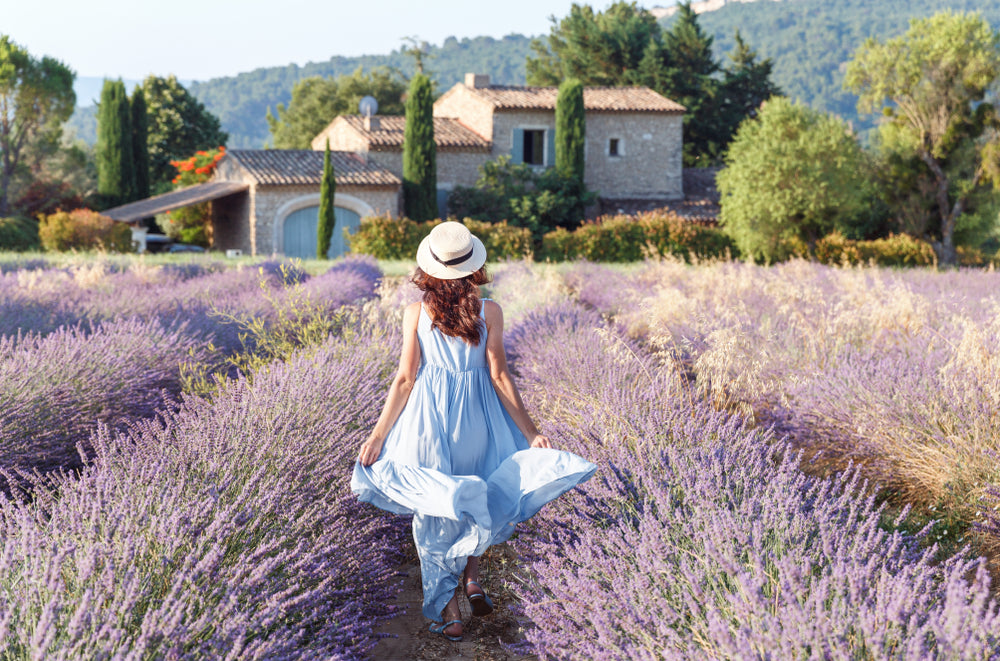 Back to articles
10 French Outfits That We Love
Ever wondered how to dress like a French woman? 
There's something about Parisian style that's just so captivating. The barely-there makeup, the sophisticated yet comfy clothing, and the carefree attitude to boot. 
How do they do it?
Since the days of Brigitte Bardot and Jane Birkin, French-style clothing has been firmly on the fashion map. It's classic at its core, mixed with an element of surprise and freshness. Every outfit appears timeless, yet totally on-trend, which means they never go out of style.
French women are known for placing quality over quantity. Less is definitely more. They choose clothing that feels comfortable and will last them years over trendy pieces that come and go. 
If you're looking for some inspiration when it comes to French outfits, you're in the right place.
Here are our favorite traditional French outfits that any woman can try.   
Are you ready to master French-girl fashion?
Glastonbury chic (day dress & blazer)
Every French woman has at least one trusty blazer in her wardrobe.
Not sure which one to go for?
A classic herringbone will give you a vintage feel, while a block color black or navy will look more formal. 
Pro-tip: If you want to save yourself some cash, raid your partner's or friend's wardrobe instead! An oversized masculine blazer will channel Isabel Marant's infamous catwalk style. This is a must-have piece in every cool French girl's closet. 
Pair your blazer with your favorite day dress for an eclectic, playful outfit. Finish with tousled hair and some sunglasses, and you're Paris ready. 
Date night (straight-leg cropped jeans & a satin cami)
Classic French style is all about surprising people, and blurring the lines between casual and formal wear. 
If you're looking for a casual going-out look, the French-girl go-to is a pair of straight-leg cropped jeans and a glamorous top. Think silky and satin fabrics, lace, and sexy spaghetti straps.
If there's one thing French women love it's opulent fabrics. Silk is always a must-have. It looks beautiful and feels oh-so-soft against your skin. 
When it comes to jeans, French ladies aren't a big fan of skinnies. They favor a looser fit and cut, creating a more relaxed silhouette. 
Complete this look with a pair of strappy sandals—perfect!
Sleek soirée (slip skirt & mules)
The slip skirt and mules look became popular a few years ago and hasn't gone away since. 
This look is comfortable, practical, and just a little sexy. Not too sexy though—French women are all about leaving plenty to the imagination.
When it comes to choosing a slip skirt, let your imagination run wild. Choose any print, color, or fabric you like. 
Pair with a comfy pair of mules that will take you from the office to a cocktail party without having to go home and get changed.
That means more time having fun! We love this outfit already.  
Summer staple (classic printed wrap dress & tan shoes)
The wrap dress originated in the US, but has quickly become synonymous with classic French style. 
Why do French women love this item of clothing?
It's universally flattering.
No matter what shape or size your body is, a wrap dress will hug you in all the right places and accentuate your fabulous feminine curves. 
This is a beautiful spring/summer look. Choose a dress in a gorgeous floral print or in a pop of color. Pair with classic espadrille wedges, a woven bag, a dainty piece of jewelry, and a pinch of pink blusher. And voilà!
Classic comfort (

marinière

& ballet flats)
When you think of French clothing, you may picture a blue and white striped top. 
Is it a cliché? Yes.
But do French women love a blue and white striped top?
Yes, they do! 
In France, it's known as a marinière top. It originated from Bretagne where they were first popularized by the label Saint James, who took inspiration from local sailors. 
There isn't a more traditional French outfit than this one right here. 
You'll find blue and white striped tops in so many cuts and fabrics everywhere. Take your pick.
Pair this top with a classic and comfy pair of ballet flats. You'll look like a true local in Paris. 
The go-to dress (LBD & your favorite handbag)
The little black dress is a staple item in every woman's wardrobe across the world. But French women get the most wear out of their LBDs.
How?
They wear this versatile dress on a job interview, in the office, on a date, at a cocktail party, and so much more. 
It's their go-to dress whenever they're unsure about what to wear.
The secret all comes down to accessorizing. 
For a daytime look, pop a trench coat or cardigan over your LBD and pair it with ballet flats or sandals. 
At night, swipe on some voluminous mascara and a bold red lip (we love this one), step into your favorite heels, grab your favorite handbag, and you're runway ready!
Office chic (button up shirt & tailored trousers)
No French-girl's wardrobe would be complete without a classic white or blue Oxford shirt. This is another staple item inspired by menswear (and another great reason to raid your man's wardrobe!)
Pair with jeans for a more casual look, or with a plaid blazer or tailored trousers for an effortless office outfit. 
French women love tailored clothing because of the fit. This is how they always look so chic—they invest in clothing that fits them like a glove. 
Bond girl off-duty (a black jacket & plain white tee)
A plain white t-shirt is mandatory in every person's wardrobe. Stock up on a few quality ones that will last a long time and go with pretty much everything in your wardrobe.
Looking for a glamorous, off-duty look? Pair your classic white tee with a tailored black smoking jacket. The original one was made by Yves Saint Laurent, but there are plenty of affordable versions to suit your budget. 
This jacket is likely to last you forever and is definitely worth investing in. 
Cute & cozy (the oversized sweater & a mini skirt)
The oversized sweater is an item that French women popularized before anyone else. 
It gives you a casual, carefree, masculine-vibe look. It's sexy because you're not trying to be sexy at all—this is French women in a nutshell.
A comfy oversized sweater is perfect to transition from summer to fall. Be sure to choose a color that will work with lots of other items in your wardrobe. 
Pair with a cute mini skirt in faux leather or suede. If you prefer a longer length, a pencil or maxi skirt in a floaty fabric will work too. 
A French-girl's best friend (the beige trench coat & a silk scarf)
Finally, on our list of French outfits we love, is the trench coat paired with a classic silk scarf. 
A beige trench coat is every French-girl's best friend all year-round—because the weather is so unpredictable!
If the Burberry version is out of your budget, look to the high street for something more affordable. What matters is it's practical, comfortable, and well-made. You want this coat to last you for years.
Silk scarves are a popular accessory with French women, elegantly completing any look. This is one item where you are encouraged to go for a bright color or crazy pattern. It's a little flash of playfulness that will top off any outfit. 
And that's our ten favorite French outfits! 
Written by: Vivienne Sabó
Published: April 23, 2021