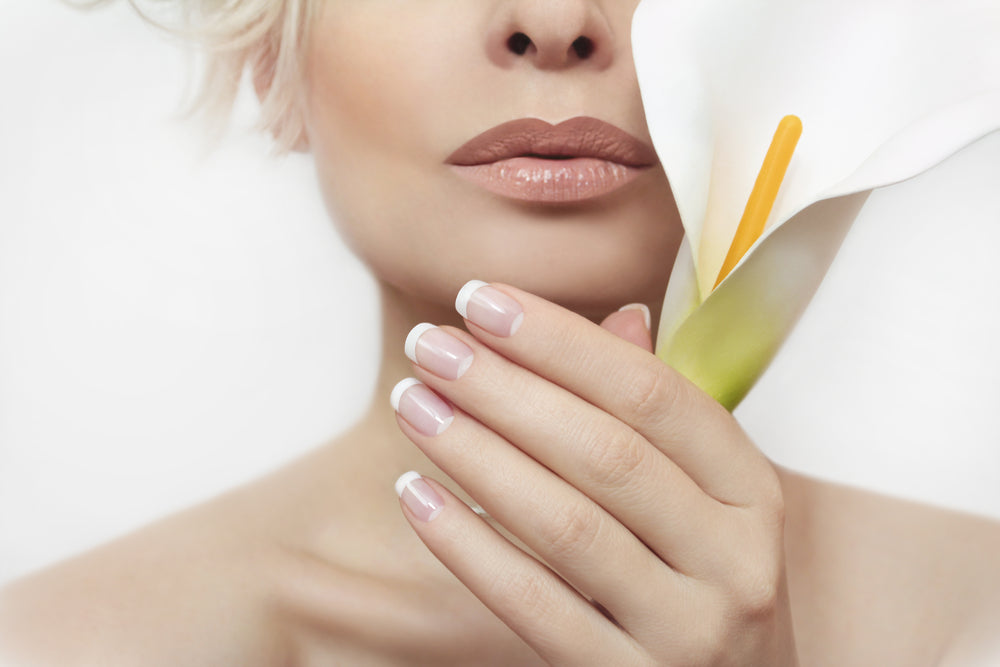 Back to articles
11 Steps to the Perfect At-Home French Manicure
One of the most important parts of French beauty is looking well put-together. On the one hand, you want to look effortless, but on the other hand, you also want to look intentional.
Groomed nails are essential for striking this balance, especially if you opt for a natural-looking French manicure. 
We've compiled a step-by-step guide to achieving perfect nails at home, so you can skip the nail salon. You can also adapt these tips to give yourself a relaxing pedicure! First, we'll cover all the tools you need to have on-hand, and then dive straight into the how-to.   
At-home manicure tools
You don't need fancy tools to create a DIY French manicure at home, but you do need some basic nail grooming essentials. Here's our comprehensive list of all the things you'll need!  
Nail polish remover

Emery or crystal nail file

Cotton pads and cotton swabs 

Cuticle pusher (optional) 

Warm water and soap 

Hand cream or cuticle oil

Hand scrub (optional) 

Clear base coat

Clear topcoat

Nude, pink, or colorful nail polish

White nail polish 

Thin synthetic brush (optional) 
1. Remove old polish
First, if you still have some remnants of old nail polish on your nails, make sure to scrub it away thoroughly with cotton pads and nail polish remover. Some colors tend to really get lodged along the edges of the nail, in which case, use a cotton swab dipped in remover to really get in there and clean things up. 
2. Shape your nails 
Next, file the tips of your nails to an even shape. There are all kinds of nail shapes you can choose from, but we prefer keeping it natural with an almond, oval, or rounded nail shape.
When you file your nails, only go in one direction at a time, rather than filing back and forth. Go slowly, so you can control the shape you create and don't accidentally over-do it. 
3. At-home manicure soak
If you plan to trim or push back your cuticles, it's crucial that you soften them first with an at-home manicure soak.
Fill up a shallow bowl of warm soapy water, and then dip your finger in, just up to the cuticle. Leave your fingers in the water for just 2-3 minutes, and take the moment to relax. 
This will be long enough to soften the cuticles but not so long that it'll saturate your nails with water, which can compromise the integrity of your nail polish later on. If you're happy with the condition of your cuticles, you can skip this step altogether! 
4. Push back the cuticles (gently!)
Pull your nails out of the water, and dry them with a soft towel. Then, use the cuticle pusher tool to gently press against your cuticles and push them back a little. If pushing on your cuticles is painful at all, it's a sign you're overdoing it, so make sure to ease up on the pressure. 
In general, we don't recommend trimming the cuticles at home unless you already have a bit of professional experience. It's easy to damage cuticles when trimming them, which may lead to infections or cause the skin to grow back thicker. 
5. Exfoliate and moisturize 
Next, it's time to give your hands and cuticles a nice treatment! For maximum pampering, exfoliate your hands by rubbing them with a scrub. You can even make your own!
If your scrub is moisturizing enough, you can then just rinse your hands and move on to the next step. If you skipped scrubbing, then take a moment to rub your hands and nails with hand cream, or apply a designated cuticle oil to the nails. Wait a few minutes to allow your nails to absorb as much of the oil as possible. 
For simple groomed nails, you can stop here! Moisturized, well-shaped nails are already enough for simple French beauty. However, to take your nails to the next level, you'll want to add some polish. 
6. Remove excess moisture
Next, dip a cotton swab in nail polish remover, and carefully wipe it only over your nail, being careful to avoid the cuticles. This will remove any excess moisture or oil from the nails to guarantee that the polish adheres well. Let the remover evaporate entirely before moving to the next step. 
7. Lay down your base coat
A base coat of polish is essential for protecting your nails from yellowing and creating an even base for the polish. Apply the base coat carefully to each nail, making sure to only use a minimal amount so that it dries quickly. 
8. Apply your color 
Once your base coat has thoroughly dried, you can apply your colorful nail polish! Pink, peach, and nude are the classic choices for a French manicure, but other colors are perfectly acceptable as well. 
Apply the polish in thin layers, starting about a millimeter away from the cuticle, and painting it on in strips. Once your first coat fully dries, apply the second coat, and wait for it to dry, as well.  
9. DIY nail tips 
Turn your classic mani into an ultra-chic French manicure. Dip an old eyeliner brush or a dedicated nail brush into some white nail polish. Then, carefully paint the tips (i.e., top 2-3 millimeters) of your nails. If your hand is a little shaky, you can lay down some sticky tape over the bottom of the nail first to guarantee a clean line. 
10. Finish with a top-coat
Once your polish is totally dry, finish things off with an ultra-thin layer of topcoat. This will help seal in all of your hard work, add some sheen, and prevent your nail polish from chipping.
11. Clean up the edges 
Once your topcoat is fully dry, it's time to fix mistakes! Even the pros sometimes smudge a bit of polish over the cuticle, but thankfully, it's easy to clean up. Just soak a cotton swab in some nail polish remover and use it to erase any smudges. 
Nailed it!
It takes a bit of time and maybe even practice, but achieving the perfect manicure at home is totally doable. Don't be afraid to skip the nail salon next time you want to treat yourself to a French manicure! 
Written by: Vivienne Sabó
Published: May 03, 2021