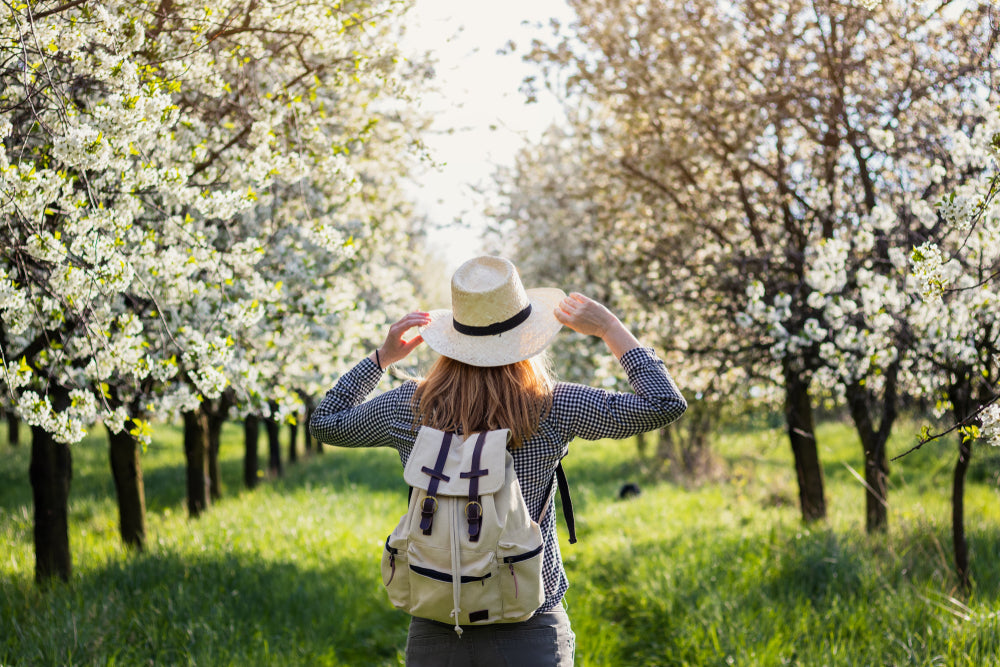 Back to articles
8 Chic Springtime Hats to Add to Your Wardrobe
This article is dedicated to women's spring hats, and we've got some beautiful types of hats for you to try out this spring!
Hats can be challenging to coordinate, but not when you know what you're doing. By the end of this article, you'll be a pro on the types and names of hats and ready to find the perfect one to add to your spring wardrobe. 
Whether you're soaking up the sun in your garden, taking a sunset walk on the beach, spending a weekend on a yacht, or jetting off for a summer vacation, a stylish hat is a must. Not only will it complete your look, but it'll also protect your skin from those damaging rays. 
No matter what your personal style is, we have a hat on this list to suit you.
Here are our favorite springtime hats for women. 
Brimmed Classics
To kick things off on our list of women's spring hats, we've got brimmed classics.
Think fedoras, boaters, and Panama styles. Anything with a classic, structured, brimmed silhouette. This shape is timeless and will instantly get you feeling like you're on vacation!
This is the perfect hat to invest in if you're new to hats and looking for something simple yet elegant that will work with multiple outfits.
How to Style It: 
A classic wide-brimmed hat can be paired with pretty much anything. If you're heading on a trip somewhere and only have space for one hat, make it this one. 
It'll look effortlessly chic paired with a white suit, a floral wrap dress, or even a pair of tailored Bermuda shorts. 
For a vacation look, pair with swimwear and coverups as you please, and some lace-up leather sandals or embellished mules. Throw on some oversized shades and a woven handbag on your shoulder, and you're ready to go. 
The Bucket Hat
The bucket hat is a super casual boho-style hat that has an inherently sporty and nostalgic vibe. But don't let that put you off. High-end fashion houses like Dior and Prada have consistently shown that the bucket hat can be sexy and feminine for a perfect spring/summer look.
You'll find bucket styles in an array of fabrics, including raffia, satin, and embroidered styles.
The key here is to keep things simple and minimal. 
How to Style It: 
To keep this look chic, stick to a neutral color palette when it comes to the rest of your outfit. 
And if you want to go all-out '90s throwback, add a choker necklace and some platform sandals. Think TLC in their "Waterfalls" video. 
Oversized Straw Hat
If you're looking for a springtime hat that makes a statement, opt for an oversized straw hat. You'll likely have seen this accessory completing many looks of Instagram influencers as they pose by the pool or the beach. The brim is both dramatic, chic, and oh-so-glamorous. 
When it comes to the size of the brim, you can go as large as you please. Many will extend past your shoulders, providing welcomed extra protection from the sun. Choose a floppy or woven brim depending on the look you prefer. 
How to Style It:
The oversized straw hat was made to accompany swimwear. Pair it with a classic black one-piece or high waist bikini, some designer sunnies, and one piece of your favorite gold jewelry. 
The Garden Hat
The Garden hat can be found in many different shapes and sizes, with wide brims, taller crowns, scalloped edges, and divine neck-tie details. Perfect for lounging in your back yard on a sunny spring day.
Go for a classic neutral color or a black/white version for a more modern look. 
How to Style It:
This hat is perfect for creating a flirty, feminine look. Pair with your most fabulous floral dress or sarong. Add a pair of heeled sandals, and you're ready for dinner and drinks in a flash!
The Garden hat also lends itself well to city-style linen separates for a chic springtime outfit.
The Baseball Cap
Baseball caps don't have to be kept for running and working out. They're part of every model & influencer's off-duty look, and we can see why. They're easy to throw on, work particularly well if you're having a bad hair day, and add a sporty vibe to any look. 
To elevate this look, opt for a designer version or a style that mixes fabrics or embroidery for extra detail. 
How to Style It:
Baseball caps are so versatile. Wear them on a walk, at the beach, while running errands, or even for lounging in your garden. Pair with your favorite leggings or trainers for an extra sporty vibe. 
Grosgrain Band Panama Hat
Meghan Markle is renowned for loving the Panama-style hat because it's both stylish and functional. Not too big, but large enough that it shields you from the sun. Plus, it's classic and elegant, and simple to throw on to complete your outfit. 
How to Style It:
Pair with denim shorts or a printed jumpsuit for a chic summer look. 
Lamé Papier Hat
This chic French straw hat is famous for having a black grosgrain ribbon around the brim and a metal bee detail on the side. It's one of the trickier hat styles to pull-off, but nothing to be afraid of. 
How to Style It:
There's no better time to wear this hat than at a spring or summertime garden party. 
Pair with your favorite babydoll dress, a lightweight blazer loosely thrown around your shoulders, your favorite heeled sandals, and you have perfected this look!
The Frayed Hat
Our final hat on this list is the frayed hat. It has a lovely boho, artisanal feel that will add texture and detail to any look. Go for a floppy style for a laid-back beach look or a structured shape for a downtown vibe. 
You'll find so many variations to choose from with different sizes, shapes, textures, and colors. If you're looking to add just one hat to your wardrobe, choose something that will go with lots of outfits. 
How to Style It:
The frayed hat is the perfect companion for any vacation. Wear it with a monochrome swimsuit, some gold sandals, and some delicate jewelry. Looking fabulous!
Are you ready to add one of these hats to your spring wardrobe? 
Here comes the sun, and we can't wait!
Written by: Vivienne Sabó
Published: April 02, 2021