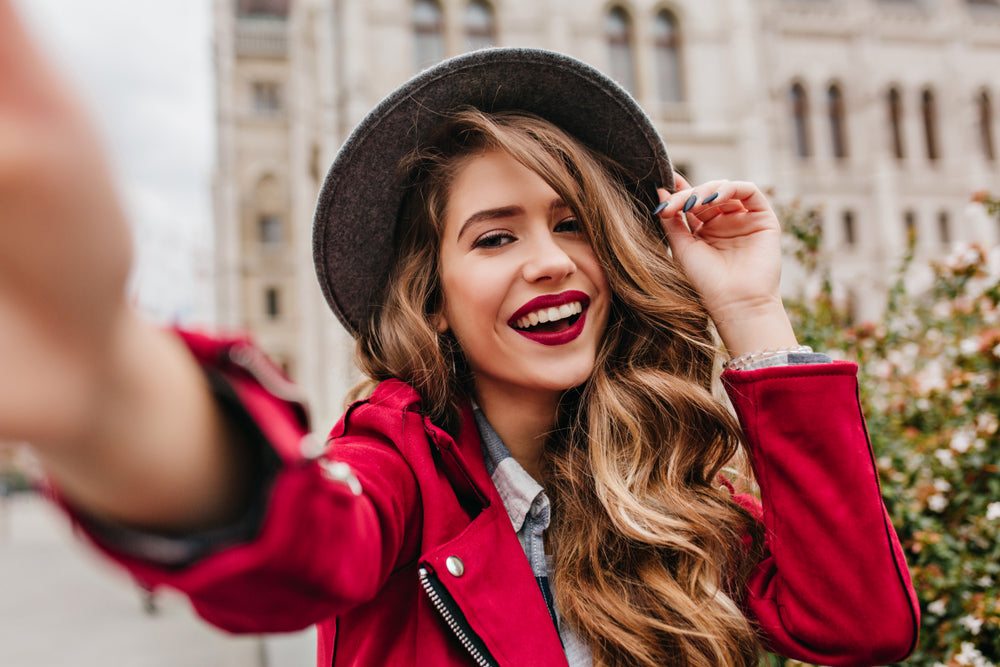 Back to articles
How to Get the Perfect French Girl Hairstyles
French women are known for their effortless yet sophisticated look. French girl style is all about looking like you basically "woke up like this,"  perhaps with just a touch more polish. It's never too much or too little — it's always perfect. 
The same philosophy applies to French hairstyles. They should never be too complex or intricate. Instead, the focus should be on having a flattering haircut styled to honor your natural hair texture and to frame your beautiful features.  
If you'd like to give French girl hair a try, we've got some ideas to inspire you. We've selected our four favorite ladies' hairstyles for 2021, and we'll explain how you can achieve them, along with some matching makeup tips. 
French bob cut  
A bob cut is one of the most popular French haircuts right now! Vogue called it the biggest hair trend of 2020, and we can assure you that it's going strong well into 2021. While every bob is tres chic, consider adding bangs to your look to truly embody that French girl style. 
To get the bob cut  
The secret to getting a bob to work for you is to make sure that it hits your features just right. The eye will be drawn to the spot where the bob ends or where the fringe falls, so consider which features you'd like to emphasize with the length and layering.  
You can try to cut your hair on your own, but we'd recommend going to a professional hairdresser. A great hairdresser will take the time to chat with you and help you figure out which lengths will flatter your face shape the best. 
Matching your makeup to a French bob
If it's your first time going short, you may want to put a little extra effort into making sure your makeup is visible. We're partial to pairing this popular French haircut with a vibrant red lip, using our Matte Constance Lipstick in Classic Red. 
Wavy French girl hairstyle 
You don't have to go short to achieve amazing French girl hair. Soft waves and natural-looking texture are just as chic, and they work beautifully on longer bobs, shoulder-length hair, and even ultra-long tresses. While a natural wave looks totally effortless, it does take a little bit of technique. 
To get soft waves 
If you're naturally blessed with wavy or curly hair, the curly girl method is ideal because it skips the damage of heat styling and brings the very best shape out of your tresses. 
If your hair is naturally straight, you'll have to resort to just a bit of heat styling. First, spray your hair with a texturizing salt spray, and blow dry it if needed. Then, use a large-sized curling iron to create alternating curls in your hair, focusing only on the bottom half of each strand. Finally, once your entire head is curly, use your fingers to gently loosen up the curls to turn them into gorgeous waves. 
Tie it together with makeup 
The beautiful thing about softly textured waves is that they match any makeup look, including barely-there makeup. The key is to keep the eyes nicely framed by your brows, so they don't disappear behind the mane of hair. All you need to do is lightly fill them in with the Brow Arcade pencil and then brush them up into a groomed look. 
Effortless messy bun
While it's important to have a signature look, French girl style is also about knowing when to change things up. Before dates or nights out, having a go-to effortless, yet sophisticated, bun really comes in handy.  
Creating a simple bun
The more effortless and messy you want your bun to look, the more bobby pins you'll need, so make sure to have plenty on hand. You'll also need strong, tight hair elastics. Start with your hair already a little wavy, and consider using a little dry shampoo to add some grit. 
First, pull your hair into a ponytail, leaving a few loose strands at the front to frame your face Next, twist your ponytail, and then wrap it around the elastic so it forms a donut-shaped bun. 
Use bobby pins to secure the base of the bun. 
Then, gently pull on the bun with both hands to slightly expand it and give it a more voluminous look. If any strands come loose, you can tuck them under the bun and then pin them into place. It's super easy to create, but the results are impressive. 
Match it with soft-glam makeup
You've already gone through the effort of pulling and pinning your hair up into a bun, so finish off your look with a careful swipe of liquid liner to make your eyes gleam, and then a healthy dose of our Provocation volumizing mascara.  
Flirty ponytail
French girl hairstyles can lean into a playful, feminine vibe as long as they retain their chic simplicity. A hairstyle with a low-ponytail does the trick, and it's great for days when you want your hair out of your face. Tying it off with a scarf gives rustic charm and a bit of color to the look!  
Styling the perfect ponytail
You can rock a sleek ponytail if you like, but we're partial to this voluminous style. You can start with air-dried hair or go all out and use a hair curler to achieve loose waves. If your hair is feeling a little flat, section it at the crown, and tease a little bit to add some volume. 
Then, pull your hair back into a low, loose ponytail. Leave a few loose strands around your face, and give them a quick curl with a curling iron. Finally, pick a colorful scarf, and tie it around the base of the ponytail! 
Playful makeup to match
This kind of look pairs best with a fresh face. We suggest giving your pout a sheen; so first, use our volumizing Polynesie Francaise gloss in Bora Bora, and then add a sheer wash of pink blush over the cheeks. 
Finishing in style 
Which of these French hairstyles will you try in 2021? From changing things up with a short bob to embracing length and texture, French girl haircuts and styles give easy options that'll keep you feeling chic and sexy! 
Written by: Vivienne Sabó
Published: March 16, 2021