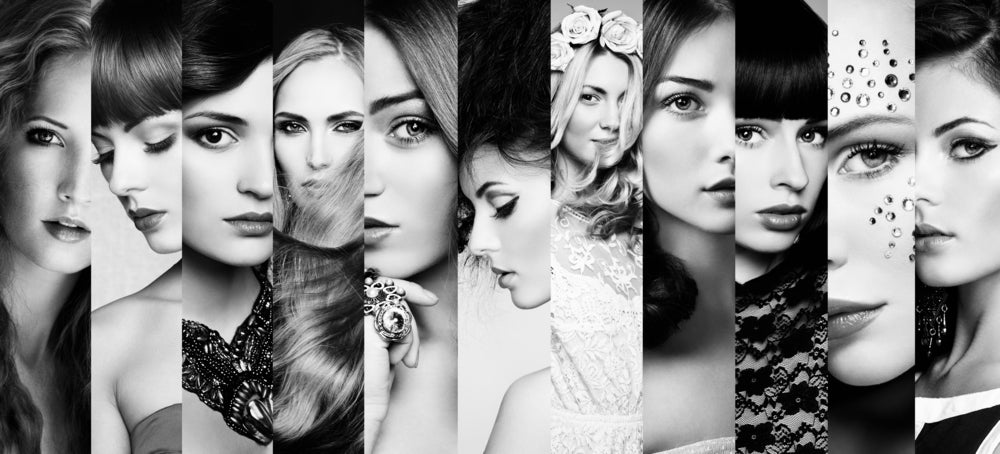 Back to articles
Hot Makeup Trends vs Timeless Beauty
One of the best things about makeup is how creative and evolving it can be. While clothing trends force you to buy new products every season, trendy makeup often just requires a change in technique. Experimenting, changing, and playing around with hot new trends from Instagram, TikTok, or the runways can be a ton of fun!
However, these makeup trends are usually fleeting. Unlike classic makeup looks, they won't stick around for longer than a year or two! It's fun to look back at photos from the '80s or '90s and admire how differently women used to do their makeup, but it's a little scary to imagine others doing the same with photos of you. 
When you get ready for graduation photos, weddings, and other big events, do your makeup in such a way so that when you look back at the photos, you won't find yourself thinking, "gosh, I can't believe we all used to wear our makeup like that!" 
In this article, we'll go through each hot makeup trend whose days are unfortunately numbered, and reflect on the more timeless makeup looks equivalent to the trend. 
While trends are fun for a night out or a creative Instagram story, classic makeup looks are the ideal choice for the most important occasions, so they're utterly essential to master!  
Hot trend: soap brows
Brushed up brows are the go-to look for a ton of influencers these days, who usually achieve them with soap, brow gel, or even a semi-permanent lamination. They make the eyebrows look bushy, fluffy, and more symmetrical, and they're very reminiscent of the styling for model brows in the '80s. 
Soap brows give a youthful look and they're a lot of fun, but like other brow trends before them, we think a new look will replace them shortly. 
Classic look: groomed brows
Soap brows are great fun—we think they're going to be a major marker of the end of the 2010s. However, keeping your brows classically groomed has the benefit of looking good today as well as in the future. 
Eyebrow pencils tipped with a grooming wand, like the Brow Arcade, are incredibly helpful for this technique since you can fill in your brows and then brush the hairs so they go to the side instead of upwards, to lay down in a more natural way. 
Hot trend: fox eyes
The fox eye makeup trend has absolutely taken over social media and the red carpet, especially by the likes of US-based celebs Bella Fox and Kendall Jenner. It's a gorgeous look that gives the face an angular, elven appearance through pointed eyeliner and brows that are shaved off at the arch and filled in on an upward angle. 
Classic look: classic eyeliner
Fox eyes may be sultry and sexy, but we predict that in the long term, eyeliner that makes the eyes look a little larger will continue to endure. After all, we've been doing our eyeliner this way since the '40s, and looking back on photos from that era, it still looks stunning. 
The trick to keeping your natural eye makeup looking classy is to keep the liner away from the inner corner of the eye, and then to create the wing by following the natural angle of your lower lash line. We have a few more tips and tricks for this look here!
Hot trend: baking or strobed skin
We live in an era of extremes, with two ultra-popular foundation trends that directly contradict each other. You either bake your makeup under a thick layer of powder for 5-10 minutes, to guarantee an impenetrable finish, or you pack on the glowy serums and highlighters for a strobed, reflective skin finish. It can be great fun to experiment with both of these trends!
Classic look: natural skin
In the long term, however, we think natural-looking skin with a satin finish will always be the classiest choice. It's exactly in the middle between very dewy and matte skin, with the same level of reflectiveness that the skin has when it's happy and moisturized. 
To achieve such an easy natural makeup look, all you need is a light coverage foundation and maybe a touch of concealer. Then, a light dusting of powder with a fluffy brush will help to lock things into place and control excess sheen without making your skin look flat and dry. 
Oh, and there's one more way to achieve this look that's even easier. Skip the foundation altogether, for the natural, no-makeup look! 
Hot trend: flattened Cupid's bow
We first noticed ultra-pouty lips with a flattened Cupid's bow on the gorgeous Ariana Grande. Then, before you knew it, everyone was applying their lip liner with a continuous, rounded line. It essentially changes the lips' natural shape, transforming them into elongated ovals. While we love the look right now, it might seem odd in just a few short years.  
Classic look: slightly overdrawn lips 
While you don't need to go overboard with it, overdrawing the lip line is actually a very timeless makeup look that goes at least as far back as the '30s. The key to achieving lush and full lips without looking cartoonish is to follow the vermillion border, which is the skin-colored line of demarcation surrounding the lips. 
The best part? You can create both the classic and trendy lips with our Le Grand Volume lip pencils. 
Time and place for every makeup look
Every style and technique, from the easiest natural makeup look to the most outrageous hot trend, has its time and place. We don't want you to forsake makeup trends, because they add spice to life, but it's just as important to master the classic makeup look so you can look chic for the coming decades. 
Written by: Vivienne Sabó
Published: March 05, 2021