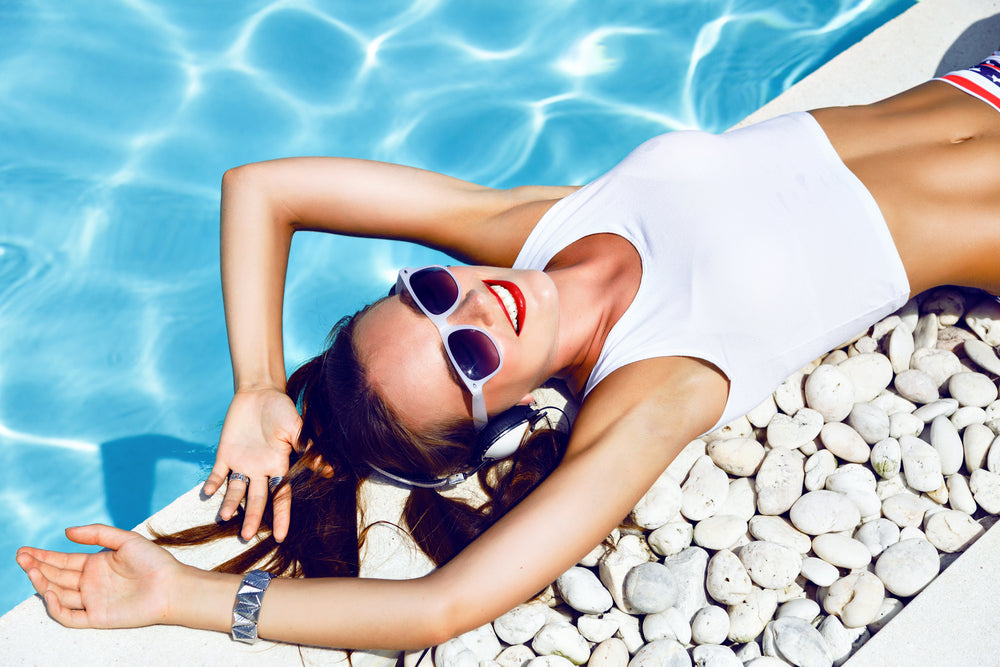 Back to articles
Warm Weather Makeup Essentials
Everyone looks forward to the summer, don't they?
It's the time of ditching all those winter layers, heading off on vacation, lazing by the pool, soaking up the sunshine, eating ice cream, and watching the sunset in all its glorious colors. 
But if there's one thing we don't love about the warmer weather, it's what it does to our makeup!
Finding the right makeup for hot weather can be a real struggle. If you don't know what products to use, the high temperatures and humidity will make applying your makeup a challenge. To top things off, it can quickly melt off your face in minutes once you walk out the door. 
While you can't control the weather, you can control the makeup you put on your face. And there are plenty of tips to help you look your best during the warmer weather. 
Here are some great summer makeup tips you need to know, so you can be ten steps ahead when the sunshine finally says hey.
Prep is key
When the weather is hot, it's essential that you properly prep your skin before even thinking of putting makeup anywhere near it.
This is because when you have the right base, your makeup will sit nicely on your skin and last longer.
So, what do you need to do?
Be sure to thoroughly cleanse your face and neck in the morning with your favorite cleanser. This will help remove any oil or perspiration before you start applying your skincare and makeup.
And remember, prep really begins the night before. Make sure you're removing your makeup at the end of the day, cleansing and toning your face, and applying a good night cream to replenish and nourish your skin while you sleep. 
This way, you'll wake up with less work to do and set yourself up for success.  
Use an oil-free moisturizer
There are two main types of moisturizers out there:
1. Water-based moisturizers
2. Oil-based moisturizers
Oil-based moisturizers are great for people who tend to suffer from dry skin. However, even if that's you, when it's warm, your body will perspire and produce more oils than it usually does. Chances are, you won't need as much hydration as you do in the colder months. 
This means you can swap out your oil-based moisturizer for a water-based one. This will reduce the amount of oil and shine on your face, and help your makeup stay firmly in place throughout the day.  
Add SPF
Of all the summer makeup tips on the list, this one is paramount. 
Aside from sunburn, the sun can do real long-lasting damage to our skin over time if we don't protect it properly. That means wearing SPF (at least factor 25) every day underneath your makeup is the best thing to do. 
And try not to let this slide once the weather cools down again. Ideally, you should be wearing SPF every time your outside for long, because even if you can't see the sun, it's still there!
Many women skip sunscreen because it adds another step to their already hectic morning routine. But the great news is, there are so many skincare products on the market today that have SPF added into them, so you can save time and protect your skin. 
So if you're looking to save time and create a simpler summer makeup routine, look out for products like this. 
Invest in a primer
Primer is a must for the warmer weather. It's light, easy to apply, and will really help your makeup stay in place the whole day. Apply a thin layer of your favorite primer after your moisturizer, and before you add any makeup. 
Wear less makeup
If you want to completely avoid your makeup from creasing, caking, and sliding in the warmer weather, you're better off wearing as little makeup as possible!
We can give you all the tips in the world to help your makeup stay in place, but there's only so much you can do to prevent this from happening. So if you want to avoid the hassle altogether, try stripping down your makeup routine to the bare essentials. 
When it's hot, you don't want to cover your face in products because your skin will struggle to breathe. If you still want some coverage, try a BB or CC cream or a tinted moisturizer. If you have stubborn dark circles or pigmentation, and you just can't ditch your concealer, opt for a waterproof version instead. 
Less is more ladies!
Use a waterproof version of your favorite mascara
If there's one thing we can't leave the house without, it's a coat of mascara.
But the last thing you want is to have panda eyes by lunchtime!
That's why waterproof mascara is one of the makeup essentials for summer. It won't smudge or budge an inch and will keep you looking fresh-faced and bright-eyed all day long. Plus, it's the perfect companion if you enjoy swimming or dipping in the ocean while on vacay. 
The only snag is it's a little more difficult to remove at the end of the day, but the right makeup remover will do the trick, and if you ask us, it's totally worth it! 
Less shine, more glow
When it's hot and humid, your t-zone is likely to take the brunt of it. But a greasy, shiny forehead is not a look any of us want! 
This is where blotting papers become your new best friend. They're inexpensive and super simple to use. Keep a small pack of them in your handbag, so you can eliminate shine throughout the day. If you want to re-apply your makeup, blot your face first, then go for it. 
Swap lipstick for a lighter lip gloss
The summer months call for a more subtle, dewy look, so why not try swapping your regular matte lipstick for a lighter shaded gloss?
This will add moisture and just a hint of color which you can layer up as you like. 
We swear by this volumizing lip gloss for soft, plump & kissable lips. 
Invest in a mist with SPF
Did you know that you're meant to reapply SPF every 2 hours if you're continually out in the sun?
Nobody has time (or the patience) for that.
Plus, reapplying sunscreen on top of your makeup is a recipe for disaster. 
Don't worry, we've found a workaround!
Stock up on a refreshing setting spray or mist that comes with the SPF you're looking for. 
One spritz and you're beach ready.
Remember: less is more! 
Of all the summer makeup tips out there, the most important one is to remember that less really is more. 
And the less time you spend applying your makeup, the more time you'll have to sunbathe at the beach and soak up the gorgeous rays!
Written by: Vivienne Sabó
Published: May 30, 2021