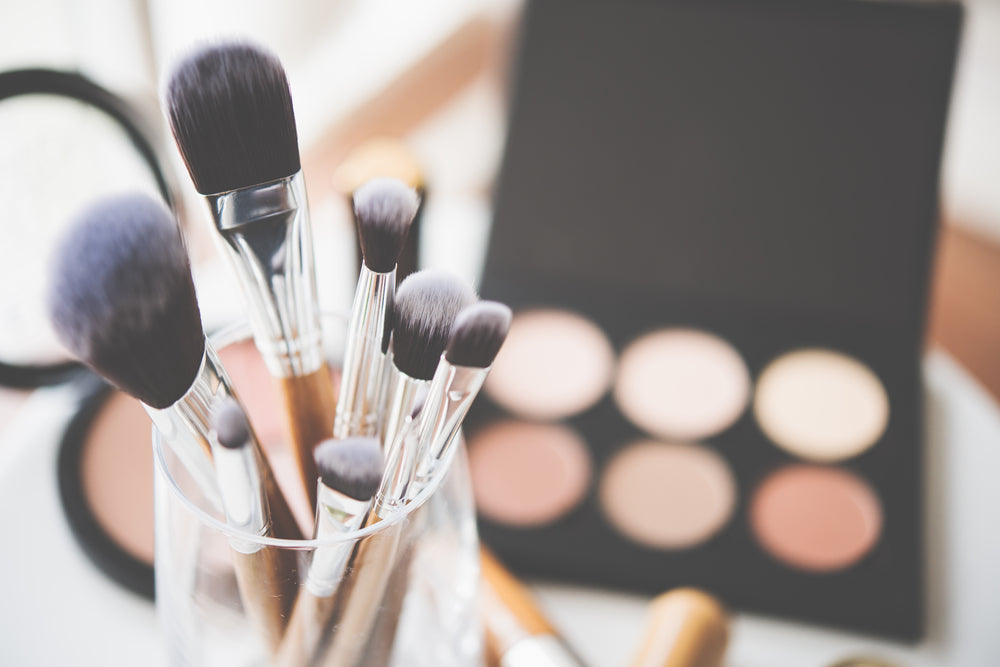 Back to articles
How to Clean Your Makeup Tools the Right Way
When you think of your makeup collection, your makeup brushes and sponges might not be the first thing that comes to mind, but they are the real backbone of your beauty routine. They're the tools responsible for that seamless eyeshadow blend or the undetectable layer of foundation on your skin! 
Beauty tools have an important role to fulfill, but they can't do it to the best of their ability if they're clogged with makeup.
By washing your makeup brushes regularly, you guarantee that your makeup will always glide on like a dream. Beyond that, since your brushes come in such intimate contact with your face, keeping them clean prevents breakouts and even sickness. 
If you don't know how to clean makeup brushes and tools, have no fear! We've put together this comprehensive guide with answers to all of your burning questions.
If you've found yourself wondering how often to clean makeup sponges or what soap to use to clean makeup brushes, we have the answers. We also cover a few important hygiene and disinfection details you may not have considered before.
Hygiene is at the forefront of our minds these days. There's always a bottle of hand sanitizer hidden in our purse, and we never miss a chance to wash our hands. We should be every bit as vigilant with our makeup tools when it comes to cleaning!
Which makeup tools do you need to clean?
It's important to clean any reusable tool that comes in contact with your skin! Brushes, sponges, tweezers, and even your counter space must be washed and disinfected regularly. 
It's a little different for the tools that come built into your makeup product, like the mascara wand on our bestselling Cabaret Première mascara or the doe-foot applicator on our new Polynésie Française volumizing lip gloss. The makeup itself is already formulated with ingredients that kill pesky germs, so as long as you don't use those products past the listed expiry date, they'll stay safe and always ready to go. 
What to use to clean makeup tools
There are a lot of different makeup brush cleaners you can use, and chances are they're already sitting in your bathroom or kitchen cabinets! So what soap to use to clean makeup brushes? It depends on the brush!  
Gentle cleaners for animal hair brushes
If your makeup brushes are made from animal hair, the best thing to use is a gentle shampoo that will wash away germs without drying out the bristles.
You can even follow it up with conditioner to keep the bristles extra-soft. Another option is to clean the makeup brushes with soap – just make sure to select a gentle one that includes moisturizing oils or glycerin. 
Cleaning synthetic brushes
Synthetic, or vegan, brushes have become very popular in recent years, in part because they are soft yet durable and cruelty-free! You can clean synthetic makeup brushes with dish soap or hand soap and feel confident that they'll hold up beautifully. 
What to use to clean makeup sponges
Maybe you've heard that you can clean makeup sponges in the microwave, but that's a big no-no. The extreme heat might kill the bacteria, but it'll also damage your sponge. Instead, it's best to clean makeup sponges with soap, dishwashing detergent, or any foaming cleanser that's free of alcohol. 
Disinfecting your makeup tools 
Sometimes you don't have time to thoroughly wash your brushes, but you still want to clean them up quickly in a way that kills germs. That's when alcohol comes to the rescue!
Just as it can sanitize your hands, rubbing alcohol in a spray bottle can also disinfect makeup brushes and metal beauty tools. 
We recommend choosing 70% isopropyl alcohol since it's strong enough to disinfect effectively but not so strong that it'll dry out delicate brush bristles. As a bonus, wiping your brushes down after spraying will eliminate makeup residue and allow you to change colors. 
How often to clean makeup brushes
 
If you wear your makeup daily, cleaning your makeup brushes at home once a week is a must. If you don't have time to deep clean them every week, that's okay! You can sanitize them with alcohol every week and do a thorough clean with shampoo or soap once a month. 
How often to clean makeup sponges
Sponges hold even more liquid and bacteria than brushes, so you need to keep them extra clean. If you wear foundation every day, wash them at least 2-3 times a week. Thankfully, since they work best when damp, it's easy to wash them with soap and water before every use! 
How to clean makeup brushes 
Before you start washing your makeup brushes, make sure to set yourself up properly! Get situated near the sink, line up all of your brushes, and have a towel ready for drying nearby. 
Cleaning makeup brushes with soap or shampoo 
Start by dampening your brush bristles, but be careful not to let the water slide down into the ferrule (the metal tube that connects the bristles to the handle). If any water gets trapped in there, the base of the brush can become a breeding ground for bacteria. 

Next, squirt a small amount of your

makeup brush cleaner

of choice in the palm of your hand. 

Swirl the brush in your palm until it suds up. 

Then, massage the bristles with your fingers to thoroughly break down the makeup residue–it's just like shampooing your hair!  

Then, rinse your brush until it's clear of makeup and soap residue. 

Finally, squeeze the brush head with your fingers to remove excess water and reshape the bristles. 

If your brush is still feeling a little too damp, press it gently with a clean towel, and set it down to dry–we have a few more tips on that below! 
How to disinfect makeup brushes and tools with alcohol
Spray your brush head or a paper towel with enough alcohol to slightly dampen the brush. 

Next, wipe the brush back and forth multiple times over the paper towel. Keep going until the brush stops depositing color. 

Lay the brush flat to allow it to dry.  

If you're disinfecting a beauty tool, spray it thoroughly with alcohol but don't wipe it down. Set it somewhere clean, and the alcohol will dry away quickly on its own. 
How to dry your makeup brushes 
When it comes to drying your makeup brushes, the most important thing to remember is that you don't want any water finding its way to the base of the bristles. 
Instead of making gravity your enemy, use it to your advantage! After squeezing out as much water as you can and reshaping the brushes, lay them flat or angle them downwards to let all of the liquid run off of the bristles. They should look exactly like the photo above! 
You can make your own brush drying contraption, or take a tip from makeup artist Troy Surratt:
"lay down a towel on a flat surface and roll it on one side. Then, lay the brushes down so that the handle is slightly lifted, putting the brush on a downward angle."
How to clean makeup sponges DIY 
To start, place your sponge under a running tap. 

Add some soap or detergent, and squeeze the sponge until it's sudsy–this is your sign that the soap has gotten all the way through it. 

Squeeze a few more times for good measure. The suds coming out of the sponge should take on the color of your makeup. 

Rinse the sponge under the tap to remove all of the soap and makeup residues. Keep squeezing the sponge while rinsing to ensure everything comes out. 

Gently squeeze the sponge with a towel to remove excess water. 

Finally, place it in a clean and safe place to air-dry. 
How often to replace your makeup brushes and tools 
All good things come to an end! Another element of good beauty hygiene is knowing when to replace your tools. It's pretty obvious with makeup products since the expiry date is listed on the package, but with tools, you need to learn to judge for yourself. 
When to replace makeup sponges
Reusable sponges have a lifespan of up to 6 months, but they often need to be replaced much sooner. If you start noticing small tears or an odd smell, it's better to play it safe and throw the sponge away. But wait... don't throw it in the garbage! Many reusable makeup sponges can actually go in the recycling bin!  
When to replace makeup brushes
Brushes don't have a clear cut shelf-life. Some artisan brushes can last for decades, while mass-produced brushes may only survive for a few years. What's certain is that brushes that are well taken care of last longer. It's time to replace a brush when it no longer holds its shape or if its bristles start to shed.  
A clean finish 
As long as you get it done in a proper fashion, it doesn't matter how you clean your brushes. You can use a special makeup brush cleaner or settle on a DIY method to clean your makeup brushes at home with your favorite soap or shampoo. The most important thing is that you're keeping yourself and your skin healthy and safe!   
Written by: Vivienne Sabó
Published: February 05, 2021