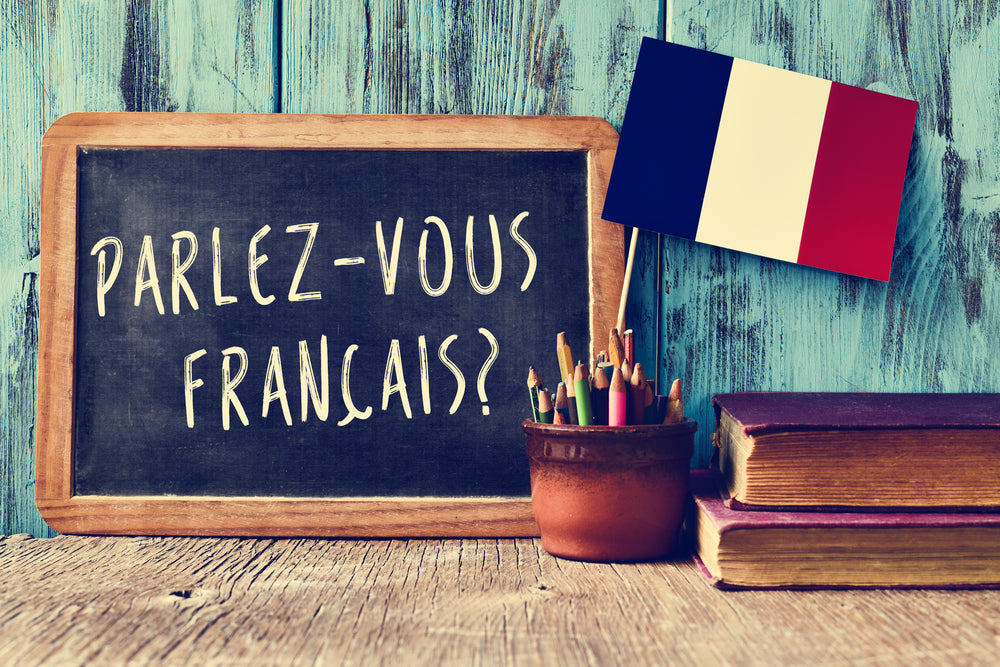 Back to articles
Learn French Phrases: French Makeup Terms
When you love French beauty, knowing the French words for certain makeup products can be quite helpful. They can come in handy if you're planning to do some shopping in Paris, but it's also useful for knowing what's behind the names of your favorite French makeup products. 
Read our guide for some must-know French makeup vocabulary. You'll learn what's behind the names of some of Vivienne Sabó's most iconic products, as well as the meanings of some products from other French makeup brands. 
From terms for different parts of the face to the names of products and tools, we cover it all!  
Parts of the face in French
Le visage: the face. It sounds so elegant in French, so it's no surprise that so many brands all over the world have incorporated the word into their naming schemes! 
La peau: the skin. 
La yeux: the eyes. 
Cils: eyelashes. 
Les sourcils: the eyebrows. You might notice a similarity between the French words for brows and for eyelashes! The French term sourcils comes from the Latin supercilium which translates to "above the eyelash."
Les joues: the cheeks. 
Les lèvres: the lips. 
French makeup terms
Le maquillage: makeup.
Fond de teint: foundation. Fond means base or foundation, while teint means tint, so literally, it's a tinted base. It's especially fitting because French women prefer a light tint over a full-coverage look. 
Base de teint: primer. 
La poudre: powder. 
Poudre de soleil: bronzer. The literal translation is "sun powder," which is beautifully appropriate since bronzer is meant to give the skin the illusion that it's been sunkissed. 
Fard: This term is a synonym for makeup, but it's usually used to refer to specific products. 
Le fard à paupière: eyeshadow. It translates as "makeup for the eyelids." 
Blush: blush. Contrary to popular belief, French women don't use the word rouge to refer to blush. Instead, French makeup aficionados use the English term.  
Le fard à joues: blush. This is another commonly used term, although it's less popular than simply saying "blush." It literally translates as "makeup for the cheeks."
Anticerne: concealer. 
Correcteur: corrector, a synonym for concealer. 
Le crayon: pencil. 
Crayon à lèvres: lip liner.  
Eyeliner: eyeliner. This is another one of those words that have been directly lifted from English to French. 
Eyeliner liquide: liquid eyeliner. 
Crayon yeux: eyeliner pencil. This is the term to use if you're talking specifically about a kohl-style pencil, although it can also apply to retractable eyeliners. 
Feutre fin: felt tip, also known as our must-have eyeliner. This eyeliner won't let you down, and the design itself is ideal for drawing on a precise wing in seconds. 
Palette yeux: eyeshadow palette. 
Mascara: mascara. 
Mascara volumateur: volumizing mascara. We like our mascara to add some volume and amp up the drama, so this term is especially helpful. 
Mascara allongeant: lengthening mascara. 
Mascara waterproof: waterproof mascara. While the French word for waterproof is étanche, when it comes to makeup, the English term is used.   
Éclat: radiance or shine. The word is flexible, referring both to the delicate glow of the moon as well as to the brilliant radiance of a precious gem, which is why it's so useful in makeup. 
Highlighter/illuminateur: highlighter. Most French makeup lovers use the English term for this glowy makeup product, but occasionally, the French word illuminateur is used instead. 
Le rouge à lèvres: lipstick. Most French women own a signature red lipstick, so it's no surprise that a more literal translation would mean, "red for the lips." However, in practice, the phrase applies to all lipsticks no matter the shade! 
Gloss à lèvres: Lip gloss. 
Other French beauty terms 
Faux-cils: False eyelashes. 
Coffret: Box or kit. This is the term used for makeup sold in sets or bundles, as well. 
Éponge de maquillage: makeup sponge.   
Les pinceaux de maquillage: makeup brushes. 
Recourbe-cils: eyelash curler. 
Le vernis à ongles: nail polish. 
Trousse de maquillage: makeup bag. 
Démaquillant: makeup remover.
Sans cruauté: cruelty-free. This one is especially important for us since all Vivienne Sabó products are cruelty-free and never tested on animals.  
Nos amours, you're ready for Paris! 
Armed with the most important French makeup terms, you'll be able to shop at the small beauty boutiques and the large makeup stores with ease. Keep practicing as you do your makeup every morning, and you'll become a French language and beauty pro in no-time. 
Written by: Vivienne Sabó
Published: July 08, 2021