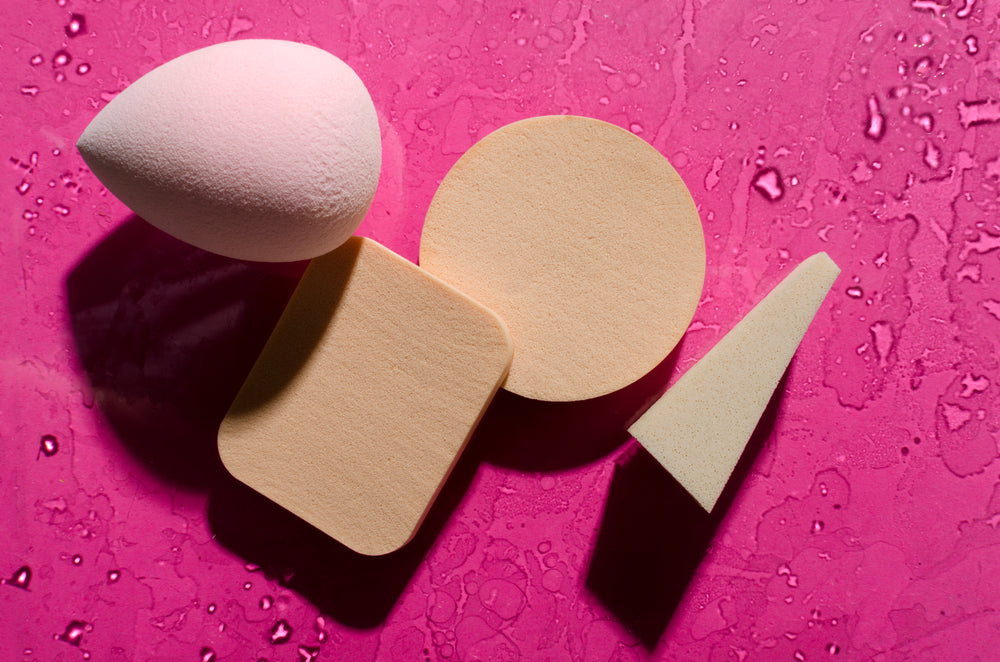 Back to articles
Why You Should Always Wet Your Makeup Sponge
When the Beauty Blender was first released, it shook the makeup world from top to bottom. Before it came around, we were using flat brushes and dry, triangle-shaped sponges. These tools worked, but applying foundation would take ages. 
Nowadays, these egg-shaped makeup blenders are the ideal tool for applying a natural-looking layer of foundation or blending out concealer. Reusable makeup sponges give the skin a natural finish, and they're oh so simple to use. 
There are a few key tricks to making a Beauty Blender work, which we'll explain in this post. The most important amongst them? You have to use your makeup sponge wet. Keep reading to learn why! 
Why should you wet makeup sponges?
Using a wet makeup sponge makes a major difference, so here are the reasons why we recommend it so strongly. 
Less product waste
First of all, using a damp makeup sponge can save you a lot of time and money in the long term, because it wastes less product. When your sponge is dry, it absorbs a ton of foundation right into its center. If you've ever found yourself dispensing more and more foundation, but getting no coverage, that's the reason why. 
On the other hand, when the sponge is damp, the water takes up all of the space in the sponge, and there's no room for the foundation to soak in. Instead, it stays on the surface, so you can stipple it over your skin with no product waste. 
Flawless finish 
The second reason to use a damp makeup sponge is that it makes your foundation or concealer look so much better. Some of the water in the sponge infuses with the foundation, which gives the skin a more luminous and healthy finish. Because the sponge is expanded, it also leaves less of an imprint on the skin, which leads to a much smoother and more blended finish. 
How to use a wet makeup sponge 
Whether you're using a wet makeup sponge to apply or blend your foundation, here's the most fool-proof way to prep and then use it. 
First, run the tap and place your

reusable makeup sponge

under the stream. 

Let the sponge get saturated with water, and then squeeze it a few times. As the sponge takes in the water, it'll expand to twice or triple its original size. 

Turn off the tap, and squeeze the sponge to remove excess water. It should be damp rather than soaking wet. 

Then, you can use the sponge to either apply or blend your foundation. Applying your foundation directly with the sponge will give a more sheer application. 

If you like full coverage, apply your foundation with a brush or fingers, and then use the sponge to blend it out. 

Whether you're blending or applying, the main trick is to bounce the sponge over your skin. The bouncing motion helps the foundation glide over pores and it blurs away any brush streaks. 

Use the tip of the sponge for blending out or

applying concealer

under the eyes or along the side of the nose. Stick to the same bouncing motions as you apply it to those smaller areas. 

Once your foundation is perfected, you can finish off the rest of your makeup! 
More tips for using a makeup blender 
Using a Beauty Blender the classic way is great, but we have a few more hacks that will allow you to get the most out of your reusable makeup sponge! 
If you don't like getting your hands dirty, you can use your

Beauty Blender

to apply

moisturizer

and primer before you do your makeup. 

If your skin is especially dehydrated, you can saturate your

Beauty Blender

with a moisturizing toner, which will hydrate the skin even more dramatically. 

For days when you really need your makeup to last, saturate your

reusable makeup sponge

with a setting spray, instead. It'll help lock your foundation in place as you apply it. 

If your skin is oily or you'd like to waterproof your makeup, you can use a

damp makeup blender

to press translucent powder into your skin to set your base. While this technique can make dry skin look drier, it works well for those with oily skin, helping to make your foundation incredibly budge-proof. 

If you make any mistakes winging out your eyeliner or you want your

eye makeup

to have a sharper line, put a bit of foundation along the side of the pointy end of your sponge. Then use it to clean up the lines along the outer corner of the eye. 

A

Beauty Blender

is perfect for applying and blending out cream blush, highlighter, or contour! Use the pointy end to add those contour lines, or blend out your blush with the rounded end for a very natural flush of color.  
Don't forget to wash it 
Finally, once you finish your makeup, always remember to wash your sponge with soap and water! Otherwise, Beauty Blenders can harbor bacteria if they're left dirty or damp. 
To clean your sponge, hold it under the running tap, and then add some soap. Squeeze it a few times so it foams up well, and finally, rinse it clean. Squeeze it to get as much of the water out, and then place it somewhere clean and safe to air dry. This will keep your reusable makeup sponge in top shape for up to 6 months. 
Flawless foundation every time
Considering how simple of a trick it is, using a wet makeup sponge has an amazing impact! There is no better way to guarantee a seamless and natural-looking foundation application. Give this trick a try to stop wasting foundation and to perfect your base. 
Written by: Vivienne Sabó
Published: May 06, 2021