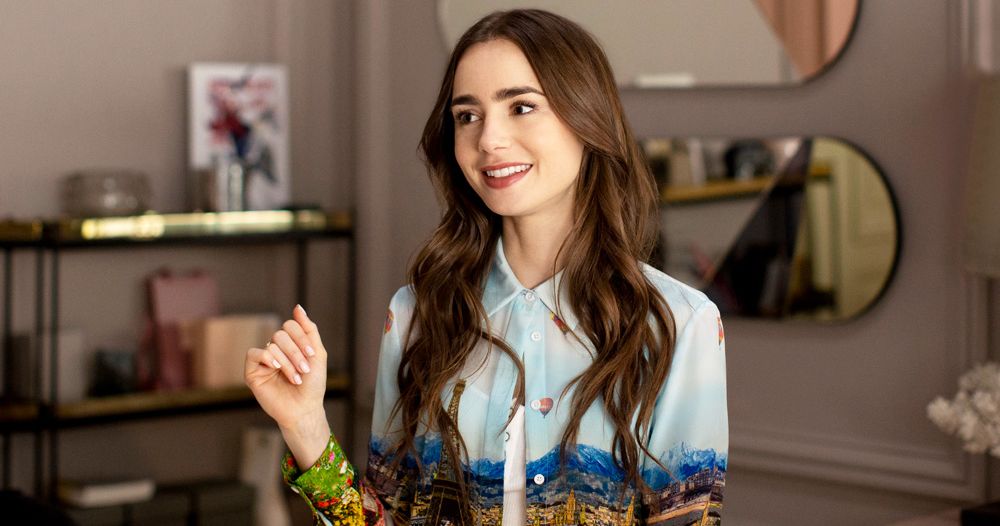 Back to articles
Lily Collins' Beauty Routine Uncovered
If you haven't yet caught a glimpse of Netflix's hit show, Emily In Paris, where have you been?!
We are obsessed with the French-girl beauty that storms our screens as Emily (British-American actress Lily Collins) settles into Parisian living. 
Actress Lily Collins steals the show with her low-key, simple yet chic beauty and fashion looks. There isn't a scene where we're not taking notes. Think fresh, clear skin, bold brows, voluminous lashes, and understated lips. 
Less is definitely more In France, and we're loving it! 
But there's one thing we want to know more about, and that's Lily's real-life beauty routine. 
How does she keep her skin looking so immaculate? What are her makeup must-haves? And how does she keep her beautiful brows in check?
Don't worry, we're bringing you Lily Collins' beauty routine in full detail here, no filter. 
This is what Lily Collins' everyday beauty routine looks like. 
Morning skincare
What does Lily's AM skincare routine look like?
Well, you'll be surprised how low-key it is.
She begins with a splash of cold water on her face to wake herself up. 
To kick-start her skincare routine, she uses a facial wash, toner gel, and moisturizing cream. 
Next up?
Lily always applies a layer of sunscreen (her go-to is Kiehl's), whether it's summer or winter. We recommend at least an SPF 20 if possible. Look for a light-weight, non-greasy sunscreen that feels like a second skin. 
Lily has spoken out about embracing her natural, ivory skin, so you won't find any tanning products in her house! 
She also loves rubbing some mint or spearmint oil on her temples and the back of her neck to wake herself up and feel invigorated inside and out. One of her favorites is Peppermint Halo by Saje, which comes in a handy roller ball.
And, did you know Lily is obsessed with hand cream?
Yes!
You'll find her re-applying it throughout the day to keep her skin feeling soft and silky, just the way her Grandma used to do. 
Her favorite scent? Rose wins out every time—Crabtree & Evelyn have a rosewater one she is crushing on. 
The perfect base
Lily Collins is famous for channeling that French-girl beauty by keeping her makeup minimal and natural all the time, apart from on special occasions. 
When she's at home, she wears very little; her motto being "the less there is on you, the less there is to go wrong!"
But what about when she is wearing makeup?
Lily loves to go for a foundation that is light enough to allow her natural freckles to shine through but just enough to give a nice base. 
She steers clear of heavy, coated products to avoid her pores getting clogged. 
For days when she wants something a little different, she mixes a small drop of light foundation with her favorite serum, then dabs it into her forehead, chin, and cheeks. To blend, she uses a sponge, then tops with a powder to set it, and a bit of blush for contouring. 
It's all about the brows
The next step on Lily Collins' beauty routine is tending to her bold and beautiful brows.
The question on all of our minds while watching Emily In Paris has been, what's the secret to her brow game? 
Tell us all Lily!
When asked what her favorite part of her beauty regimen is, she aptly said "It's all about the brows."
She swipes a highlighter over her eyelid and under the brow to make her brows pop even more. She brushes her eyebrows up and over to slightly tame them. 
And that is IT.
Seriously.
On the odd occasion when they need a little more taming, she uses some mascara to lend a helping hand.
To draw extra attention to her eyes, she applies a few flicks of liquid liner at the outer edges.
She then adds a coat of volumizing mascara to bring fullness and life to her lush lashes. Nothing says French beauty quite like fluttery lashes does. If there's one thing every French woman includes in her beauty routine, it's a swoosh of black mascara.  
Lush lips
When it comes to her lips, Lily begins by gently exfoliating them with a delicious, tropical coconut scrub.
Once her lips are prepped, she coats them with lip balm–and you'll find her reapplying it throughout the day to keep those lips looking lush.
For an everyday look, Lily tops her lip salve with a swipe of nude lipstick and her favorite gloss. 
But what about those red-carpet occasions?
Lily has perfected the shades that compliment her pale skin and dark hair and opts for softened red lipstick shades and deep plums. 
If you're looking for some lipstick inspo, check out our long-lasting matte lipstick, which is available in four fabulous color combos. There's guaranteed to be a shade that was made for you. 
Fabulous fragrance
When it comes to fragrance, there are a few favorites that Lily loves. 
Rose makes the cut once again, then bergamot and oud. She's usually drawn to deeper scents rather than feminine ones. 
But if she had to pick a scent of choice? 
La Vie Est Belle.
That means "life is beautiful" in French.
The scent swoops her back to her Paris-days and has her longing to be reunited with the most romantic city in the world. We can't wait for that either, Lily!
Messy hair, don't care
French women are loved (and envied) worldwide for perfecting that I-just-woke-up-like-this hair. It's chic, but it's not perfect. Think wind-swept runway romance. 
How do they do it?! 
Well, Lily seems to have perfected that Paris-hair, and guess what her secret is?
She lets her hair do whatever it wants.
Really.
Her hair goes through a lot as an actress, constantly being colored and curled while on set. So when she's off-duty, she keeps things super simple. 
She loves Kérastase for repairing her hair, and often goes for a volumizing hair gel when she desires some extra volume. 
She's also a big fan of dry shampoo (could this woman be any cooler?). Oribe hair sprays are her favorite when she hasn't washed her hair in a few days and needs a quick pick-me-up. 
Evening rituals
Lily's evening beauty routine echoes her morning ritual. She'll shower, get cozy on the sofa, and remove all her makeup using face wipes. Later, she rinses her face with the same gel she used in the morning and applies some face cream.
When her skin feels extra dry, she opts for a quick face mask and rubs natural coconut oil into her body.
Then it's off to bed for some much-needed beauty sleep.
Written by: Vivienne Sabó
Published: May 14, 2021