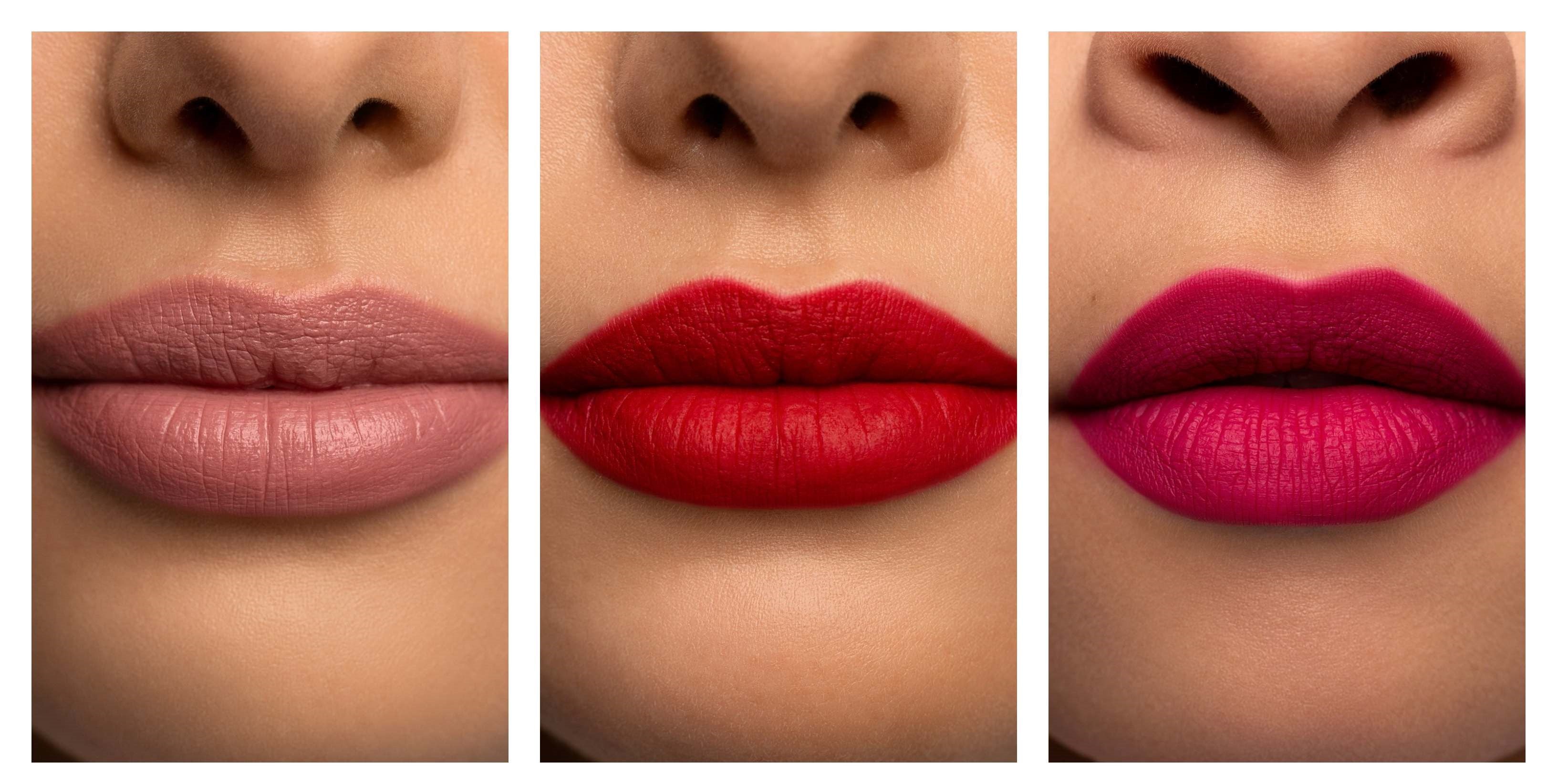 Back to articles
Lipstick Colors and What Statements They Make
The color of your lipstick or lip gloss says a lot about you. Your perfect lip color can make you seem seductive, creative, cheerful, flirty, or any combination of traits. As long as you choose a color that fits your attitude on any given day, you can't really go wrong with your lipstick style. 
We've put together a list of all the most popular lipstick colors, with explanations of exactly what kind of statements they make. Whether you're looking to find your perfect lip gloss or you're more into the matte look, keep reading to figure out what shade will give you your most confident lipstick look, no matter what that means to you!  
Red 
Red is the most classic and sexiest lipstick color there is. No shade can compare when you want to exude confidence and sensuality in a classy, timeless manner. A woman in red lipstick is ready to face any challenge that life throws at her! It's a bold color that never goes unnoticed or out of style. 
While perfecting a red pout can take a bit of work (and a great red lip liner), once you master it, it becomes a huge time-saver! You can look completely made-up and put together even when you're only wearing red lipstick and some mascara — it's the ultimate French girl makeup trick. 
Nude 
Nude lipstick is a simple yet elegant choice. It gives a polished finish to your look but still allows you to feel comfortable in your own skin. It won't be obvious to those who look, but you'll know it's there, making your lips look smoother and fuller while leaving everybody else guessing. 
It's one of the best everyday lipsticks for every occasion because it goes on easily and it's always flattering. With bold lipstick shades, you have to be very careful to keep a neat lip line, but a nude lipstick blends into your skin and looks like a natural lip color. 
A quick swipe, even without a lip liner, will always look great. It looks amazing with any makeup style, offering the ideal balance for dark eyeshadow or for bronzed makeup looks. 
Purple berry
A purple berry lipstick is eye-catching in a very chic way. It's a great shade for a confident lipstick look because it has the same intensity and depth as a red lipstick but with a modern twist. It's the perfect lip color for the modern woman! 
Oh, and did we mention that it somehow always makes the teeth look whiter? The best time to rock a purple statement lip is when you want to make a lasting impression, especially if you're in a creative environment. Art gallery openings and fashion shows are the natural environments for a woman who wears a berry lip. 
Burgundy 
A burgundy lipstick is as sultry as a red one, but with an underlying darkness that adds mystery to your look. This lipstick shade brings to mind the gorgeous sirens of 1920s silent films with its seductive depth. 
It can give your look a moody twist or come off as totally mature, depending on how you style it. You can wear it along with dark eyeshadow for a gothic look, or use it to add an edge to a natural makeup style. 
As with red lipstick, lining the lips and taking your time is essential! We highly recommend slightly over-drawing the lip line, since such a dark shade can make the lips look a little smaller.  
Soft pink 
Soft pink lipstick is nude lipstick's demure sibling. It has a delicate charm that's particularly flattering to those with cool undertones. It's a lovely lipstick style to choose when you're in a feminine, relaxed mood and you want to exude an image of serenity. 
Soft pink lipstick is perfect for dates, but it's also appropriate to wear to class or the office. It's a nice companion to more intense eye makeup since it's softness will add balance to your look. Just make sure to choose a pink lipstick that's at least a shade darker than your skin tone, to avoid looking washed out. 
Fuchsia
Fuchsia is vivid and vivacious, with a feminine twist. This bright shade is at the meeting point between hot pink and bright purple. It's the best lipstick color when you want to feel flirtatious and playful but also independent and strong. 
While it might be a little too much for a day at the office, it's great for wild nights out on the town. It'll immediately put you in an energetic mood, guaranteeing that you'll have a fun time no matter where you end up. Because it's so vibrant, your lips will instantly become the focus of your look, but since it's not too dark it still works in combination with heavier eye makeup. 
Coral
Coral lipstick is ideal for those days when you want to express a fiery passion with a cheerful twist! It's a warm and vibrant color that brings to mind the joys of a vacation to tropical locales. If your skin has naturally golden undertones, it's even better! It'll give you the image of a daring, spontaneous woman who's filled with joie de vivre.
You can't go wrong with coral lipstick, especially for parties or fun dates! While the shade itself feels more fitting in summer, the kind of woman who wears coral lipstick can rock it all-year-round if she so wishes. 
Bisous (kisses)!
There's a lot you can say with just a small change in
lipstick shade
. You can go soft and calm with a
natural lip color
one day, and transform yourself into a passionate diva in a bold lipstick the next. As long as you feel confident in your lipstick, there are no wrong choices!
Written by: Vivienne Sabó
Published: February 15, 2021