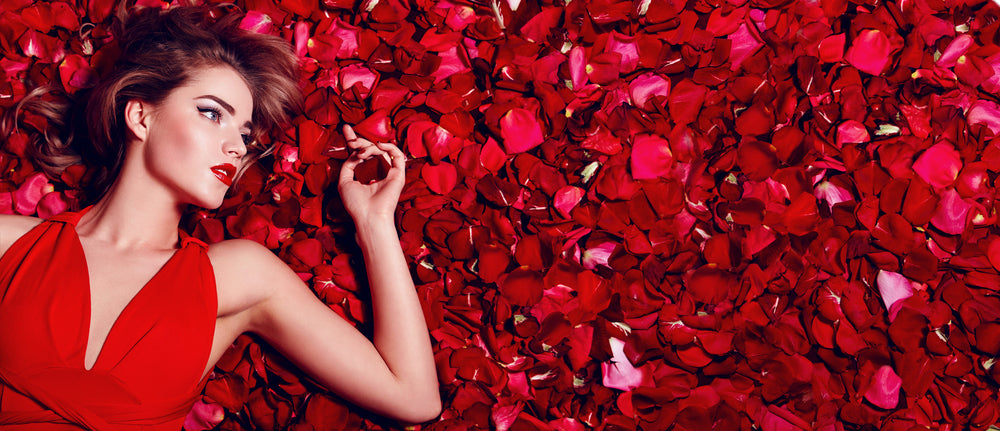 Back to articles
Beautiful Eye Makeup Looks for Valentine's Day
The best thing about February 14th isn't the red roses, chocolate topped strawberries, or cheesy greeting cards — it's Valentine's Day makeup!
Whether you're enjoying a romantic dinner at home with your partner, hanging out with your girlfriends, or enjoying a solo day dedicated to self-love, Valentine's Day is the perfect time to try out a new look. 
Even though Valentine's may look a little different this year, there's no excuse not to get glammed up. At the very least, it'll lift your spirits and help you channel your inner love Goddess. 
When it comes to Valentine's Day makeup, we think it's all about making your eyes the star of the show. Go for some heart eye makeup, a pink smokey eye, or experiment with some bolder eyeshadow looks. This is the time to play with romantic colors you wouldn't usually wear and set the mood for love. 
Sexy smokey eye
A smokey eye is a popular go-to look for date night makeup and special occasions. But seeing as it's the big V-Day, instead of heading straight for your usual gray or black eyeshadow, why not mix things up?
You could try a bold red eyeshadow over your lids or even go for a sweeter, pink smokey eye. There are no rules for what color you have to use — choose whichever shade you want! Fuchsia, burgundy, cherry, or bubblegum. 
Gently blend the darker shade out from your inner lids to create the perfect smokey look. Then use a lighter, shimmery shade for the inner corners to make your eyes pop even more.
Voluminous lashes
Amping up your lashes is one of the simplest ways to add glamour to your Valentine's day makeup look. If you're looking for instant volume, look no further than our Provocation mascara. This little tube of magic promises defined and voluminous lashes with just one coat.
Pair your lush lashes with a striking red matte lipstick for a classically beautiful look. Remember to use a lip scrub and lip liner before applying your lipstick for a picture-perfect finish that lasts all night long.
Berry tones
As it's still the middle of winter, richer hues are a perfect color choice to suit the colder, darker climate. There's no better time to rock a warm berry shade before Spring comes knocking!
Go all out with this look by using berry shades on the eyes, cheeks, and lips. This is a wonderful option if you want a more sophisticated Valentine's look, but you still want a nod to Cupid. 
Metallic magic
We couldn't create a Valentine's Day eye makeup post without mentioning metallics. If you want to go for a more glamorous and attention-grabbing look, this one might be for you.
We're talking shimmery eyeshadows, glittery eyeliners, and sparkle infused bronzers. Pick one of these for a subtle shimmer, or go all out and rock an all-over metallic look.
Top tip: ditch the plain eyeshadow and swap it for a metallic one to create your sexy smokey eye makeup. 
Everything is peachy
If you can't quite wait for Summer to roll around, you can definitely get away with a pretty, peachy look on V-Day.
Make this look on-trend by matching the shade of your eye shadow, lipstick, and blush. This will create a soft, monochrome look that is delightfully delicate yet modern.
Heart eyes
Okay, so we know that hearts are a little over-done on Valentine's Day, but when else do you have the perfect excuse to rock some heart eye makeup? 
Grab a mix of eyeliners in shades of pink, purple and red — whatever colors you like. Use these to carefully draw scattered heart shapes around the outer corners of your eyes so that it looks like they're flowing out of them. 
If you don't have a steady hand, you can always use some heart-shaped diamantes, sequins, or face stickers instead!
Pro tip: Make sure your makeup is complete before you layer your heart eye makeup on top.  
 Rose gold liner
Is there anything more romantic and magical than an eyeliner in rose gold? 
Rose gold makeup is trending right now, which makes this the perfect look to try this holiday. 
Rose gold eyeliner is sexy but subtle, super easy to apply, and will suit all eye colors and skin tones. 
Pop of purple
Purple often gets sidelined on Valentine's day in favor of vibrant reds and pretty pinks. But purple can create a beautiful and more original makeup look. 
Keep it soft and mellow with a pastel lavender eyeshadow, or go bolder with a vibrant violet eyeliner or a purple-plum glossy lip. 
Pretty in pink
What would Valentine's Day makeup be without the color pink? 
Is it new? No.
Can it still be sweet and sexy? Hell yes!
Pink eyeshadow probably isn't something you wear every day, but it can create a look that is equal parts playful and sophisticated! There's guaranteed to be a shade of pink out there for you – whether it's a candy-floss pastel, a nude-pink, or a bold and bright fuchsia. 
If you want to take your glam game to the next level, go for a pink glitter eyeshadow. For extra pretty points, add a pink blush and lipstick or gloss to complete your look. 
Cat-eye
If colors aren't your thing, and you want to keep your Valentine's Day eye makeup simple yet striking, look no further than the cat-eye.
This will enhance the natural shape of your gorgeous eyes, creating a fierce and feminine look. 
Keep your liquid liner wings as tame or as daring as you like. If you're a newbie, you can use a stencil, some tape, or the dotted line method to help keep your lines symmetrical on both eyes. 
When you're done, give your lashes some love with a coat of classic French mascara, and give yourself a round of applause. Cat eyes can be challenging — especially if you've already cracked open a bottle of rosé.
And voila — you are officially Valentine's Day ready!
Why not start early and try a few of these looks out before the 14th? Choose your favorite, and recreate it on the day. Pair it with an outfit that makes you feel sexy inside and out, and you're ready to welcome Cupid.  
We're wishing all you beautiful ladies a wonderful Valentine's Day!
Written by: Jeffrey Ebel
Published: February 01, 2021